Every year, instead of a "My Picks for Best Books of the Year" list, I make a "Here's What I Read This Year" list. I'm way, way, way behind on this post … 2015's been a busy one so far! But, in keeping with the grand tradition (Check out previous Years In Books, if you're so inclined: 2010, 2011, 2012, and 2013.), here's what I read in 2014…
GRAPHIC NOVELS/Completed Miniseries
JANUARY
Ghosted Vol. 1: Haunted Heist [Image/Skybound]
Usagi Yojimbo: The Special Edition—Vol. 1 [Fantagraphics]
Usagi Yojimbo: The Special Edition—Vol. 2 [Fantagraphics]
Boxers & Saints [First Second]
Sweet Tooth Vol. 1: Out of the Deep Woods [Vertigo/DC]
Cats are Weird and More Observations: A Cat Book [Chronicle Books]
Copra: Compendium One [Bergen Street Comics]
Sweet Tooth Vol. 2: In Captivity [Vertigo/DC]
Copra: Compendium Two [Bergen Street Comics]
The New Teen Titans: The Judas Contract [DC Comics]
Spera Vol. 3 [Archaia]
Copra: Compendium Three [Bergen Street Comics]
High Moon [Zuda/DC]
The Sixth Gun Book 1: Cold Dead Fingers [Oni Press]
The Sixth Gun Book 2: Crossroads [Oni Press]
Motel Art Improvement Service [Dark Horse]
Conan and the People of the Black Circle [Dark Horse]
S.H.O.O.T. First Vol. 1 [Dark Horse]
Hellboy: The Midnight Circus [Dark Horse]
Hellboy: House of the Living Dead [Dark Horse]
Mara [Image]
The Sixth Gun Book 3: Bound [Oni Press]
The Invisibles Vol. 1: Say You Want a Revolution [Vertigo/DC]
FEBRUARY
Sweet Tooth Vol. 3: Animal Armies [Vertigo/DC]
Kiss Me, Satan [Dark Horse]
The Shaolin Cowboy [Dark Horse]
Buzzkill [Dark Horse]
The Fifth Beatle: The Brian Epstein Story [M Press/Dark Horse]
Sheltered Vol. 1 [Image]
Battling Boy [First Second]
Clown Fatale [Dark Horse]
Baltimore Vol. 4: Chapel of Bones [Dark Horse]
Resident Alien Vol. 2: The Suicide Blonde [Dark Horse]
Monsters! & Other Stories [Dark Horse]
X-Men: X-Tinction Agenda [Marvel]
Elektra: Assassin [Epic Comics/Marvel]
March: Book One [Top Shelf]
MARCH
Justice League Dark Vol. 3: The Death of Magic [DC Comics]
Animal Man Vol. 1: The Hunt [DC Comics]
Thunderbolts Vol. 3: Infinity [Marvel]
Red Light Properties Vol. 1 [IDW Publishing]
Superman vs. Aliens [Dark Horse/DC]
APRIL
Pawn Shop [Soup Dad Comics]
Strange Attractors [Archaia]
Superman vs. Aliens 2: God War [Dark Horse/DC]
Green Lantern vs. Aliens [Dark Horse/DC]
Batman/Tarzan: Claws of the Cat-Woman [Dark Horse/DC]
Superman/Tarzan: Sons of the Jungle [Dark Horse/DC]
Hoax Hunters Book One: Murder, Death, and the Devil [Image]
Amelia Cole and the Unknown World [Monkeybrain]
Avatar The Last Airbender Vol. 7—The Rift Part One [Dark Horse]
MAY
The Big Team Society League Book of Answers [Koyama Press]
The Adventures of Nilson Groundthumper and Hermy [Dark Horse]
Age of Bronze: Vol. 3B—Betrayal Part 2 [Image]
Godzilla Vol. 1 [IDW Publishing]
Godzilla Vol. 2 [IDW Publishing]
Godzilla Vol. 3 [IDW Publishing]
Godzilla: Kingdom of Monsters Vol. 1 [IDW Publishing]
Godzilla: Kingdom of Monsters Vol. 2 [IDW Publishing]
Godzilla: Kingdom of Monsters Vol. 3 [IDW Publishing]
The Mocking Dead Vol. 1 [Dynamite Entertainment]
JUNE
Ghosted Vol. 2: Books of the Dead [Image/Skybound]
The More Than Complete Action Philosophers [Evil Twin Comics]
KaBOOMBox Vol. 1 [Brand New Nostalgia]
True Lives of the Fabulous Killjoys Limited Edition HC [Dark Horse]
JULY
Sweet Tooth Vol. 4: Endangered Species [Vertigo/DC]
Sweet Tooth Vol. 5: Unnatural Habitats [Vertigo/DC]
Sweet Tooth Vol. 6: Wild Game [Vertigo/DC]
Interesting Drug [Archaia]
Avatar: The Last Airbender—The Rift Part 2 [Dark Horse]
Godzilla: The Half-Century War [IDW]
AUGUST
The End Times of Bram and Ben [Image]
The Sakai Project: Artists Celebrate Thirty Years of Usagi Yojimbo [Dark Horse]
Lost At Sea: 10-Year Anniversary Edition [Oni Press]
Curse [Boom! Studios]
MegaGoGo Vol. 1 [Oni Press]
The Incal: Classic Collection [Humanoids]
Concrete Vol. 6: Strange Armor [Dark Horse]
Captain Midnight Archives Vol. 1: Battles the Nazis [Dark Horse]
Strongman [SLG Publishing]
SEPTEMBER
Captain Midnight Archives Vol. 2: Captain Midnight Saves the World [Dark Horse]
2299 Vol. 1: A Sci-Fi Anthology of Transmissions from the Future [Self published]
Footprints [215 Ink]
Stumptown Vol. 1 [Oni Press]
Stumptown Vol. 2 [Oni Press]
OCTOBER
Predator vs Judge Dredd vs Aliens: Incubus and Other Stories [Dark Horse/2000 AD]
Spooky Sleepover Vol. 1 [Stay Spooky Productions/Self Published]
NOVEMBER
I Was The Cat [Oni Press]
Animal Man Vol. 3: Rotworld—The Red Kingdom [DC Comics]
The Animal Man Omnibus [DC/Vertigo]
Battlepug Vol. 3 [Dark Horse]
The Bunker Vol. 1 [Oni Press]
DECEMBER
The Auteur Book 1: Presidents Day [Oni Press]
Letter 44 Vol. 1: Escape Velocity [Oni Press]
Seaguy [DC/Vertigo]
The Sixth Gun Book 4: A Town Called Penance [Oni Press]
The Sixth Gun Book 5: Winter Wolves [Oni Press]
Southern Bastards Vol. 1: Here Was A Man [Image]
*Note: Since I've begun reading most comics digitally, if I completed an entire miniseries, even if it hadn't been collected into a book yet, I counted it on this list—much like I did last year.
NOVELS/PROSE
JANUARY
The Children of Húrin [Houghton Mifflin]
FEBRUARY
Essential Muir: A Selection of John Muir's Best Writings [HeyDay Books/California Legacy]
MARCH
Silent City [Codorus Press]
APRIL
Breakfast of Champions [Dial Press Trade Paperbacks]
MAY
Dark Rose: Organized Crime and Corruption in Portland [University of Washington Press]
That Is All [Dutton]
Playback [Vintage Crime/Black Lizard]
JUNE
On Directing Film [Penguin Books]
In God We Trust, All Others Pay Cash [Doubleday]
Fire in the Hole: Stories [William Morrow]
JULY
The Sirens of Titan [Dial Press Trade Paperbacks]
California [Little, Brown]
AUGUST
Ink Spots [Booktrope Editions]
SEPTEMBER
The Cuckoo's Calling [Mulholland Books]
Miss Mizzou: A Life Beyond Comics [CreateSpace/Self published]
OCTOBER
The Silmarillion [Houghton Mifflin]
Invisible Ink: A Practical Guide to Building Stories That Resonate [Libertary]
NOVEMBER
The Giver [Laurel-Leaf Books]
DECEMBER
A Feast for Crows [Bantam Books]
So, if my count is correct, I read 98 graphic novels and 19 prose books for a grand total of 117 books! The second most graphic novels and the most prose books I've read in a single year in the past five years! Not too shabby!
Especially since I was also editing a TON of comics…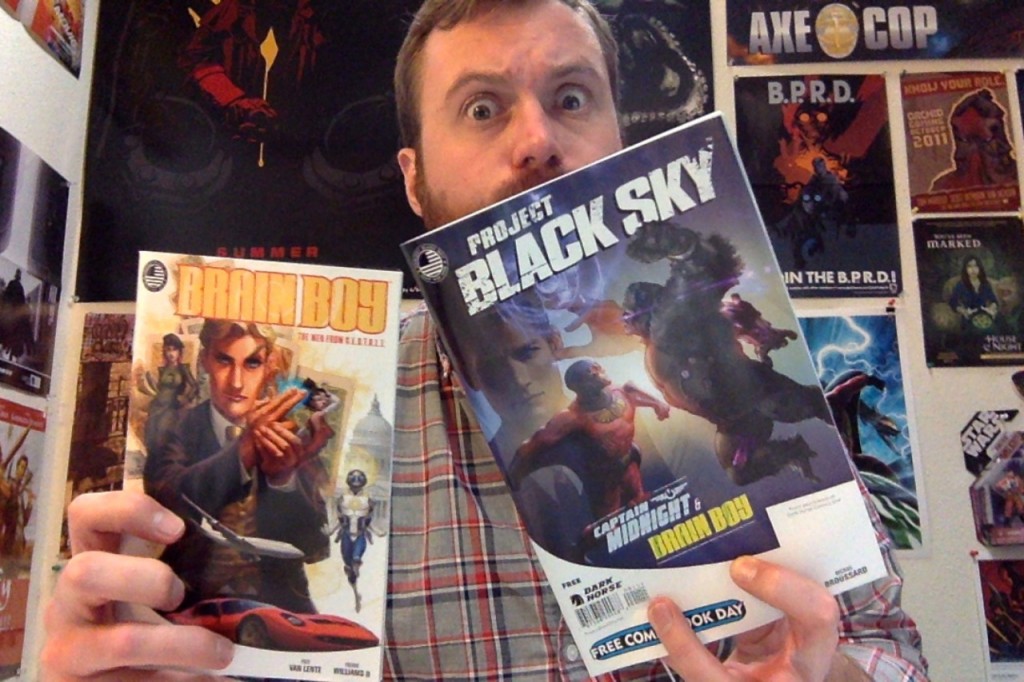 …and I wrote a comic this past year, illustrated by my buddy Caleb Goellner!
Grab your own digital copy of Birch Squatch: The Last Bigfoot #1 at Comixology or on Gumroad!
Already a bunch of graphic novels and nine prose books deep on 2015… see ya next year for that rundown o' reading!
Similar Posts: