I envy the comics readers, critics and bloggers who confidently feel they have surveyed enough of the year's comics work to make a list explaining which books were the best. I always feel like I'm playing catch up, reading comics from recent and long passed history more often than current and groundbreaking graphic novel work. Perhaps it's because comics is one of those industries that—if you work in or around it—doesn't often leave you with a ton of extra cash to spend on the works you're always hearing and reading about—at least not enough moolah to spend on all of them. I think that's why most of my graphic novel reading over the past few years has been comprised of things I've either been gifted, gotten free (comps, review copies, other people's most welcome cast offs) or found available for deep discount.
Make no mistake, I read some great books during the past year that were also published in 2010, but did I read enough of what was published to accurately make a "Best of 2010" list? Sadly, I'm not sure I did. As Jessie Spano once said, "There's never enough time!"
It seems to happen at the end of every year. I begin reading all the "Best Of" lists on prominent comics sites, often written by people I'm friends with or have met and whose opinions I respect, and I always feel like I've missed out on a lot. Still, I've read a bunch of stuff that I really enjoyed this year. I keep up on industry trends via the news and try to consume as much recent material as I can, but of the graphic novels most frequently listed amongst the year's best, I've read—maybe—15 percent, if that.
So, this year, instead of listing my favorite reads published in 2010 (A list that wouldn't reflect a great portion of work that came out over the past 365 days, thus making it inherently flawed.), I've decided to run down every comic collection I read, or reread, in 2010.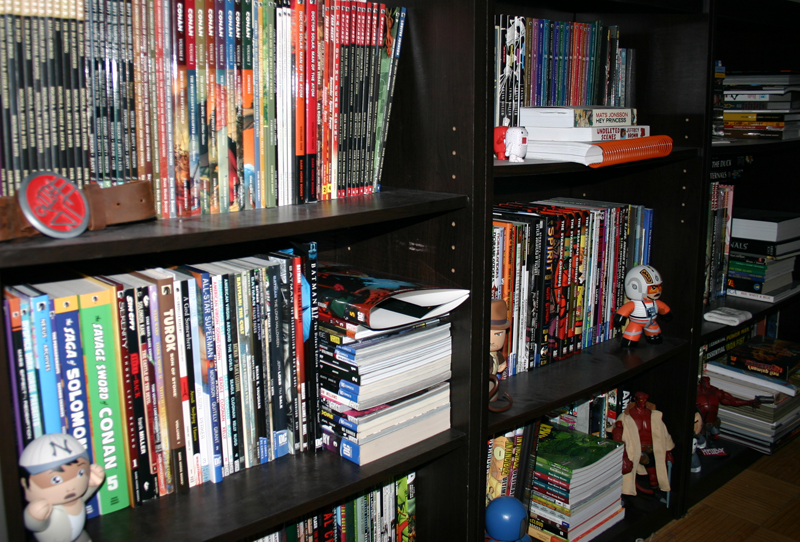 Please keep in mind, stacks upon stacks of as many periodical comics as I could consume were also part of my 2010 reading, but they're not listed here because… well, that list would be way too long.
—————
In 2010, I read 114 graphic novels. I've divided them by publisher.
Adhouse Books
Dark Horse Comics
Applegeeks Vol. 1

The Book of Grickle

B.P.R.D. Vols. 1 through 12

Buffy The Vampire Slayer Season 8 Vols. 1 through 6

Concrete Vols. 3 through 5

Chronicles of Conan Vol. 1 through 6

Conan and the Jewels of Gwahlur

Criminal McCabre Vols. 1, 4 and 5

Doctor Solar Man of the Atom Vols. 1 and 3

Hellboy Vols. 1 through 8

Judge Dredd vs Aliens: Incubus

Magnus, Robot Fighter Archives Vols. 2 and 3

Nexus Archives Vol. 1

The Saga of Solomon Kane

Savage Sword of Conan Vol. 5

Turok, Son of Stone Archives Vol. 1

Usagi Yojimbo Vols. 13 and 16 through 23

Usagi Yojimbo: Yokai
DC Comics/Vertigo/Wildstorm
A God Somewhere

Air Vol. 3

All-Star Superman Vol. 2

Batman: The Black Casebook

Batman: The Cult

Batman: The Long Halloween

Batman: Resurrection of Ra's Al Ghul

Batman: The Black Glove

Batman: R.I.P. (Deluxe Edition)

Batman & Robin Vol 1 (Deluxe Edition)

Batwoman: Elegy (Deluxe Edition)

Batman: Long Shadows

Gotham Central: In The Line of Duty Vol. 1

High Roads

House of Mystery Vol. 3

JLA Vol. 1 and Deluxe Edition Vol. 2

JLA/Titans: The Technis Imperative

Justice League International Vol. 1

Kid Eternity

The Outsiders: The Hunt

R.E.B.E.L.S. The Comic of Starro and Strange Companions

Seven Soldiers of Victory HC Vol. 1

Sleeper: Season One

Starman Omnibus Vols. 2 through 4

Superman: The Coming of Atlas

Superman: New Krypton Vol. 1

Unwritten: Tommy Taylor and the Bogus Identity

Wonder Woman: End of the Earth and Warkiller

World's Finest
Marvel Comics
Dr. Strange vs. Dracula: The Montesi Formula

Fantastic Four (by Jonathan Hickman) Vols. 1 and 2

The Invincible Iron Man Omnibus Vol. 1

The Power of Iron Man (Demon in a Bottle arc)

Mini Marvels: Rock, Paper, Scissors

New Mutants: Back to School

NEXTWave: Agents of Hate Vol. 1

The Order: The Next Right Thing and California Dreaming

Spider-Man's Tangled Web

Wolverine: First Class: The Rookie and To Russia with Love

X-Men: Children of the Atom
Devil's Due Publishing
Patrick The Wolf Boy Vol. 1
Image Comics
Oni Press
Fortune and Glory
Scott Pilgrim Vol. 6
Top Shelf
—————
A few notes…
-I've italicized all the reads I particularly enjoyed. I don't think there's anything on this list I overly disliked and I really did enjoy most everything I read in graphic novel form, but I thought I should point out a few highlights if I'm taking the easy way out and just listing "everything."
-See how I put "everything" in quotations above? Well, it's quite possible I've forgotten a few collections I read this year. I'd like to say this list is comprehensive, but odds are it's not. Still, it's an interesting smattering of reading to look over—for me, at least.
-As 2010 was my first full year working at Dark Horse, I read a variety of older DH books. While I read nearly all of my employer's recent comics and portions—if not the entirety—of many graphic novels published this year, my list mostly reflects books I read in my free time that now sit on my bookshelf (Books I purchased or had comps of from my time at Wizard). If I read a book for publicity research, it's not listed.
-I realize I could use a serious infusion of indie comics. If anyone wants to send some to me, I'll happily read them.
-Many thanks to Rickey Purdin and Leigh Walton who generously donated some of the books listed here.
I may decide to analyze this list or my 2010 reading habits at some point, but I'd love to hear what people think about what I spent my time reading last year instead of pontificating more at this juncture. I do love knowing that I read, roughly, a graphic novel every three days last year. For now, that's the main thing I take away from this list, I read a lot.
Similar Posts: