Ladies, gentlemen and martian invaders! Greetings! The past few days have been pretty darned busy but I'm back with some blogginess, so dig in!

Big Apple Comic Con was this weekend and I was there on Friday covering a panel for Comic Book Resources. The panel was wildly different than advertised (as three of the four people billed for it weren't in attendance) but ended up being a great discussion about being a comic book artist with Marvel pencillers Carlos Pacheco and Mike Choi. You can check that out here!
Comic savvy folks may have seen the news that Big Apple announced this weekend that their show next year would fall on the same dates as New York Comic-Con. This is a pretty big deal. To make a bizarre comparison of what this is like for you non-comics folks, remember back in 1997 when both "Dante's Peak" and "Volcano" came out? Two volcano movies from two different studios in the same year. Now imagine if they both came out on the exact same day, splitting the crowd of volcano-loving movie-goers between them. It's kind of (not really, but kind of) like that. Anywho, if you read Kiel Phegley's story about the announcement on CBR, you saw some photos of the con booklet I took to go alongside the it. If you're interested in more news on the subject, I suggest Sean T. Collins' write up entitled "Begun, the Con War has" over at CBR's Robot 6 blog.
My buddy Rickey Purdin also hit up BACC on Sunday and posted one of his "I got some cool stuff, here are pictures" entries over at The Cool Kids Table. So, check that out as well!
Speaking of buddies, Friday after BACC was awesomely filled with them! Rickey took a photo of the event which I've swiped from Facebook to post here…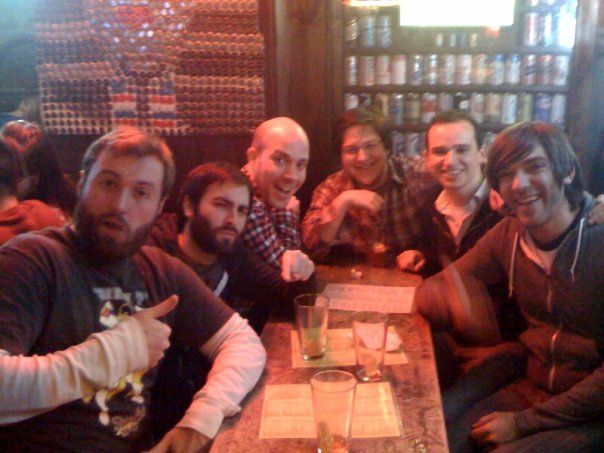 All of these rad chums (and me) work in and around comics, so meeting up and getting some drinks at the Peculier Pub in NYC was a ton of darned good fun. Luckily, our waitress was really good about coming by and picking up our empty pint glasses and beer bottles, otherwise this picture would have been a bit more…"embarrassing" isn't quite the right word…"drunker" might be. Also, my girlfriend and Caleb's fiancee were there, but stepped out of the picture so we could all have a manly bonding photo. It, however, only helped to make it an extremely nerdy picture. Either way, a success!
On the topic of ladies who date nerds, Steve Sunu's girlfriend is on The Beat. Scroll down till you see the chick in the three-cornered hat with "The Dreamer's" Laura Innes. And bam! That's her at Baltimore Comic-Con two weeks ago!
I meant to link to this a few weeks back, but my main man Caleb (see above) did an interview with one of my favorite webcomickers on Comics Alliance recently. Check out a sample of "Overcompensating" by Jeffrey Rowland below…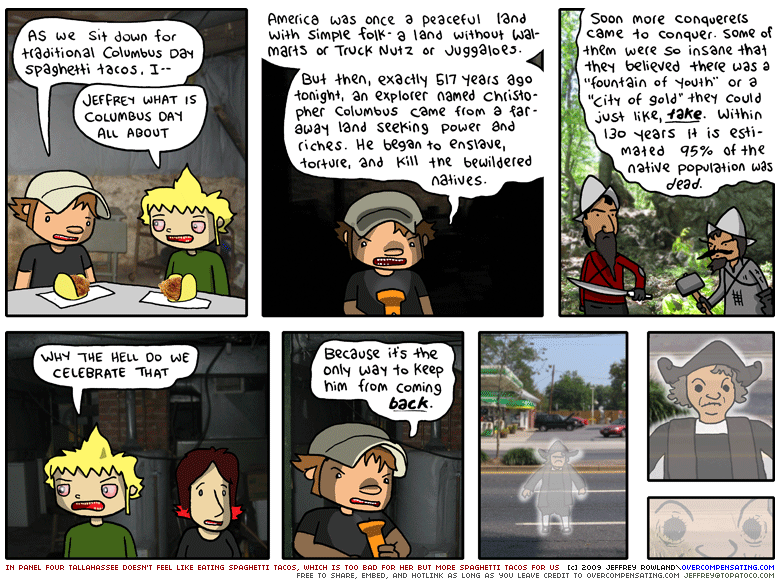 …and then go read the interview!
Sidenote, if this is what the second coming is going to be like, I can't wait!

JESUS2000 from jesus 2000 on Vimeo.
That Jesus sure does rock!
I saw "Where the Wild Things Are" this weekend and really enjoyed it. It's imaginative and harsh, much like the book and childhood. Good stuff!
Lastly, I'd like to remind everyone that all donations to my Movember fundraising efforts before October 31 enter you in a raffle to win cool stuff. So, read more about that and then donate!
On the Movember front, I would also like to remind everyone that I have teamed with my good friend Matthew Lubicky to form a moustache-growing and fundraising team that few duos filled with haters of men's cancer and lovers of facial hair blooming could only ever hope to emulate. We're going by the team name "The Venerable Gentlemen…From Space!" and you really should donate to this incredible cause right now! I mean, check out Lubick's recent beard and try and tell me you don't want to see the moustache this guy could grow! You can't!

Please,
donate now
!
Similar Posts: