It's contest time, folks! I had previously mentioned that I'd been in contact with the CEO of the Movember Campaign. Well, he sent me an official Movember t-shirt to use in whatever effort I see fit to drum up even more donations in the fight to combat testicular and prostate cancer. What's that you say? You'd really like to win this awesome t-shirt? Well, here's how you can do just that!

Step #1: Head here and donate now!
Step #2: Donate before Movember 1 (otherwise known as November 1).
As a Movember t-shirt would be ideal outerwear during the entire month of Movember, it seems only fitting to get it into the hands of the winner ASAP. How will the winner be chosen? Well, we're doing this raffle style. So, each dollar donated will essentially act as a raffle ticket with your name on it. Donate $1 and your name is entered in the raffle once. Donate $100 and you've just stacked the deck with 100 raffle tickets in your name. On Movember 1, I'll draw a name from the hat, bowl or whatever receptacle I use to house the tickets and that person will win the t-shirt. Not only that, but three other lucky winners will score some rad and official Movember moustache stickers. Plus, I may just toss in some other cool prizes depending on how many donations start flowing in after this announcement. So, the more you donate, the more chances you have to win!
Full disclosure, the shirt is a large. So if you need to rock a XL, I still suggest you donate and give the t-shirt to a tinier friend or hope you win some stickers.
And here is the lovely shirt you could win if you're donation is a lucky one—something I'm sure is intricately intertwined with generosity!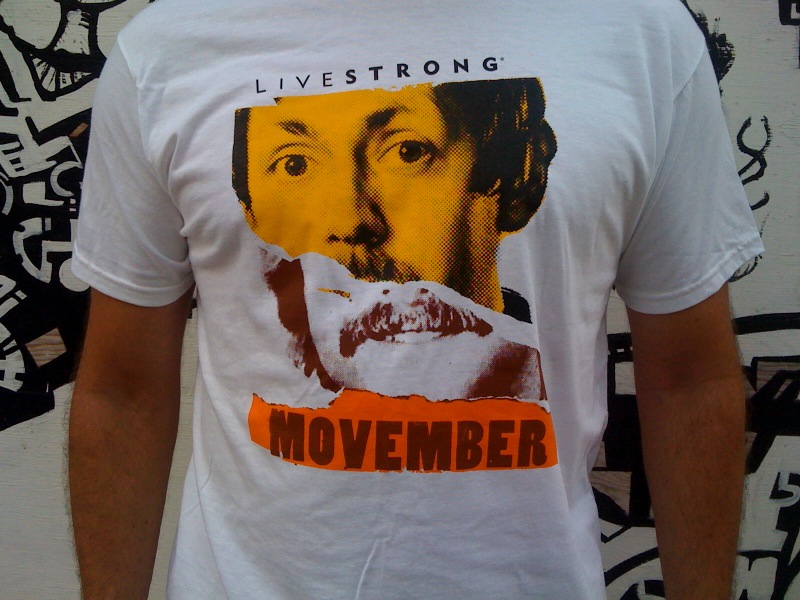 So please, donate now! Even if you only have a dollar or two to spare, that still gives you a chance to win the t-shirt and every little bit helps in the fight. Also, it'll look really good karmically if you do! AND, I know you are a man or you know a man…so donate and help him/them too!
Lastly, one of my most facially hairy amigos is joining the fight against cancer as well! We've teamed up for Movember (official announcement coming soon!) and plan to take on men's cancer in a doubles match where only our victory shall have the referee exclaiming "Game! Set! And Match!" More to come, stay tuned!
Similar Posts: