Hey there, folks!
If you're a regular 'round these parts, you'll notice that this week has been particularly light on the blogging.
Sorry about that.
After last weekend's crazy-busy vacation, this week has been chock-full of tons of work and other life stuff all piled on top of me seriously needing to catch up on sleep. Finally, at week's end, I've got all aspects sorted, but haven't had too much chance to cobble together anything by way of this blog. So, for funsies, I figured I would just toss together a bunch of random little things for a hodgepodge entry. I hope you all enjoy it!

First order of business, if you haven't heard my appearance on the Panels On Pages Awful Snack PoPcast, go listen to that right now while you read the rest of this post!
Next, I am working on a brief comic strip that will act as the first appearance of a duo that will become occasional supporting cast members in Enemy of Peanuts: The Webcomic. Their name: The Time Travel Casanovas! Their mission: Using the expanse of knowledge available to us nowadays—things like IMDB and Wikipedia on the interwebs and libraries and whatnot—to travel back in time and seduce the sexiest women of the past. One of the inspirations for this concept was this super sexy picture of Lynda Carter…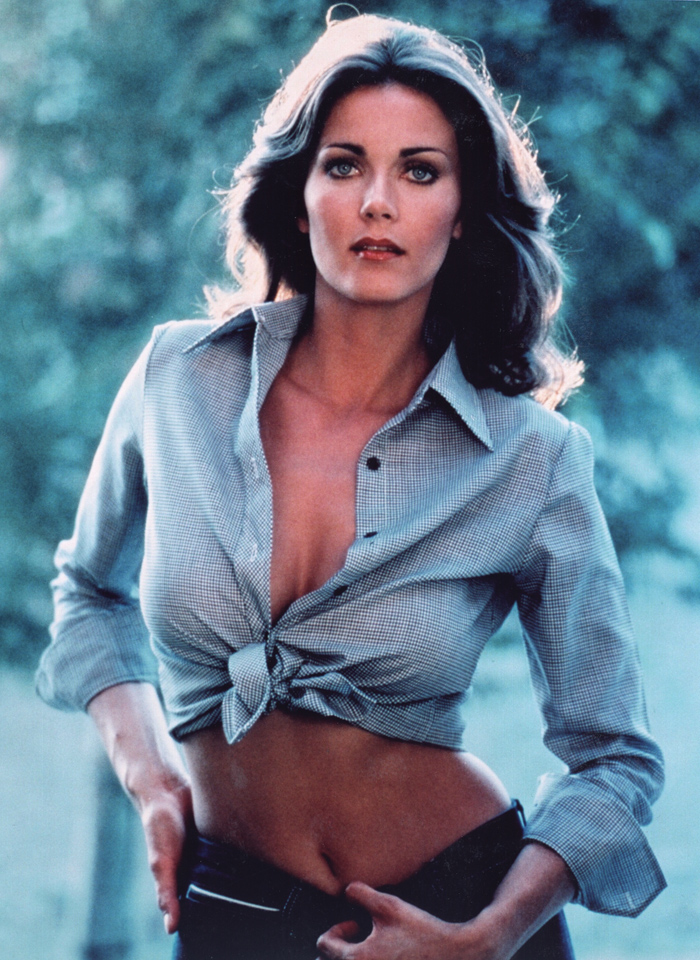 Keep your eyes peeled on EoP for that comic strip later this week!
Wizard Research Master Dan Reilly printed me out a copy of this picture over a year ago when I first started at Wizard back when we were putting up our list of the 25 Sexiest Women in TV online. It hung by my desk for the entire time I worked in the old, windowless Wizard web office.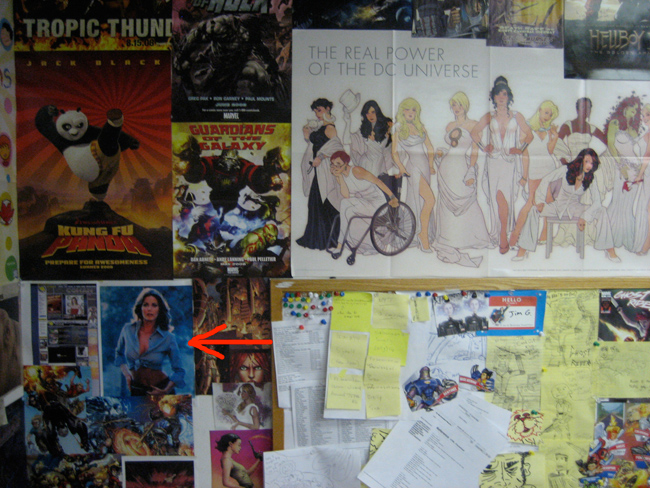 As you've seen a sample of my massive comic art wall collage, I'll post some other pictures I have of it—especially as this post is all about the random, and a wall collage definitely fits that M.O.
Begun as a way to stay sane in a windowless office where I worked online all day, I slowly covered almost the entirety of all four office walls with Con posters, clippings from Previews catalogs and other odds and ends. A pretty crazy project that definitely had more people thinking I had slightly snapped than agreeing with this method of staying sane, here's a few shots I snapped of it when the whole Wiz Staff moved out of our old offices.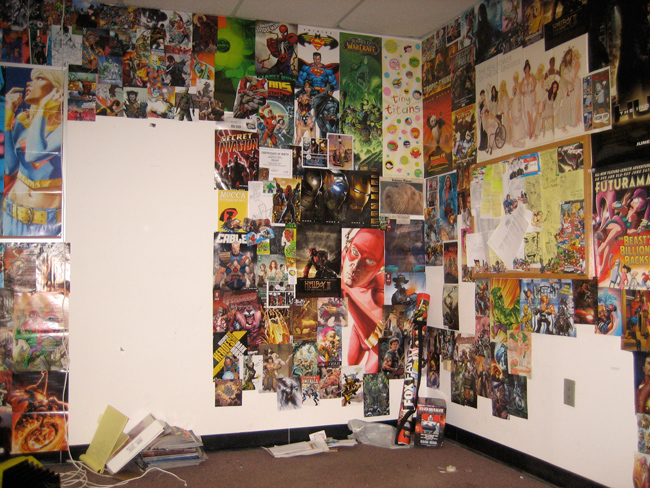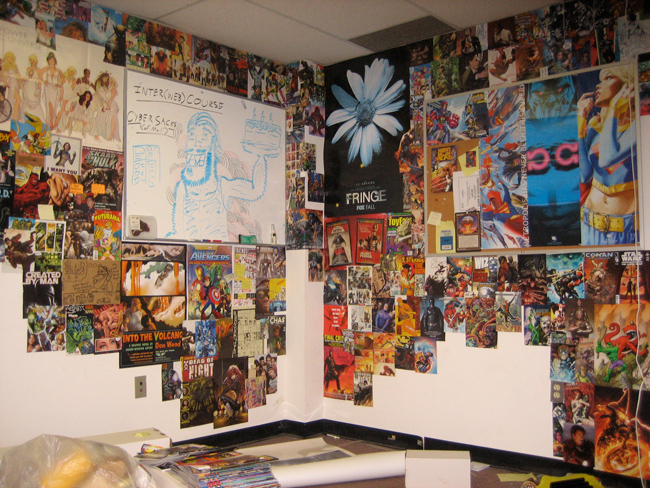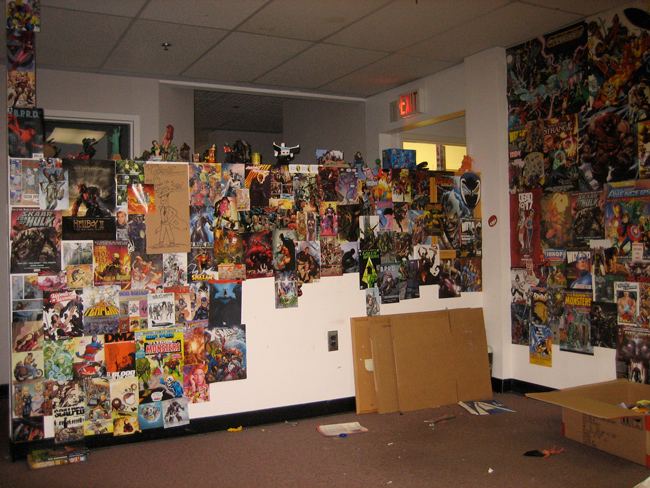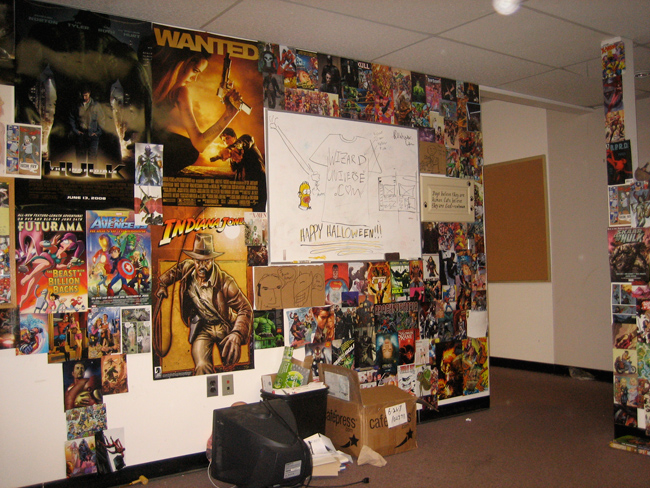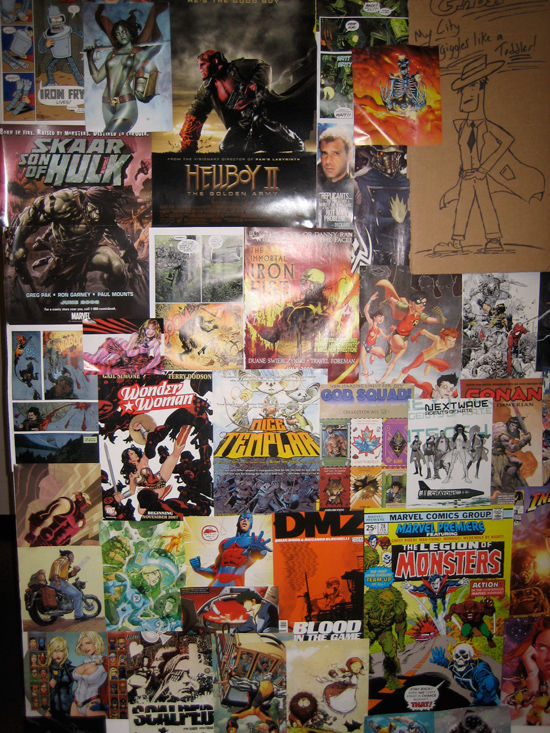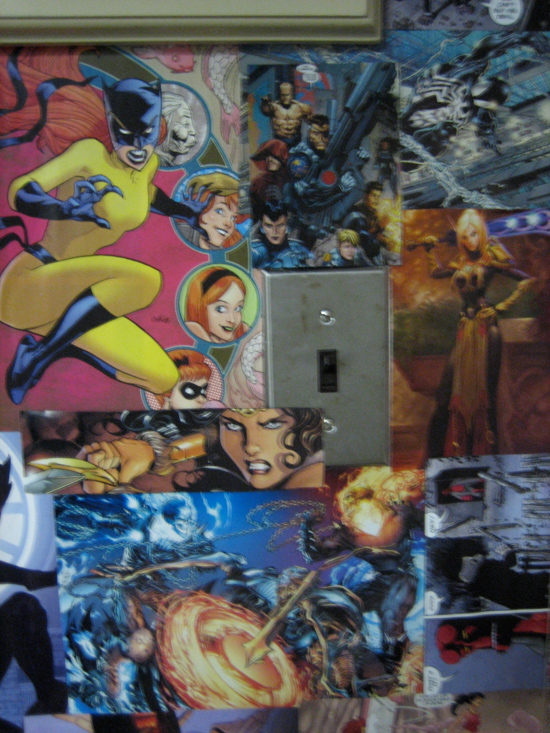 Last weekend, I went and bet on horse races for the first time in my life. It was a family outing, not some crazy gambling binge, but man, it was way more fun than I ever expected betting of any sort could be. It's kind of like a day at the park or going to a baseball game, but with more betting and horses! Here's me taking a break from checking out the upcoming races to stare off into the distance.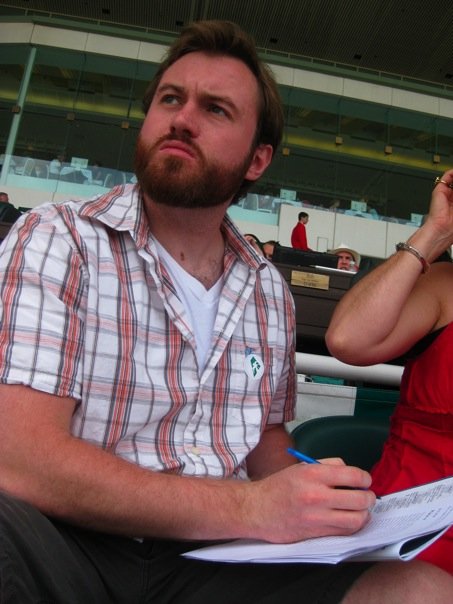 In this week's Mighty Avengers #27 by Dan Slott, Chris Gage and Khoi Pham, there was a particularly interesting panel that appealed to me personally in a way I'll explain after the image…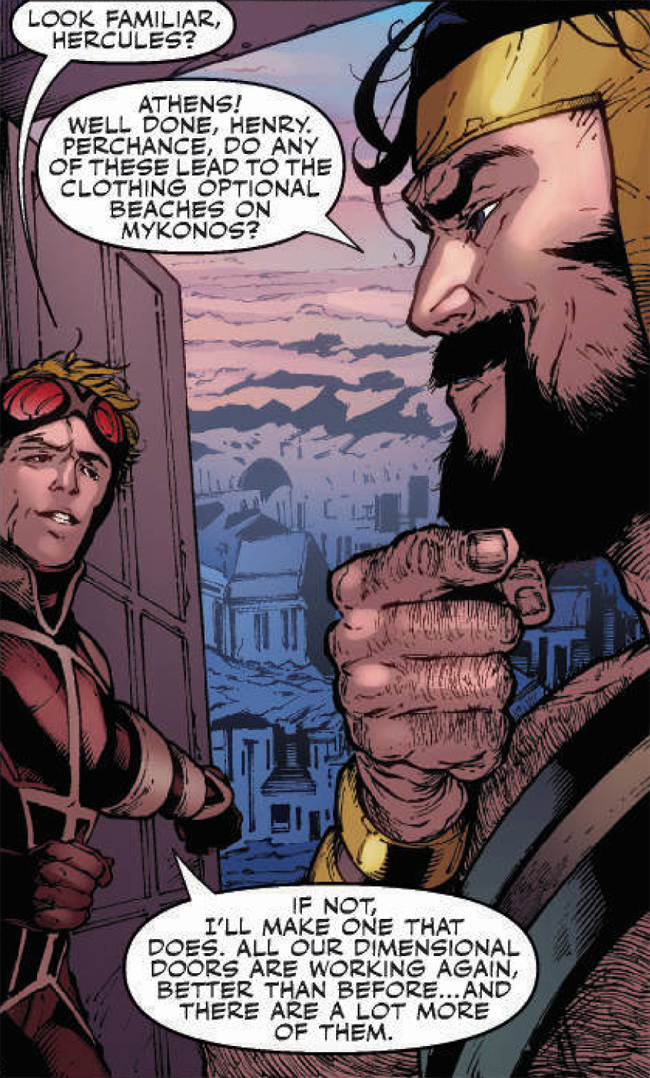 As you may remember from past posts, I share a passing resemblance to Marvel's Lion of Olympus, The Incredible Hercules…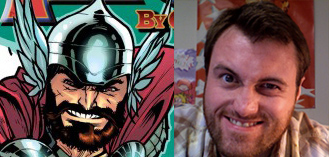 …a fact that comics reporter and buddy of mine Josh Wigler once imparted on Incredible Herc co-writer Greg Pak when discussing casting of a "probably won't ever happen, but what if" Herc movie. Anyway, all the above and the fact Herc is one of my favorite Marvel heroes (in part due to my second major in college being Classical Humanities—so, not just a comic geek, but a myth geek too!) always has me relating a bit to the brawny, bearded Avenger. But, this panel really jumped out at me because my lovely girlfriend—long before we dated—has been to the clothing optional beaches of Mykonos! So, my comics counterpart visiting beaches where my lady fair has been less than dressed…well…kind of silly, but it stood out to me. Also, a great comic quote!
Lastly, that facial hair seen at the racetrack was removed earlier this week for the first time in a long time. Sometimes, you just gotta wipe the slate clean and start from scratch—even with beards! Anywhoozle, the really crazy part about this shaving is that it's the first time in around five years my sideburn region has been exposed to the elements. An almost-constant on my face since the 7th grade, my muttonchops normally remain when I remove the rest of my beard. This time, I just wiped it all off. No worries, it'll be back in about a week!
Thanks for checking in, folks! More "fer realz" blog posts soon to come!
———
Also, ToyFare's Justin Aclin will be at San Diego Comic-Con promoting his upcoming graphic novel Hero House…


…so, head over to his blog at www.AclinCorp.com for more info, buy a t-shirt and buy the book when it hits!
Similar Posts: