Stumptown Comics Fest is an excellent comic, small press, and art convention in (as of this weekend) sunny Portland, Oregon. Here are some examples of the rad stuff you can get if you attend this awesome show!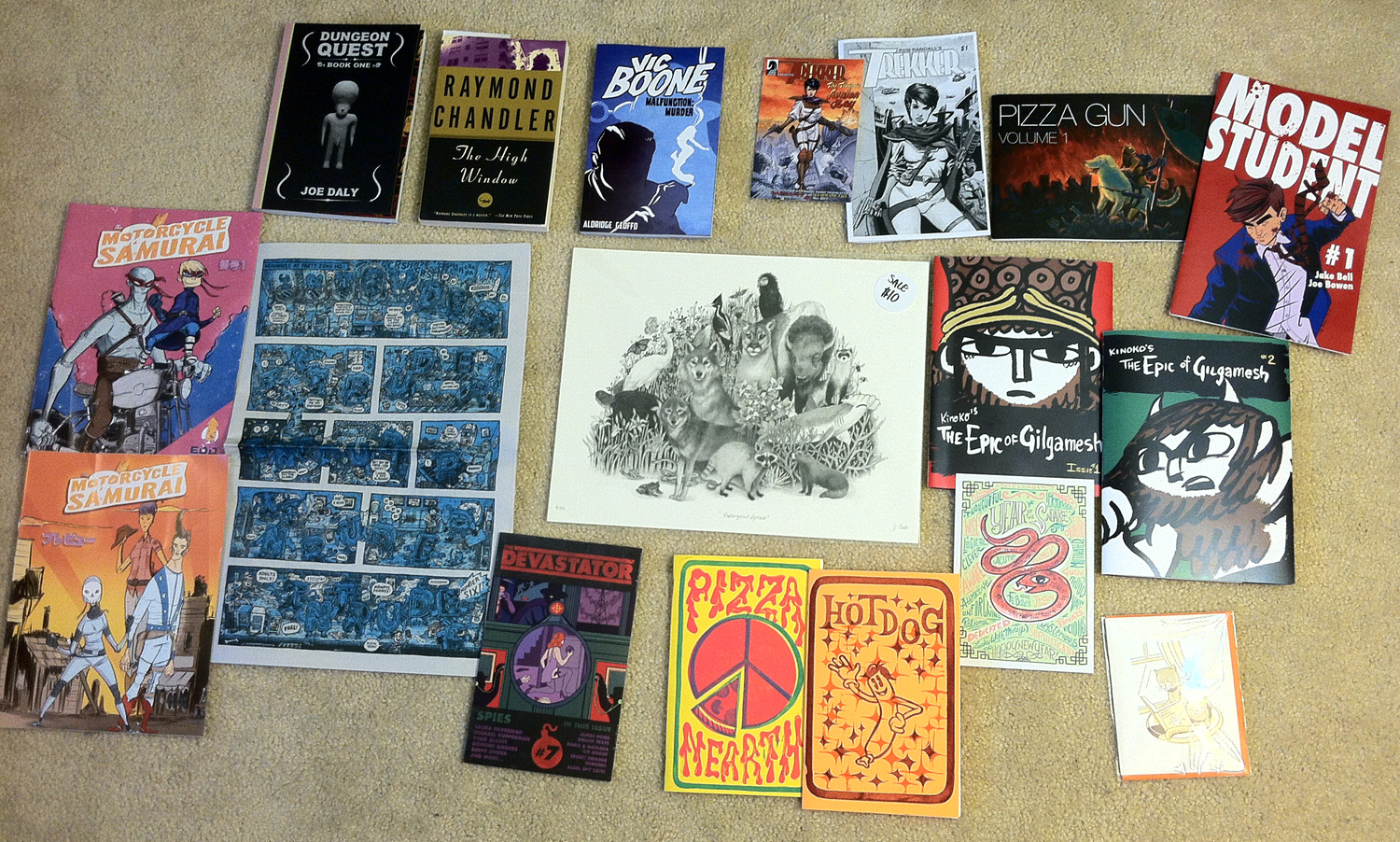 From left to right, top to bottom…
Dungeon Quest by Joe Daly and The High Window by Raymond Chandler. Ok, ok, I bought these at Powell's the weekend of the festival, but I'm counting them.

Vic Boone: Malfunction Murder by Shawn Aldrige and Geoffo, generously gifted to me by Mr. Aldridge.

A Trekker: The Train to Avalon Bay publicity postcard and a Trekker introductory 'zine from my main man Ron Randall, who's promoting Mercy St. Clair's return in Dark Horse Presents, as well as the gigantic and awesome upcoming Trekker Omnibus.

Pizza Gun Volume 1 from the fellas at Pizza Gun, Inc, because I love pizza. They admitted the book had little to nothing to do with pizza, but… what the heck, right?

Model Student by Jake Bell and Joe Bowen, which I think I stole from Patrick Thorpe's office instead of getting at the convention, but it was in my bag at the end of the weekend, so… counting it!

Two samplers of Motorcycle Samurai by Chris Sheridan of Powderkeg Press. Pretty sure Chris gave these to Scott Allie to give to me at Emerald City Comicon, but again, they were in my bag at the end of the convention and I caught up with Chris on Sunday, so… counting them!

A free Seattle-centric comics newspaper I received when I made a purchase from Gnartoons. More on that below…

A print featuring a bunch of endangered species from Pony Club Gallery.

Issues #1 and #2 of Kinoko's The Epic of Gilgamesh, plus a cool Happy New Year snake postcard from her, as well.

Devastator #7 by The Devastator based on the fact my buddy Brett White (who was visiting Portland all the way from NYC) was randomly connected to the creators via Upright Citizen's Brigade/improv comedy connections. The book was also nominated for a bunch of Stumptown Awards, which is always a ringing endorsement.

Pizza Nearth and Hot Dog! comics from Gnartoons/James the Stanton, who I discovered is my buddy and expert designer Tony Ong's roommate. Small shows are fun for that exact reason. You get to support friends and friends of friends, sometimes accidentally!

A cute cat greeting card from Fickle Hill Letterpress.
This was Katie's first show and she's responsible for the cute cat card (natch!), the endangered species print, and the uber awesome, "I'm a classics nerd so I'm super excited about them" Epic of Gilgamesh issues. It was cool having a fresh set of eyes on a convention that I love. It led to me seeing some stuff I would have overlooked. That's the moral of the story, folks. Even if you know comics, bring your non-comics people to shows. They'll help you find some awesome stuff you'd otherwise overlook!
Similar Posts: