Yesterday, I mentioned that my brother Dan and I would be forming collaborative teams for Movember this year. Here's a little behind-the-scenes insight into the initial stages of our efforts this year…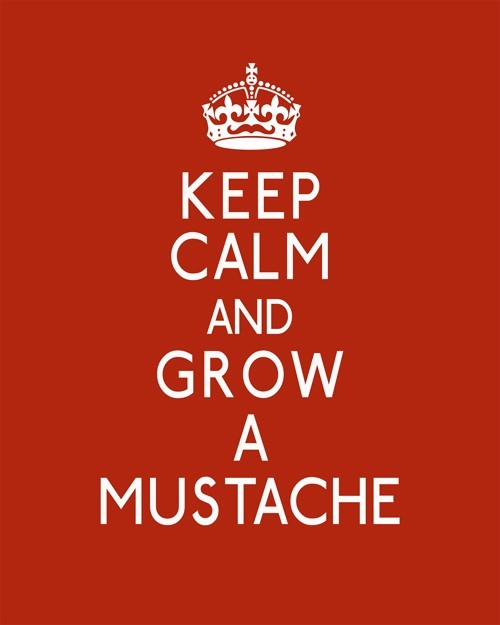 First, here is the recruitment letter I sent to the members of last year's team. Hopefully, reading it here encourages a few more people to drop me a line at jimgibbons1[at]gmail[dot]com and join up for Movember 2011!
Gentlemen,
You're receiving this email because you participated in Movember with us last year or you've expressed interest in doing so in 2011. Last year, 13 of us combined to raise $4,577 as Team Mammoth-stache. This year, my brother Dan and I have hatched a more ambitious plan and we'd love you to be part of it.

We'll be setting up two collaborative teams, one in Portland/The Northwest and one in Chicago/The Midwest. These teams will share a unified name and official group when Movember begins. Between the two teams, we'd like to more than double what we raised last year. This year, we're shooting for a collaborative fundraising total of $10,000. It's a big goal, but I think we can definitely achieve it… with your help, of course!

Official registration doesn't begin until October 1, but if you're willing to commit your upper lip to 'stache-growing all November, please reply to this email and let us know. We'll compile names and get a group conversation going about team names.

If you're not up to growing a Mo', no worries. Please do consider donating this year, though!

Lastly, I know not all of you can neatly fit into the Portland/The Northwest and one in Chicago/The Midwest categories. If you'd like to start a third chapter of our giant group in your region, we'd be happy to have another arm to our attack on men's cancer! Just drop me a line and let me know! If you are not in one of our two regions but don't want to start your own chapter of the team, that's also fine. Let us know and we'll place you on the regional team that has fewer members to keep things balanced.

Ok, sorry to be so long-winded… already getting pretty excited!

I hope to hear from you all soon!

Got to get Mo', Mo' Bro!
JIM
And here's Dan's Chicago-centric recruitment email. It also features an excellent explanation of what Movember is and what it's all about. Very informative and entertaining.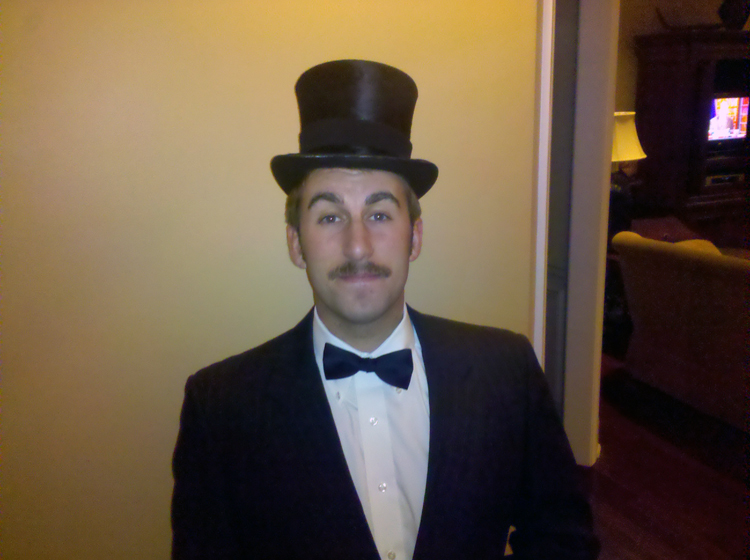 Dan Gibbons: Movember 2010
Hello Everyone!

As many of you may already know, last year Steve Olson and I participated in the event known as Movember. This is the event where men donate their upper lips to growing a mustache throughout the month of November to raise money for prostate and testicular cancer. The two of us represented the Chicago chapter on my brother's team based out of Portland. As a team we raised nearly $5,000 that helped to contribute to the $7.5 million that was raised across the US in 2010. This year I would like to create a larger Chicago branch with you guys as my fellow Mo Bros!

Why should you Join?
1) Spread Awareness: It's for a good cause that people don't talk enough about. One in six men will be diagnosed with Prostate Cancer in their lifetime.
2) Improve Self Esteem: You will feel more confident, smarter, and better looking with a mustache.
3) We can't let Canada win: That $7.5 million that was raised last year, pretty impressive, right?… WRONG! The US finished in fourth place last year behind Australia, Canada and the UK.
4) Parties!: Right now, I have two Movember fundraising events planned. One in Chicago and one in Libertyville. Also, their is a big party for all Mo Bros at the end of the month.
5) Women will want you.

How Does it Work?
The whole thing is pretty simple. Starting on October 1, you can go online and create a personal page on the Movember website (www.movember.com) where people can donate to your mustache. You start on November 1 clean shaven and throughout the rest of the month you grow and style your 'stache to help raise awareness for men's cancer. As you strike up conversation with friends and family about the fuzzy caterpillar above your lip, you let them know that you are growing this 'stache to help in the fight against cancer. You also let them know that they can help by pledging money to your mustache. Then you just simply point them to your homepage.

If you are not yet convinced, let me share a true story that involved our friend Steve Olson during last year's Movember campaign.

November 21, 2010
It all starts with a waitress dropping off another round of freshly poured beers with suds flowing over the top. Steve quickly grabs the glass, takes a hardy sip and places the beer back down on the table. He feels the cool and refreshing sensation of beer suds soaking in his three-week-old mustache. Reaching up with both of his hands, he takes one finger from each hand and wipes dry his 'stache from the middle to the edges. As he flicks his fingers dry, Steve looks up to see a beautiful women staring back at him from across the bar. In any other month, Steve may have quickly turned away from her gaze, intimidated by her rare beauty and piercing eyes. However, this wasn't any other month, this was Movember. Steve stared back at her and, feeling extra confident, he bit his teeth at her like a hungry dog would. Feeling a rush of excitement she hadn't felt in years, the woman stood up and headed in Steve's direction. As she got to the table, she deliberately looked at Steve and said right before she licked her lips, "I like your 'stache!" She then grabbed Steve's glass and threw the rest of the beer down her throat, slamming the glass on the table. "Your beer is done. I think its time you come home with me."

You will have to ask Steve what all happened that night, but the part I can confirm is that the next morning Steve received a donation of $75 on his Movember page signed "The Woman from Last Night".

Steve Olson: Movember 30, 2010

Where we Go from Here?
Think over this invitation to join the Movember campaign good and hard. If you want to join, email me back and I'll let you know how to get signed up under our team name. Also, if you are interested, please make sure that having a mustache for the month won't interfere with your job or your girlfriend.

If you think anyone else you know or that I may have missed would be interested please feel free to get them involved.

Check out the following links to help better explain….

http://www.enemyofpeanuts.com/2011/09/14/movember-is-coming/
http://www.youtube.com/watch?v=VTuKOgHI7GA

Thanks,

Dan Gibbons
If you didn't want to join up before, I know you do now! Email me at jimgibbons1[at]gmail[dot]com for more info!
Similar Posts: