At Comic-Con last year, I lamented the fact that I didn't have a smartphone with a decent camera—I saw so much but couldn't record ay of it. This year, I aimed to take a ton of photos with my still pretty new iPhone. Of course, I got caught up in Comic-Con and didn't take nearly as many photos as I planned… but hey, here's what I've got. Take a look!

As I mentioned previously, we stayed at the Hard Rock Hotel, which is—quite simply—a goofy place. It's a great metaphor for Comic-Con, though. It's where the uber-nerdy comic folk and the beautiful and often douchey So-Cal element meet and mix in the fashion of oil and water. That said, the rooms were very nice. And they supplied a magazine with Spider-Man on it, so… coulda been much worse!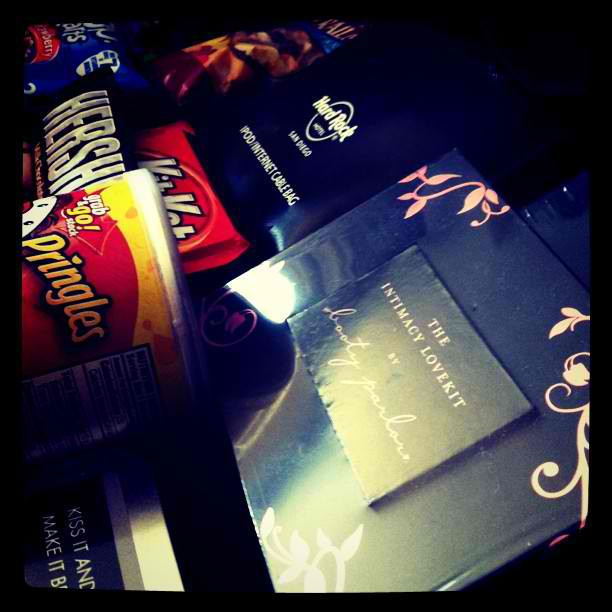 The elaborate and extremely expensive minibar at the Hard Rock featured a love kit. Kinda silly, so I snapped a photo.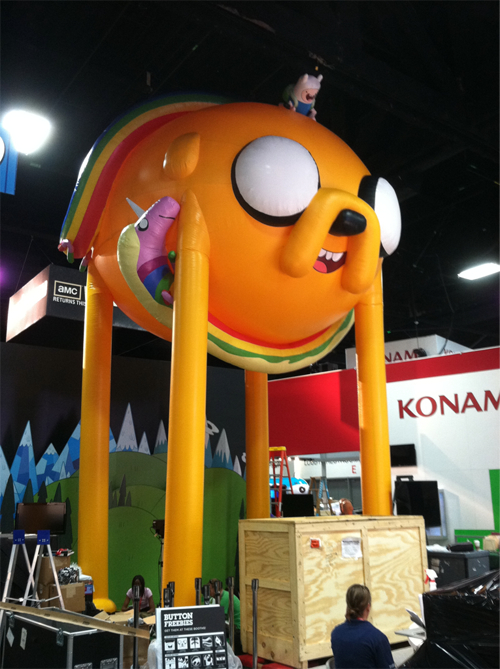 Regular readers of this blog are well aware of my love for Adventure Time, so it was great to see AT and Cartoon Network just straight-up owning Comic-Con. Here's the giant inflatable Jake at their booth shot a few hours before preview night (Wednesday).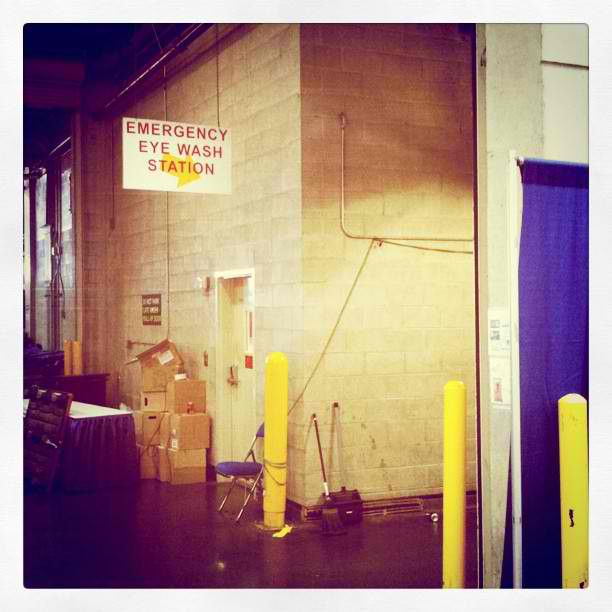 Presumably there in case of eye-stabbings. Did anyone do a follow-up piece on the stabber and stabbee? I'd be curious to see hear what's up with those two a year later.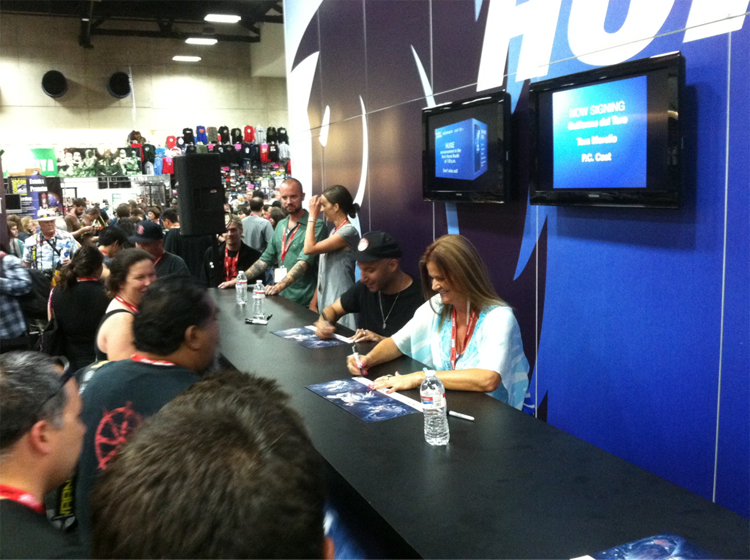 Tom Morello and PC Cast signing at our big Wednesday night reveal. Get ready for Orchid and House of Night this Fall, guys!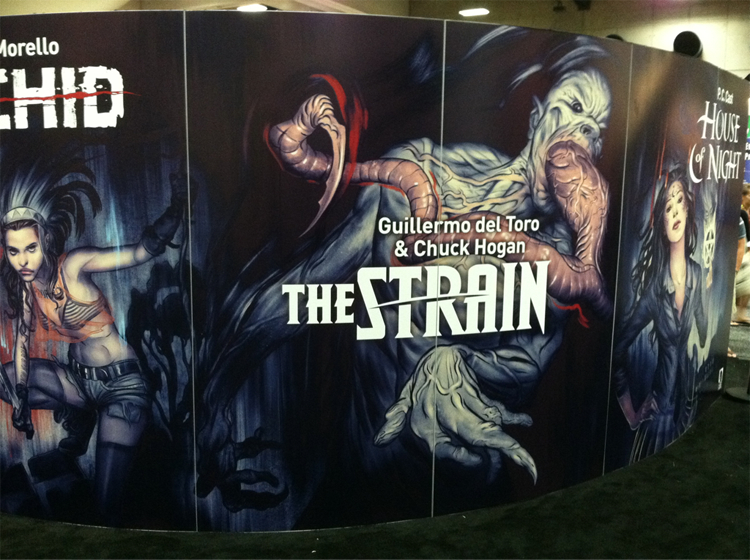 The big reveal wall. Very, very cool to see it all enormous and 8-feet-tall after having worked on putting piece this together.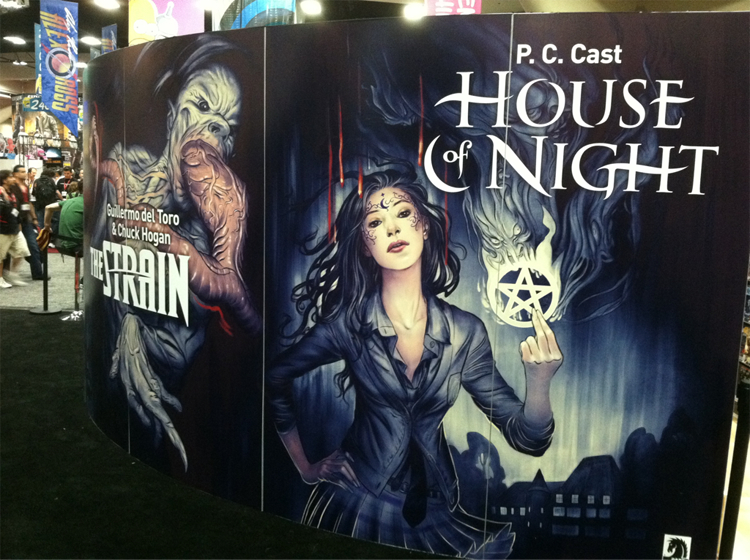 Another shot of the wall. Steve Morris is the king!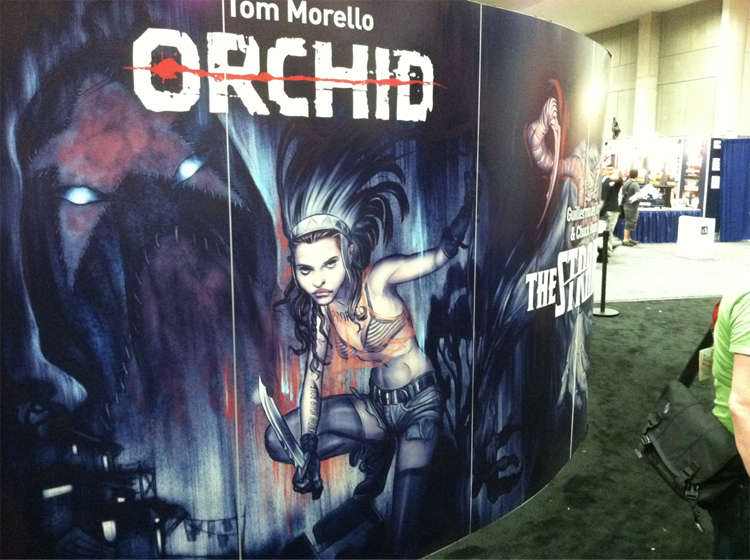 And again!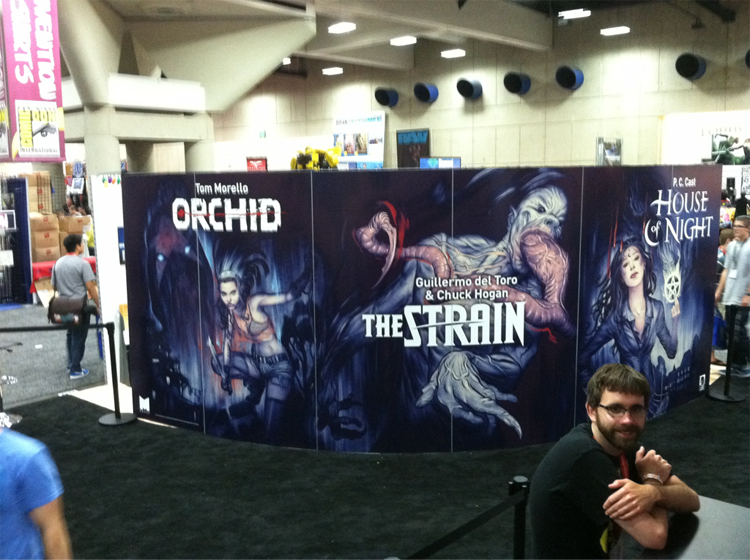 And once more with feeling! Featuring Dark Horse editor Dave Marshall!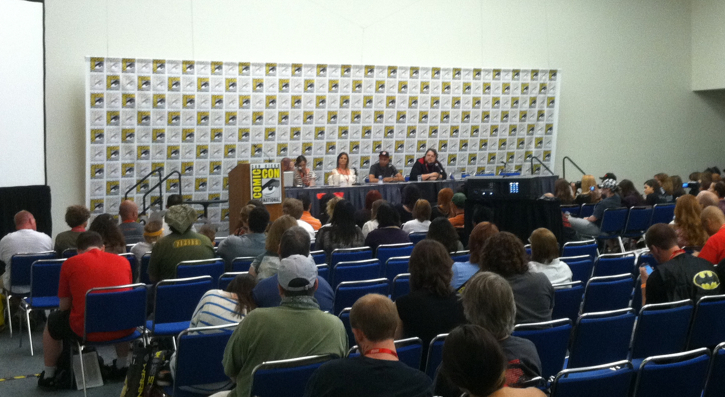 Dark Horse's Jeremy Atkins and Sierra Hahn alongside PC Cast, Tom Morello and Guillermo del Toro at the Thursday panel about our big reveals. More here, if you're interested!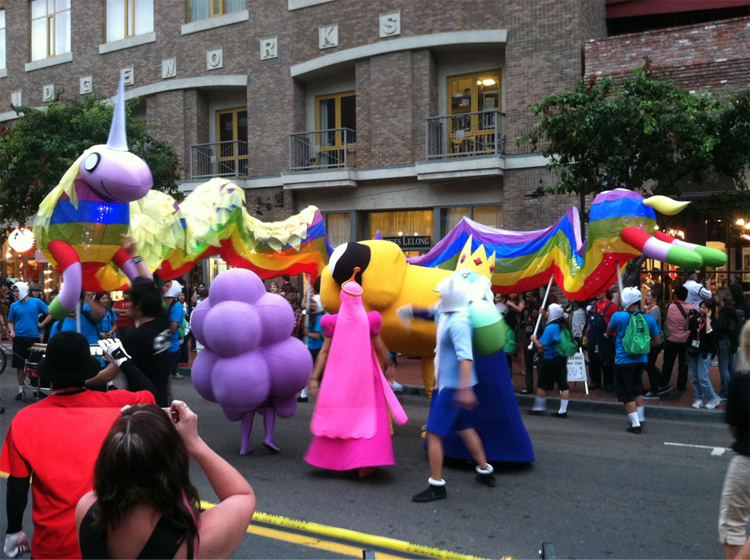 The Chinese Dragon-style Lady Rainacorn that was part of Adventure Time's nightly street parade.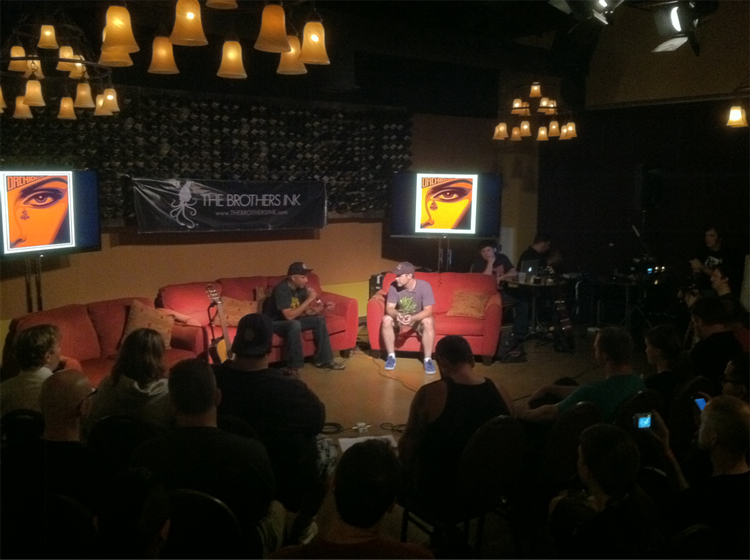 Scott Morse interviews Tom Morello about Orchid at Tr!ckster.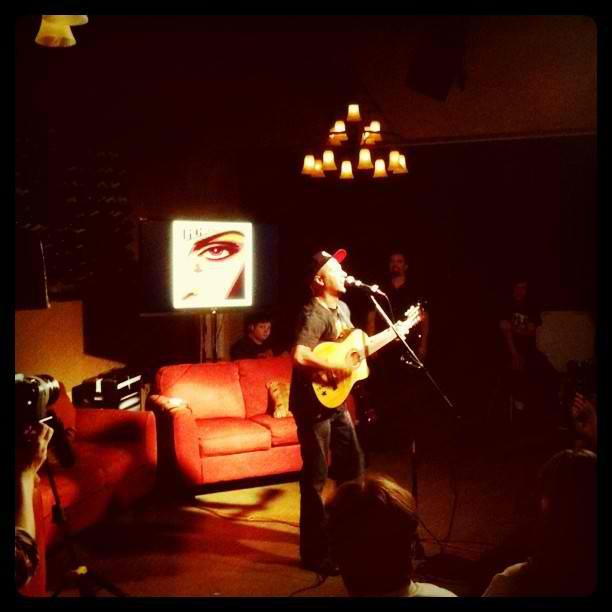 Tom Morello rocks Tr!ckster. One of my biggest highlights from Comic-Con!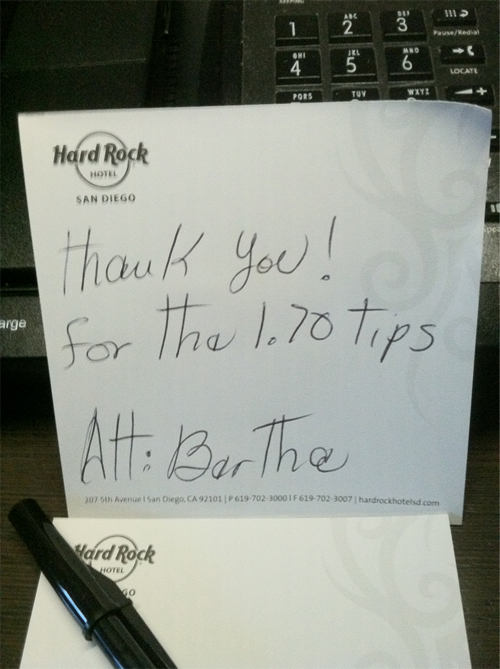 Apparently, a room full of assistant editors don't have the deep pockets to tip well. More curious, who's ever heard of someone named Bartha?!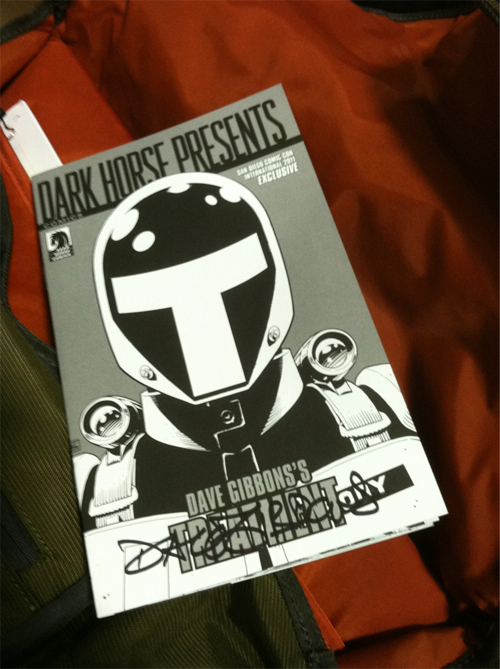 A shot of the Dave Gibbons signed comic I got for my dad, Dave Gibbons. I texted this to him.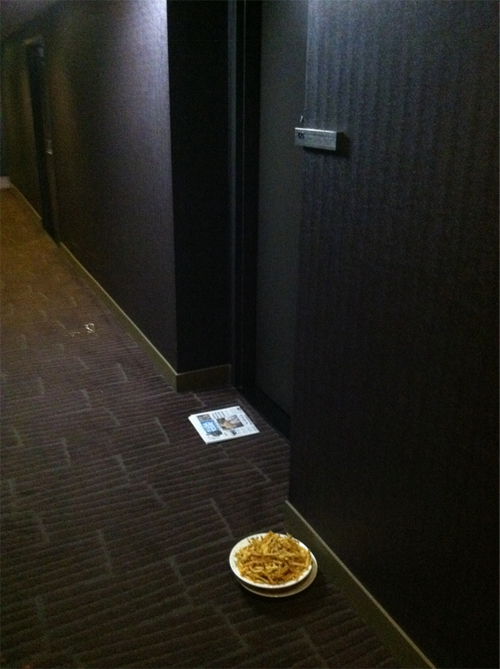 Just a photo of a perfectly bizarre moment to close out the weekend. Heading down to the lobby to catch a cab to the airport at 4:30am on a Monday morning, walking through the frighteningly monotonous purple and black Hard Hotel hallways, there sat a full and untouched plate of room service fries. Why? Who knows? Either way, a weird little scene to close out the whole Comic-Con experience.
And that does it, ladies and gents! Between this post, my recap and my rundown of the swag I got, that was my Comic-Con experience. Hope you enjoyed it. I did.
Similar Posts: