I didn't spend much money, but here's my haul from this year's Comic-Con International…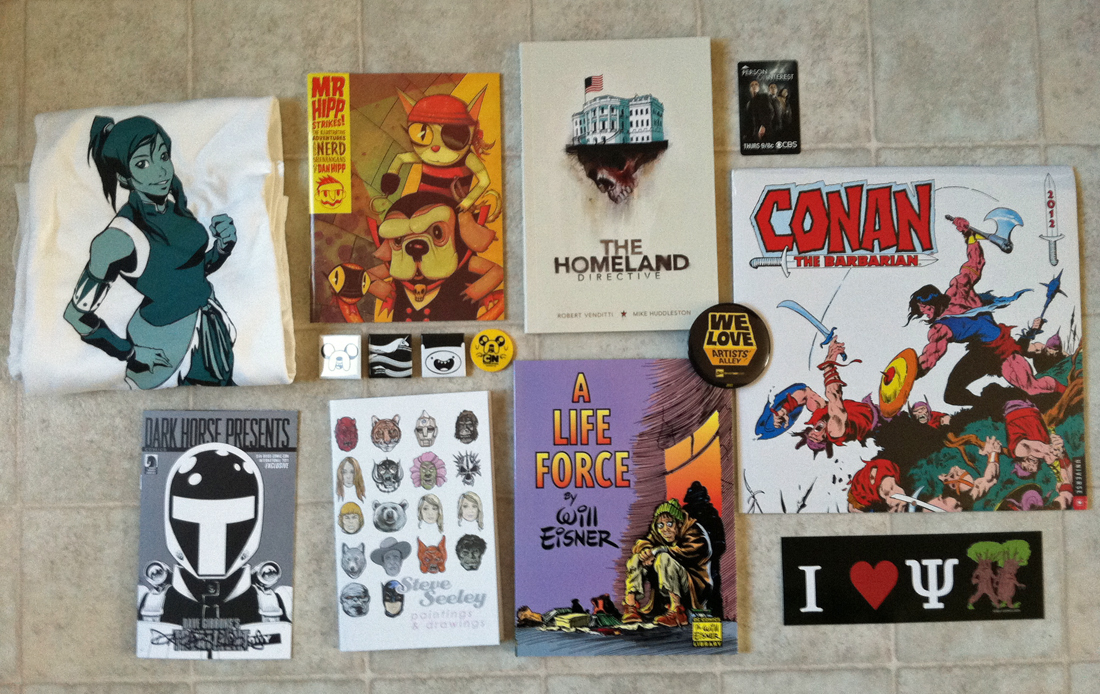 Let's start in the upper left hand corner and go from top to bottom followed by left to right in columns…
-A The Last Airbender: Legend of Korra t-shirt.
-The special SDCC Dark Horse Presents ashcan featuring Dave Gibbons' Treatment and, also, signed by Dave Gibbons. This one's for my Pops, but I have a unsigned one for myself.
–Dan Hipp's totally rad art book Mr Hipp Strikes! The Illustrative Adventures And Nerd Shenanigans of Dan Hipp. After Dan provided me with such an above and beyond commission a while back, I'm always happy to support and spread the good word about his fantastic work.
-A series of Adventure Time buttons from the Cartoon Network booth and a Jake the Dog poker chip redeemable for free pizza. I decided to keep it instead! And with as much as I love pizza, that's saying something! I believe it was Scottie Johnson and Steve Sunu who helped me acquire three of these rad pins. Thanks, guys!
-A nice little sample book of Steve Seeley's paintings and drawings. Not sure if he was charging for this at his booth or if its just a promotional piece, but Steve gave this one to me gratis. Many thanks, sir!
-I was chatting with my buddy and Top Shelf publicist Leigh Walton about how psyched I was that Guillermo del Toro was jazzed about the work Strain artist Mike Huddleston is turning in. I'm a lowly assistant editor, but I think Hudd is knocking it out of the park, so I was pretty excited to spread the word that a prestigious writer and director thought so as well. Anywho, Leigh asked if I'd read the Top Shelf book Hudd did with Robert Vendetti (The Homeland Directive). I said "no" and Leigh told me to swing by the booth the next day and he'd hook me up with two copies—one for myself and another for Guillermo. Leigh's a good guy. It's that simple.
-I was manning the freebie booth on Friday, I believe, when a young couple came up to collect some swag. Both of them were wearing "We Love Artists' Alley" buttons that they'd gotten outside the convention center from someone with DeviantArt.com. I complimented them on the buttons, informed them that I too love Artist' Alley and the girl insisted I take her button. Now that's just the kind of good vibes I love experiencing at a con! I know I said thanks then, but if you end up reading this—whoever you are—thanks again!
–A Life Force by Will Eisner: The graphic novel that all Eisner Award ceremony guests received in their gift bags.
-My hotel room key was an advertisement for CBS's upcoming show Person of Interest. I kept it.
-A 2012 Conan calendar featuring classic art by Barry Windsor-Smith, Gil Kane, Neal Adams and John Buscema.
-And lastly, the Saturday Morning Breakfast Cereal sticker Zach Weiner gave me. Make the last two symbols one word (The Greek letter "Psi" and some "Ents" from Lord of the Rings) and you get "I heart science."
That does it for this manifest of my Comic-Con haul. Coming in the near future, my assortment of odd Comic-Con photos! And if any of the little references here didn't make sense, read my big recap/recollection of the show. That should clear things up!
Similar Posts: