Welcome to the first installment of "At the Mercy of The Crowd," a new ongoing feature here at EnemyOfPeanuts.com. For a full explanation of this feature, head here, but the simple explanation is… Each week I'll buy a new comic based on suggestions solicited online and write up a reaction or review of it.
Based on the recommendation of friend and co-worker Lucas Beechinor, I picked up Dynamite's Warlord of Mars: Dejah Thoris #1 this week for the premiere edition of "At the Mercy of The Crowd."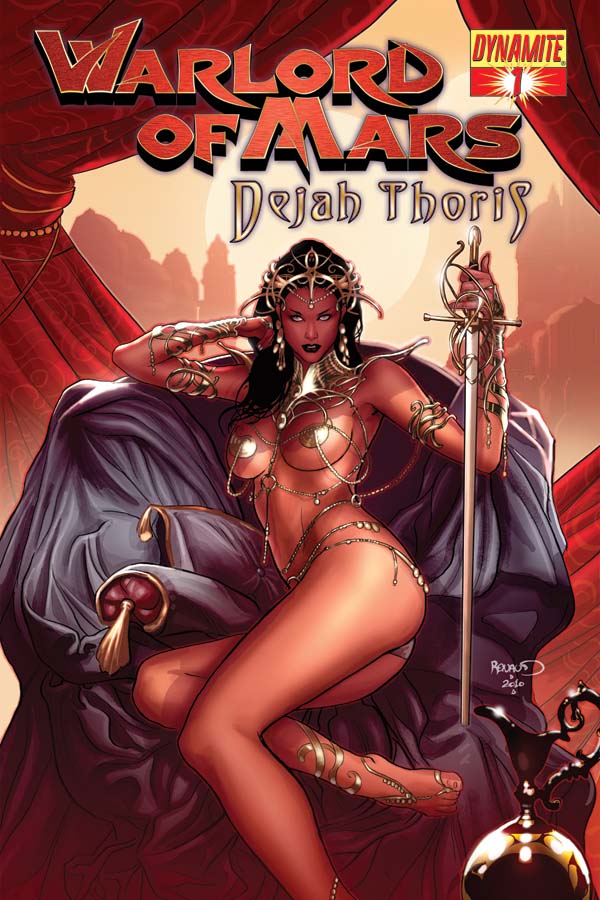 Mr. Beechinor and I share a love of bare-chested barbarian comics, but I've never read any of Edgar Rice Burroughs' John Carter of Mars material, nor the comics based on it, so I was curious to see how the swords and sorcery genre would crossover with science fiction. As far as I can tell, this combination pulls the dress code (Near nudity. In fact, if you've ever wondered what a comic/movie with an entirely nude cast might look like, this comic is a good indicator.) and combat (Hand to hand, sword to spear.) from fantasy and the scenery (Mars) and transportation (space ships) from sci-fi. It's a mishmash indicative of the time period Burroughs created this universe, so while dated, it's still good fun.
Arvid Nelson, who rocked a rad Kull arc a few years back, delivers a classic setup of feudal political intrigue and a cliffhanger that—due to my lack of knowledge of Burroughs' Mars—has me pretty intrigued. The art is extreme beefcake and cheesecake, a bit too exaggerated for my taste, even considering my love of the half-naked heroes from the pages Robert E. Howard's creations come to comics. So, while the T and A is pretty over the top…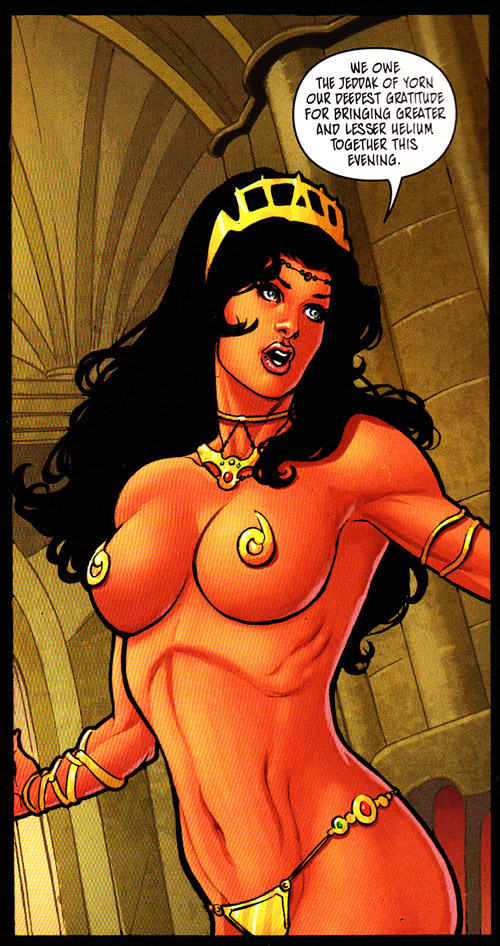 …that doesn't just apply to the ladies. It's got plenty of man boobs, flabby or firm, as well!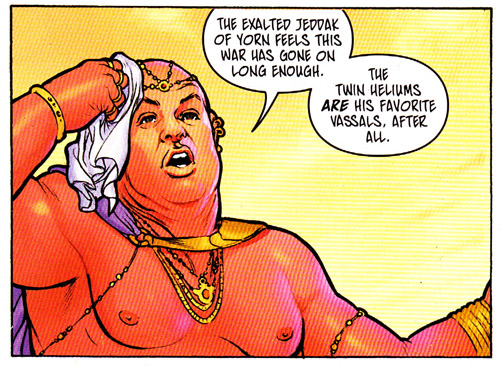 Dejah Thoris #1 also features the most raucous teacup toast I've ever seen, which is kind of rad and kind of silly. (Not a bad thing!)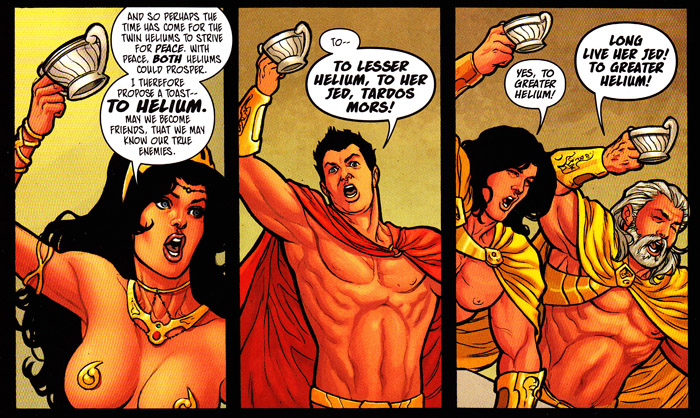 This issue ends up being around a five out of ten for me. I think I prefer my old school sci-fi a bit more traditional (Lasers and vintage '50s rocket designs.) and my bare-chested barbarians and buxom beauties relegated to battling wizards in fantasyland as opposed to the surface of Mars—which is odd, as I normally love genre-mashing series, like Firefly (Wild west meets outer space). That's not really a fault of the comic really, and maybe some time with the source material would turn me around, but despite some strong scripting, this ends up being a pretty middle of the road comic for me.
————
That does it for week one, folks! I'm already looking for suggestions for next week (Comics on sale March 16), so start shooting me recommendations!
Similar Posts: