Time to get back into this blogging game, one post at a time…

Greetings, O' Readers of My Blog! This blog post is the first post o' links from my new city: Portland. The city where I ate this magnificent burger…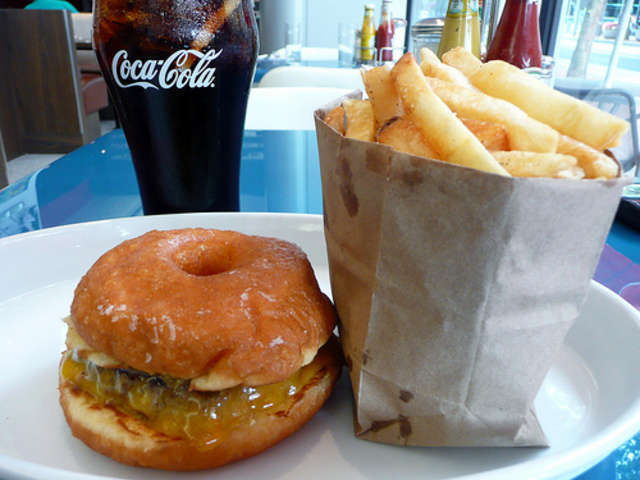 Hopefully by now you've seen/heard the good news about my new job at Dark Horse Comics. If not, let me refer you to this post. Or, if you'd prefer the "Not just on my blog, but on a real news site" version, please check out this interview with me on Comic Book Resources' Robot 6 blog about my new employment!
And now that the last post and the first 50 or so words of this post (minus the wondrous burger) have been all about the same two things, let's move on to something new.
My good friend Frank Johnson also got a new job recently. Frank is now working at The Kentucky Standard. He reports! He writes! He does it all! Among that "all," Frank pens a weekly column. He posted this recent edition of his column, which I really enjoyed reading, on his blog. It's essentially about how he likes driving and he briefly mentions a 3,000 mile car trip we took with a bunch of friends back in college. Read it, it's good for a laugh or two. If you like it, continue to check out his blog or his work at the KY Standard… which sounds dirty but is actually the abbreviation used for the paper's web address.
Next, at Sam Walker's Razzmatazzical Monster, there's a rad rundown of her favorite movies from the past decade. As I don't think I can remember the last ten movies I saw, let alone the last ten I liked, not to mention a whole decade worth of films I enjoyed, this recap really impressed me. Plus, it's fun, simple, nostalgic and scrollable picture list. Check it out!
As this is awesome and for a charity (something I've focused on a lot of late), please take a look at this ridiculous (as in "ridiculously good") auction item featuring a ton of rad stuff from Dark Horse…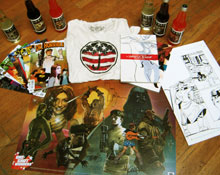 Thanks to Graeme McMillan from io9.com and Caleb Goellner from Comics Alliance for spreading the word on this.
Speaking of Mr. Goellner and Comics Alliance, they featured an interview with my new co-worker Scott Allie on his original graphic novel Exurbia this week. It's a pretty interesting read on how a comic can gestate a long while before coming to fruition. And that, fair readers, is a good example of what I spend my days at Dark Horse doing: helping our editors, writers and artists get the word out on their books. Pretty fun stuff.
Here's another example of the aforementioned "fun stuff," aka work.
Also, my good buddy Josh Wigler has become a regular contributor to Comics Alliance. Well done, sir!
I'm a big Gabriel Bá and Fábio Moon fan, so this video of Bá talking about the twins' new book "Daytripper" with his "Umbrella Academy" co-conspirator Gerard Way was an interesting watch…

Finally, I think tomorrow is the absolute last day to donate to Movember and help fight men's cancer. So, if you haven't yet and you have some spare cash, please do.
Similar Posts: