I've been piling up a series of tabs in my web browser full of links and videos I've seen online recently that made me think, "I should link to that on my blog." I was hoping some sort of pattern would arise in these interweb nuggets so that linking them would seem natural and well thought out. It hasn't, so I'm stealing a page out of the Kiel Phegley and/or TJ Dietsch playbook o' blogging and doing hodgepodge post of crammed to busting with links.

First and foremost, Movember has begun. So please, take a second and donate a little money to help combat men's cancer. Odds are that you know or are a man who has or will benefit from this fund-raising. I mean, "Prostate cancer is the most common non-skin cancer in America, affecting 1 in 6 men." So, by donating, you're just helping yourself or the other rad men in your life—donate now!
On that note, I've linked it once, but check out this great shaving video from my fund-raising Movember teammate Matthew Lubicky!

I'm a casual video game player and don't normally buy games right as they come out, but for some reason, seeing that Ice T is addicted to a new game called "Borderlands" has me really interested in it. Ice T has never prompted me to be interested in anything in the past, so…I guess that's why I'm linking this.
I saw this video with drunken ewoks on Comics Alliance, a blog that's becoming more and more essential to my web browsing everyday, and laughed so hard I that brand new laugh noises came out of my mouth—hilarious and terrifying new laugh noises.

I recently bought a cool print of a webcomic I really and thoroughly enjoy entitled "Eros Inc." I gushed about it in an earlier post which also featured some fan art. I tweeted that link to creator Michael May and he really dug the doodle I did. He linked and posted it on his site after this recent installment of "Eros Inc." Pretty exciting stuff!
I love Halloween, and though I wasn't partying in New York City for All Hallows Eve, Brooklyn Vegan posted a butt-ton of pictures of the festivities. Scroll through them and enjoy!
Drawn!, the cartoon and illustration-filled blog, frequently blows my mind. This animation from Emanuelle Walker is the most recent perpetrator.

Après la Pluie ©2008Gobelins from Emmanuelle Walker on Vimeo.
This Aaron Blecha ad animation isn't as mind-blowing, but it is a lot of fun—and also came from Drawn!

Kur Cartoon – Morning Glory Animation from Aaron Blecha on Vimeo.
I forget where I first saw it linked, but I recently subscribed to the Urban Sketchers blog. Multiple times a day it is populated with beautiful pieces of art from all over the world, primarily focused on scenes the doodlers have…well, seen. It's always nice to just scroll through your Google Reader and be pleasantly surprised by amazing sketches of cities, the countryside, the people inhabiting them and their scenery. Really beautiful stuff, check it out.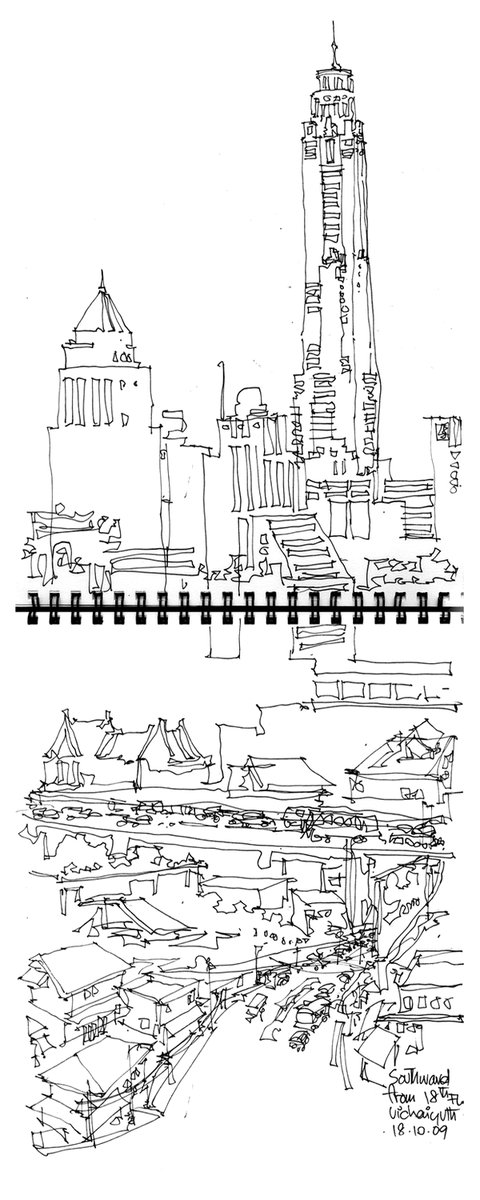 Bringing it full circle, my Movember Moustache Photo Diary has kicked off. I'll be posting pictures of 'stache growth everyday. Enjoy them and then please donate!
Similar Posts: