For roughly a month, I've been contemplating the best way to express my feelings (via blog) about the webcomic "Eros Inc." Thanks to a recent purchase, my jumbled thoughts—thoughts so jumbled due to how much I truly enjoy this comic—have gained a little organization and I'll now commence spouting my admiration for this strip by Michael May. Let the gushing begin!

Eros Inc., the company that gives this comic its name, is a business that employs people who work as Cupids in Los Angeles. Their goal is to help the romantically challenged find love, most recently by means of shooting heart arrows into their targets like classic putti (cupids). "Eros Inc." follows a young woman working as a Cupid named Mot Fleishman, her kooky bearded and chef-shirted boss Clue Fir and the mustachioed Czech Tomaš, a fellow Cupid who appears hopelessly though subtley in love with Mot. The comic is chock-full of moments both hilarious and heartwarming, not too mention being ripe with great nerd references like the band Flux Capacitor that plays only "Back To The Future" themed songs. It updates thrice weekly and is definitely a site/comic you should be keeping up with online.
Recently, Michael May (As stated earlier, the man behind "Eros Inc.") put up a limited edition print of Mot and Tomaš for sale. Being a big fan of the comic and seeing this limited edition $15 Gocco print (From "Eros Inc": "Gocco is a compact Japanese screenprinting device that has been discontinued."), I couldn't help but purchase one.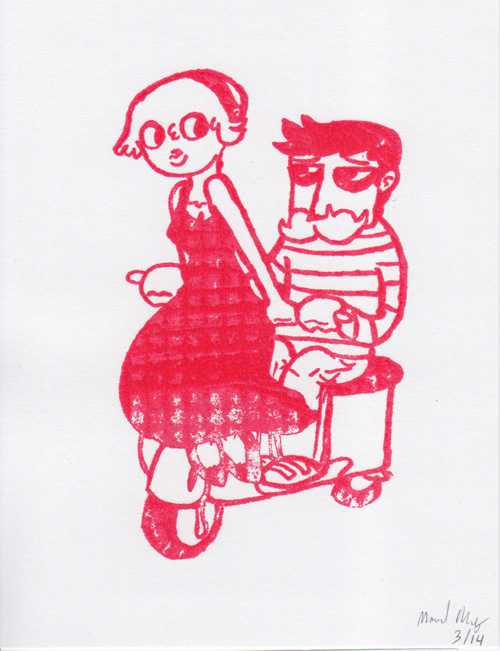 On top of that, I was extremely excited to see that Mr. May also included a drawing of Clue Fir to say thanks for my purchase!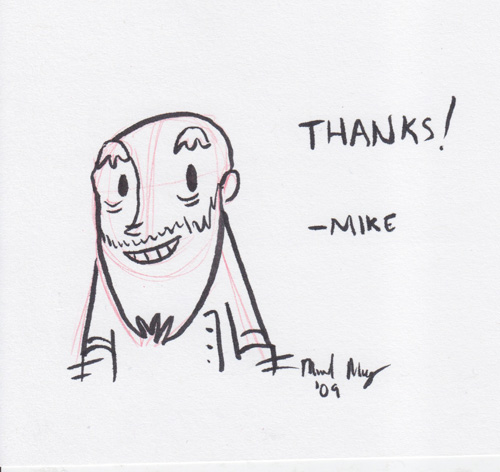 Aside from showing my gratitude for that additional drawing and all the great work Mr. May's delivered on "Eros Inc." (All of which, I have thoroughly enjoyed.) with this post, I also doodled up a little fan art promo piece for the comic featuring Tomaš in order to say "thanks."

Also, I'll use Tomaš' moustache as an excuse to quickly remind everyone to help me fight men's cancer by donating to my Movember fund-raising efforts!
Anywho, "Eros Inc." is extraordinarily great and I highly recommend everyone check it out!
Similar Posts: