Last year during the Great Pumpkin Beer Hunt of 2008, Southampton Pumpkin Ale was one of the most recommended brews I came across in my research. I looked high and low for this beer, but even a trip to a particular New York gas station which was rumored to have had a few cases turned out to be fruitless.

This year, thanks to the fantastic beer selection at my local Whole Foods (Paramus, N.J.), I was finally able to delve into the beer-sperience (beer experience?) of Southampton Publick House Pumpkin Ale.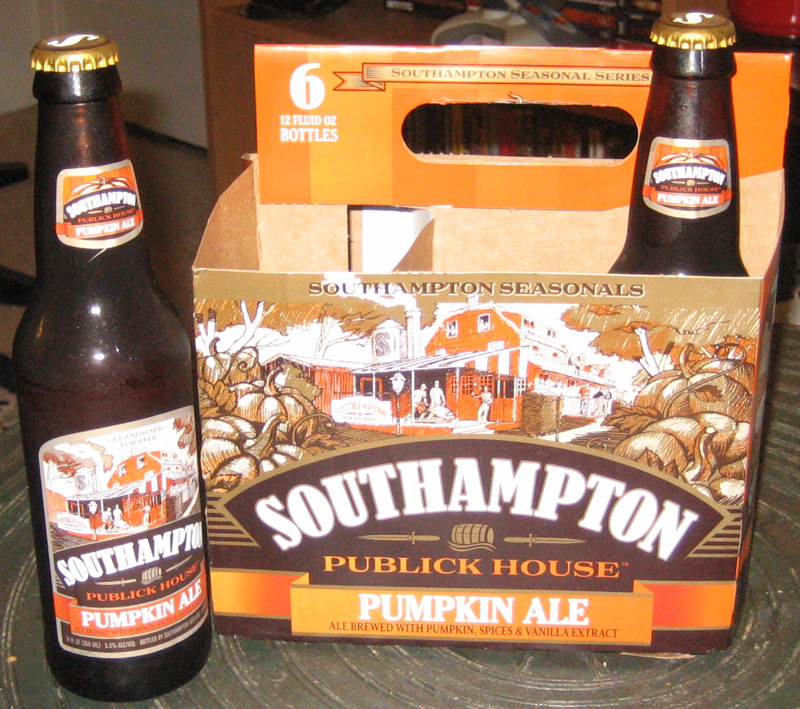 The Beer: Southampton Publick House Pumpkin Ale
The Brewery: Southampton Publick House. Brewed in Long Island, N.Y. Bottled in Latrobe, Penn.
Alcohol Content: 5.5%
My Local Price: $8.99 for a six-pack
What's interesting about Southampton is that for a beer with a normal alcohol content level, it has a headier taste. I'd attribute this strength to the vanilla extract used in the brewing process, which makes for a much more diverse taste than the average pumpkin ale. Even with this stronger flavor, Southampton is a crisp and clean beer with a medium heaviness, semi-clear consistency and a deep pumpkin aroma with a hint of the aforementioned vanilla. The previously reviewed Buffalo Bill's Pumpkin Ale definitely had more of a beer vibe, but Southampton is most definitely an ale. Imagine the consistency and taste experience of a Smithwick's with the permeation of pumpkin and you get Southampton.
Ideally a beer suited to a more experienced tongue, Southampton has a bit more depth than a basic pumpkin beer but is still approachable for the average beer drinker. A solid seasonal with an interesting vanilla variation on the pumpkin beer category, this one is worth the time for fans of pumpkin ales.
Similar Posts: