On Friday, I got a fantastic package in the mail. I received my "Neill's A-Z of Awesomeness" poster—ordered from www.NeillCameron.com! And, living up to it's name, it was/is awesome!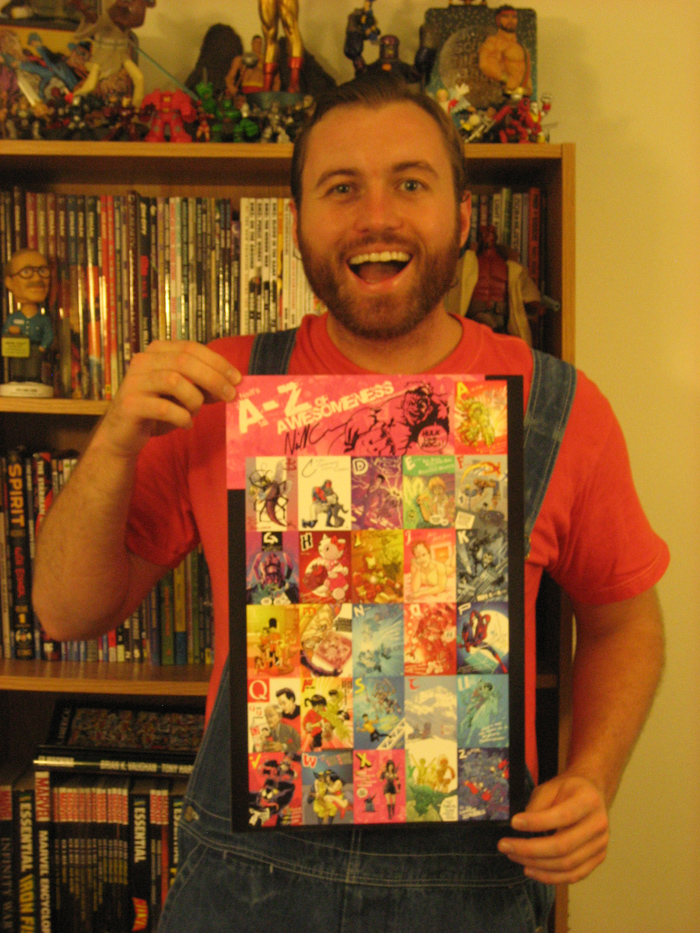 Now, to answer your question (One which I know you are wondering right now.): Yes, I am wearing overalls in the above picture. It was a beautiful Sunday and I wanted to be comfortable. Overalls fit the bill. 'Nuff said.
Back on topic, I blogged about Neill Cameron's alphabetical art barrage nearly two months ago and recommended anyone checking out EoP head on over and check out Neill's efforts. If you haven't, do so now. Artist Neill Cameron spent 26 days drawing up some amazing, entertaining and fantastically nerdy alphabet book-style illustrations. He posted them on his site and brightened my day for nearly a month. Mr. Cameron then made a poster featuring each entry and made it available on his site in a limited number of prints. To sweeten the deal, he would sign and do a requested original sketch on each of the 250 posters he was selling.
I loved the A-Z of Awesomeness. It was a no-brainer. I ordered right away.
Last week, my poster came.
Here's a quick shot of my poster's top half (I have a small scanner)…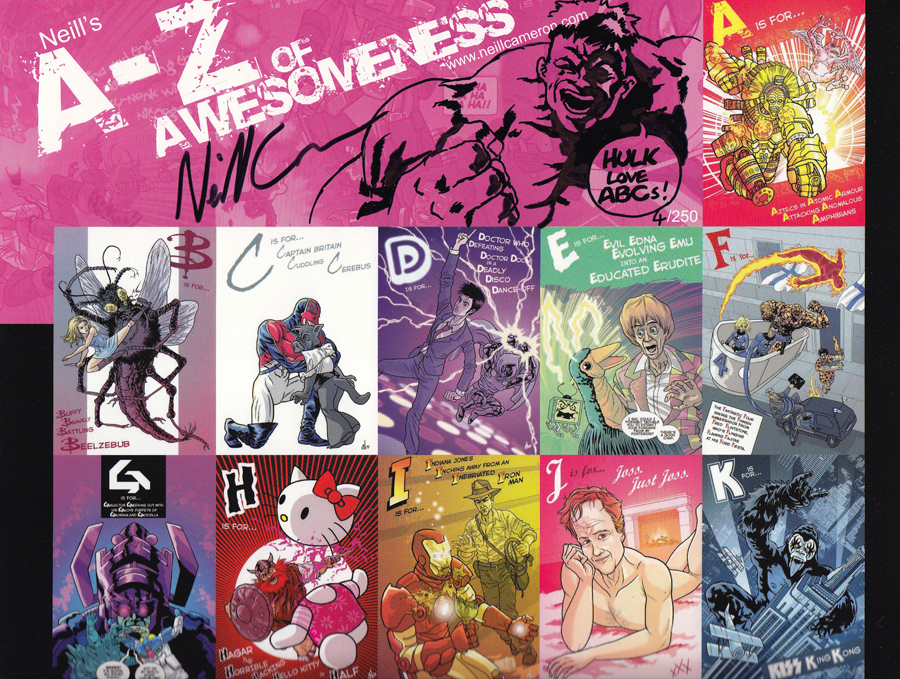 I have to admit, I was extremely excited to get such a cool poster, especially for the reasonable price of $16—even more especially as I had been struggling not to spend $50 each time a new one of these limited edition "Lost" posters was revealed. But man, you can't beat a sweet ABC-centric poster for $16 that's signed and features an original sketch! I asked for the Hulk saying "Hulk Love ABCs" and Neill delivered an extraordinarily cool bit of one-of-a-kind art. I can't wait to get this baby framed and put up on my wall.


Thus end's my "check out the cool poster I got" post. Thanks so much Neill, for your effort over the course of your A to Z illustrating and for an extremely cool personal touch—the best poster deal I've ever seen on the internet! (Yeah, I'm gushing a bit. What can you do?!)
Similar Posts: