Wow, so many books this week. I've got my first 18 "Few Line Reviews" here and I still have a stack of 19 books to truck through! So, head back in a day or two for the rest, but here's what I got right now…

And away we go…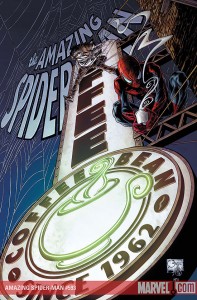 Amazing Spider-Man #593
This arc all about Spidey trying to out do-good new mayor J. Jonah's attempts to nab him or turn New Yorkers against him really hits its stride in this ish. The last series of ASM issues felt scattered and didn't quite seem to build the way "Brand New Day's" first year of stories did. But these have made way for stories like the one in this issue to take some pieces dropped in past issues, focus them and create the drive for ASM's foreseeable future–essentially proving that the issues I thought were more scattered and random actually aren't. I'm continually impressed by this book's ability to plan arcs so far in advance you get hints of their buildup that reach back through months worth of issues.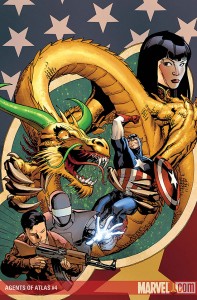 Agents of Atlas #4
Do you ever hear a band you know you will like, but that just hasn't clicked for you yet? Much like it took a good month for me to really fall madly in love with TV On The Radio, the same is true of Agents of Atlas. From issue #1, I knew this book and I were going to get along, but the first three issues just didn't click. With this issue, Parker's past-in-present story line building to a face off with Norman Osborn comes together in a way that cements this book as a "must read" recommendation from me. Plus, Clayton Henry's art looks great!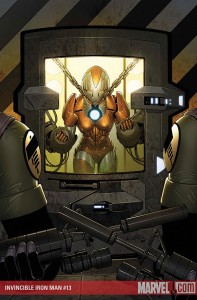 Invincible Iron Man #13
I won't deny that my attention span as a comics reader can sometimes be short, so the fact that this arc is on part six and doesn't have a conclusion AND I still think it is easily one of the best books out right now is really saying something. Normally, if something hasn't been said in six issues, I think it often seems things have been unnecessarily stretched, but this book just keeps bringing the good stuff month after month. I'm gushing aren't I? Ok, that's all for now—more raving about this book in 30.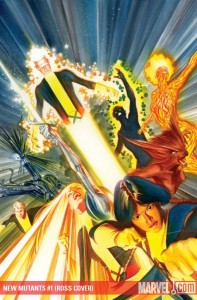 New Mutants #1
I don't have much personal history with these characters, so I went into this new series without any preconceptions. Zeb Wells hasn't steered me wrong in the past and while I'll wait to weigh in on the overall plot after a few more issues, scenes like the two pages where Sam "Cannonball" Guthrie is requesting a team from Cyclops were just pitch perfect. If that is a sign of things to come, this is gonna be a helluva comic!
Killer Of Demons #3 (of #3)
I'll say it now, this is my book to beat for miniseries of the year. Three solid issues with an awesome tease at the book's possible future, plus great writing, snazzy art and a butt-ton of humor and action…yeah, this book is freakin' awesome and if you don't read it, you are missing out on what should be an award-winning comic come 2009's end. Oops, gushing again, on to the next book…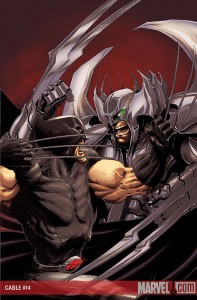 Cable #14
I'll stick with my last review of a "Messiah War" book and just say that I'm curious for the end, but let's get there. That said, after watching a lot of '90s X-Men cartoons
of late (since they just came out on DVD
), this issue hit the already-opened nostalgia wound—which, isn't necessarily a good thing as re-watching the cartoon really made me realize how goofy it was and that it's a small miracle such silliness helped get me into comics…child of the '90s, what can I say?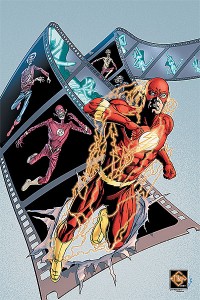 The Flash: Rebirth #2
Ok, I know I'm one of the few, but I'm not much of a Flash fan. So, this relaunch is a great place to jump on, right? Naw, it's way continuity heavy and I'm sure it is a wet dream for Flash fanatics, but I'm just lukewarm to it. Still, Barry as Black Flash at book's end…intriguing!
Power Girl #1
So, this new series shamelessly stars…a pair of breasts. There is no getting around it, and much as I enjoy Amanda Connor's art, there is just too much unrealistic boobage going on here. And there's a joke about a dude staring at her chest—which she narrates to says she can "overlook" it. And, AND, there is a drawn sight gag with snow globes and PeeGee's boobs—her line, "Please top messing with my globes!" Plus, aren't the robot antagonists here just the guy from Bioshock? Power Girl is a great character but after one issue, it just seems this series is cheapening her.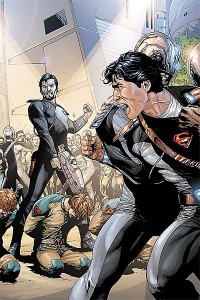 Superman: World of New Krypton #3
This book keeps getting more and more interesting. I love Superman as more than a superhero, but as a proponent figure for social and political change on a world where everyone is his equal power-wise. Plus, seeing him cream another Kryptonian with the fighting styles Batman taught him is pretty bitchin' (Yeah, I said "bitchin'").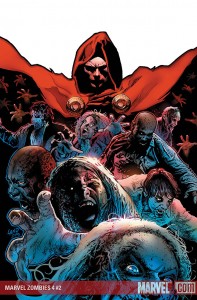 Marvel Zombies 4 #2 (of 4)
I thought I was all zombied out when they announced the third installment of Marvel Zombies. Fred Van Lente and Kev Walker proved me wrong. When Marvel Zombies 3 ended on a cliffhanger leading to 4 and I was pissed, "You can't keep selling me on this zombie premise…you can't!" I wailed. And again, Van Lente and Walker have made me eat my words like so much brain matter. This Marvel monster zombie-hunting team is so much fun that I think I'd be up for an ongoing. Either way, it's horror meets superheroics meets monsters, and it's awesome!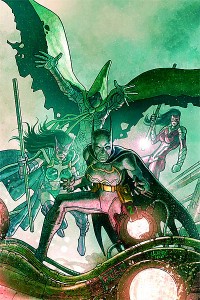 Batman: Battle for the Cowl—The Network One-Shot
I really enjoyed this issue, and for a few reasons…
First, I love the idea that all these heroes have come together—coordinated by Oracle—to fill the void Batman left in Gotham.
Secondly, Fabian Nicieza has been on fire in the Batverse of late—the guy can write his Gotham!
Third, issues like this do a huge service when it comes to tying all the disparate parts of "Battle for the Cowl" together.
And lastly, I think this issue is such an awesome potential pitch for an ongoing that reading it made me excited at that simple prospect. Good stuff!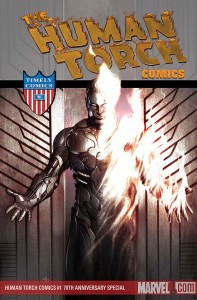 The Human Torch #1
A nice Timely Comics tribute issue that's a good read, but more importantly stands as further evidence this week that Scott Wegener (artist on the above Killer of Demons) is the man! Seriously awesome art!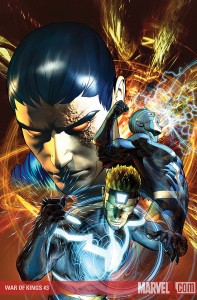 War of Kings #3 (of 6)
This event has been a bit of a slow burn, but with each issue I get a little more excited. I'm nowhere near as pumped as I was with both Annihilation events, but I think when this is all said and done I'll enjoy that time was taken to set up a lot of pieces and plots before the (hopefully) epic conclusion.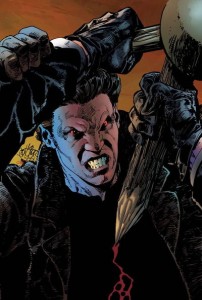 Angel: Blood & Trenches #3
I am really digging this black and white tale written and illustrated by John Byrne. It's Angel back in WWI running into Wesley's vampire-hunting dad and Season Three "Buffy" baddy Kakistos. It looks old school and even reads a little old school, but that helps to perfectly recapture the era while delivering a quality story that could stand alongside the show's best episodes. I'm not sure it's up everyone's alley, but I highly recommend this one.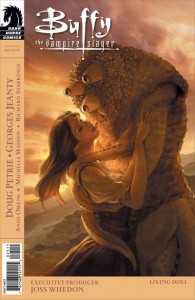 Buffy #25
This issue revealed what's been up with Dawn and the shape-changing/thricewise thing, and while the reveal wasn't that shocking (turns out Dawn slept with a magic dude's roommate, cue spell, she says "sorry" and spell goes "Poof!" Or, uh, reverse poof!) the story did serve as an impetus for a "sisters come together" moment—so, kind of classic "Buffy" there. More importantly, after a string of so-so to downright bad issues (let's keep the Giles/Faith team-ups in the capable hands of BKV), this was a fun, done-in-one story. In the end, that's really want I want here: A book that I can enjoy like one of my favorite shows.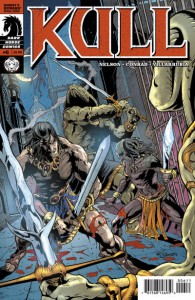 Kull #6 (of 6)
If the greatness of comics was measured in severed heads and limbs, this book would stand atop the bloody heap. I'm on a massive Conan kick right now, so anything else from the world of Robert E. Howard is high on my reading list, and Kull's mix of politics, fantasy and barbarism is truly magnificent. Well written and drawn, the real star here is still colorist Jose Villarrubia, who's palette swept me away to Valusia at first glance and held me in its sway for six issues.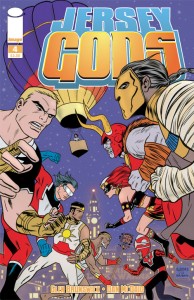 Jersey Gods #4
Maybe it's my recent move to the Garden State or my fascination with really out-there space comics, but I love how this book grounds itself with the semi-trivial fashion world of South Jersey and juxtaposes that with races of space gods fighting for the sake of their planet. Epic and Kirby-esque on one hand while extremely down to Earth on the other, and it's just plain good. I could gush a lot more about this book, but I'll limit myself and just encourage everyone to take a look—or ten—at this title.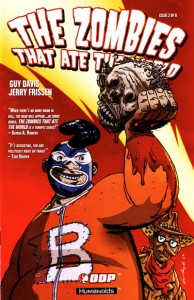 The Zombies That Ate The World #3 (of 8 )
It's Humanoids, Guy Davis art, zombies, a view of a world where the "living-impaired" are the norm and a fringe of society, plus there's a dude in a luchador mask on the cover. If I need to say more than that, you're a lost cause.
Similar Posts: