Why is Easter so great? As this post's title may have given away, it isn't the bunnies but the edible decorations that made my Easter this year!
After coloring a dozen eggs with my lovely girlfriend Jessi on Saturday, I got a chance to utilize my mad deli skills making a little egg salad for some—as I've dubbed them—Easter Egg Salad Sammiches!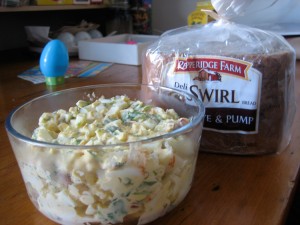 (For the record, I did work in a deli one summer back in college, and at a sandwich joint for about a year and a half after that where we made all the chicken, tuna and seafood salad in house.)
I'm a big fan of mayo-based mushes used to make sandwiches, so egg salad is always high on my list of lunch options. That said, I've tasted my fair share and can safely say that the concoction I free-styled in the kitchen today may have been the best egg salad I've ever had. Tooting my own horn? A bit. But seriously, this egg salad was darn good—so good, I've decided to share the recipe here…
You'll need:
-Roughly 12 hard boiled eggs

-4 heaping spoonfuls of Miracle Whip Lite

-A small squirt of creamy horseradish

-3 large spoonfuls of lemon juice

-A few generous dashes of salt and pepper (maybe a tsp and a half for recipe sticklers)

-Twice that dash-age of paprika (maybe a tbsp, when all is said and done)

-A generous portion of cilantro (1/2 cup, methinks)

-Some diced onions, red peppers and green peppers—about a 1/2 to 2/3 cup—leftover from nachos the nite before (Note: diced veggies don't NEED to be from nacho nite, but I'd recommend it…at least for the nachos)
Now, to prepare, chop those eggs up and put them in a large-ish bowl with the diced veggies and cilantro. Dash about 1/4 of your paprika on top of them.
In another, smaller bowl, mix the Miracle Whip lemon juice, salt, pepper and paprika together.
Combine the contents of the two bowls!
Mix until the egg bowl's contents are generously coated in the Mayo bowl's contents.
Then, serve on some delicious, toasted (in a toaster) marble rye and enjoy!
---
If you use this rad recipe, make sure props are given to Jim Gibbons and those who partake in your egg-cellent meal are sent to www.EnemyOfPeanuts.com straightaway!