If you've been following me on twitter or tumblr recently, you've probably seen a few posts about Francesco Francavilla's noir superhero masterpiece The Black Beetle. BB's the first comic that I've edited solo from the get go and it's been a distinct pleasure working with someone as passionate and enthusiastic as Francesco. Dude's pretty damn talented too. Pretty crazy to think that I own one of the lucky sets of eyeballs that gets to see his best work to date on a regular basis.
Francesco and I, as well as Dark Horse Publisher Mike Richardson, had high hopes for what originally felt like a niche comic. BB had oodles of potential, but truly great books get canceled all the time, so you never know. Thankfully, all the hard work FF poured into this baby paid off. It's been extremely gratifying to see this little book live up to its greatest potential. And it's still going!
So, for the sake of enjoying the moment and remembering this when I get old and gray, here's some of the link journey that led us to this week, when we announced the sell out of issue #1.

-Back in August, we announced that the "Night Shift" story from Dark Horse Presents would be collected into a December #0 issue, followed up by a #1 in January.
-In November, we'd been slowly leaking out cover illustrations and spreading the word via social media. Heat was building, but slowly.
-Then, leading up to the premiere of #0, Francesco reached out to some fellow comics creators and asked if they could lend us a kind word. Then FF constructed a new lobby card-style teaser image every week for six weeks to help with promotion! They went over really well and built up a ton of heat around the #0 issue and the #1 issue heading to shops only a month later. Comics Alliance compiled all of the teasers in January, alongside a 10-page preview of the #1 issue.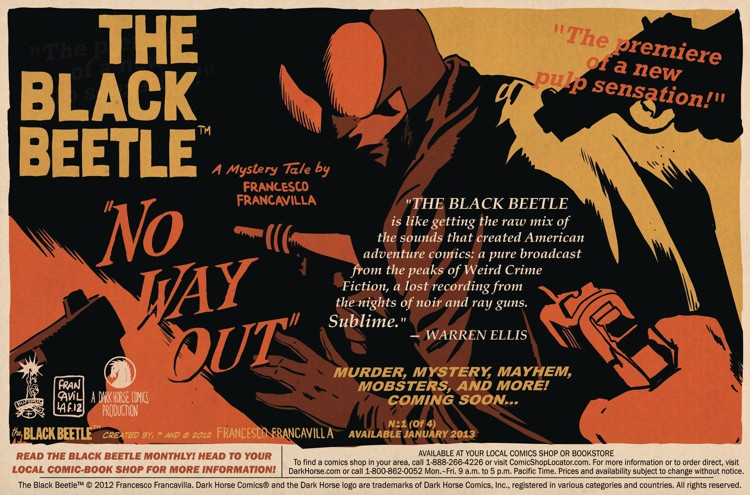 -I also did a piece for the Dark Horse blog to help stoke the fire of interest around this rad new pulp comic.
-Thanks to the teasers, some very positive media coverage, and a bunch of awesome fans and curious comics readers who bought the book, the #0 issue sold out! HUGE!
-Between that news and the premiere of issue #1, letterer Nate Piekos wrote my favorite Dark Horse blog feature ever. Nate created a brand new font for The Black Beetle, a piece of art that perfectly complimented Francesco's words and illustration, so I asked him to write about it for the blog. An interesting and fascinating process piece, it informed while spreading the good word about this rad book we were working on!
-Finally, issue #1 hit comic shops and—thankfully—fans and critics all loved it!
-We compiled the positive reviews and released them with some issue #2 teaser art (above) and leaked a bit more art to push the issue over the edge…
-Then, word came in that Diamond, our distributor, had sold out of The Black Beetle #1!
And that's just what's happened before issue #2 comes out later this month!
Big, massive, huge congrats to Francesco! This is his baby and he's doing the finest work of his career, which makes all the success even sweeter. Many, many thanks to letterer extraordinaire Nate Piekos, as well. You wanna see love poured straight into a book by two exceptional professionals, look at what they're doing on this book! Of course, big thanks goes to the fine folks in Dark Horse PR and Marketing. Also, last but farthest from least, thanks to every single enthusiastic fan, reviewer, and comic shop owner who read this book, enjoyed it and passed it along or spread the word.
It's been a trip, guys!
FF, I owe you a beer or nine at Emerald City Comicon! This is cause for celebration, man!
——————–
UPDATE!
Then this totally awesome thing happened…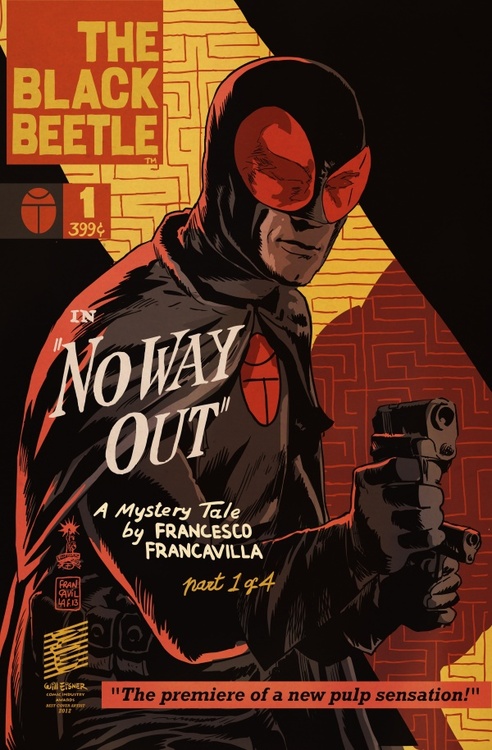 FRANCESCO FRANCAVILLA'S BLACK BEETLE #1 BEING REPRINTED!
DARK HORSE ANNOUNCES A SECOND PRINTING WITH AN ALL-NEW COVER!
Huzzah!
Similar Posts: