Friends, Romans, Countrymen, we're a third of the way through Movember! Ten days in and 20 to go, and the Ministry of Mustache Growth and Management is killing it! So far, 44 of our 76 members have received donations. That's 57 percent of the team and that percentage can only go up. The fact that 44 members have received donations is exactly why we're sitting at a total of $5,256 in donations! Nicely done, gents!
Heading into Days 11 through 20, we enter the toughest part of Movember. The mustaches begin to look better, but donations tend to hit toward the beginning and end of the month, so this often ends up being quite a dry spell. A donation here and there throughout these ten days goes a long way for morale, so if you were planning to donate at the end of the month, think about bumping that Mo Bro booster up a bit.
Now… mustaches!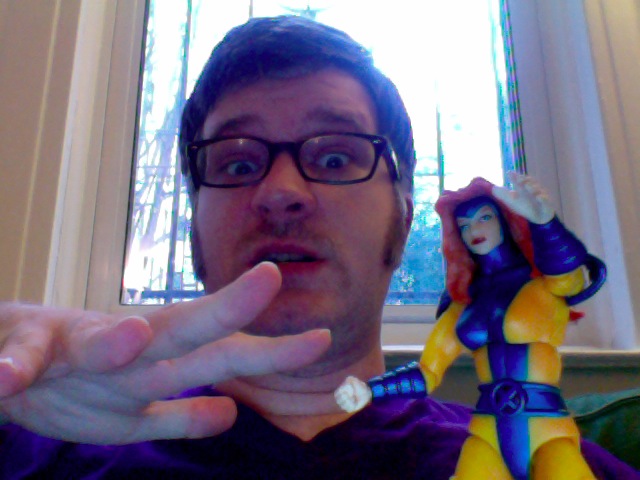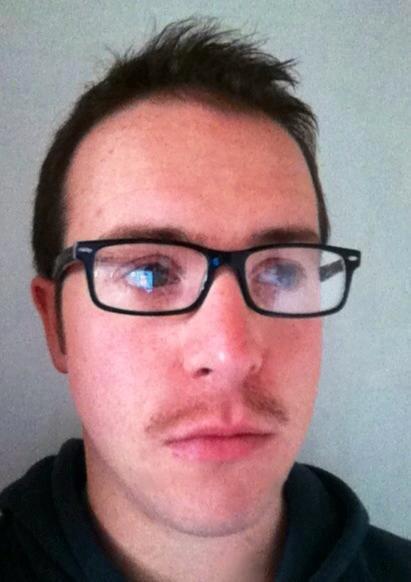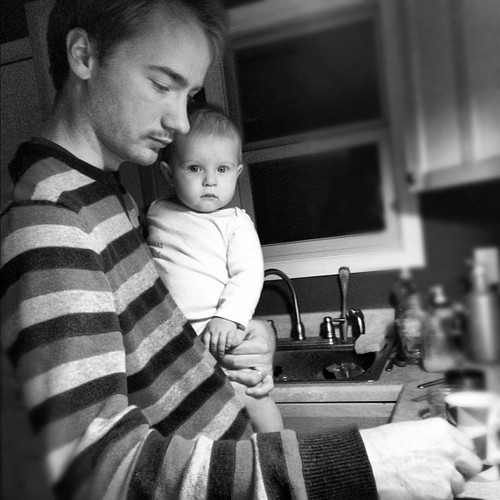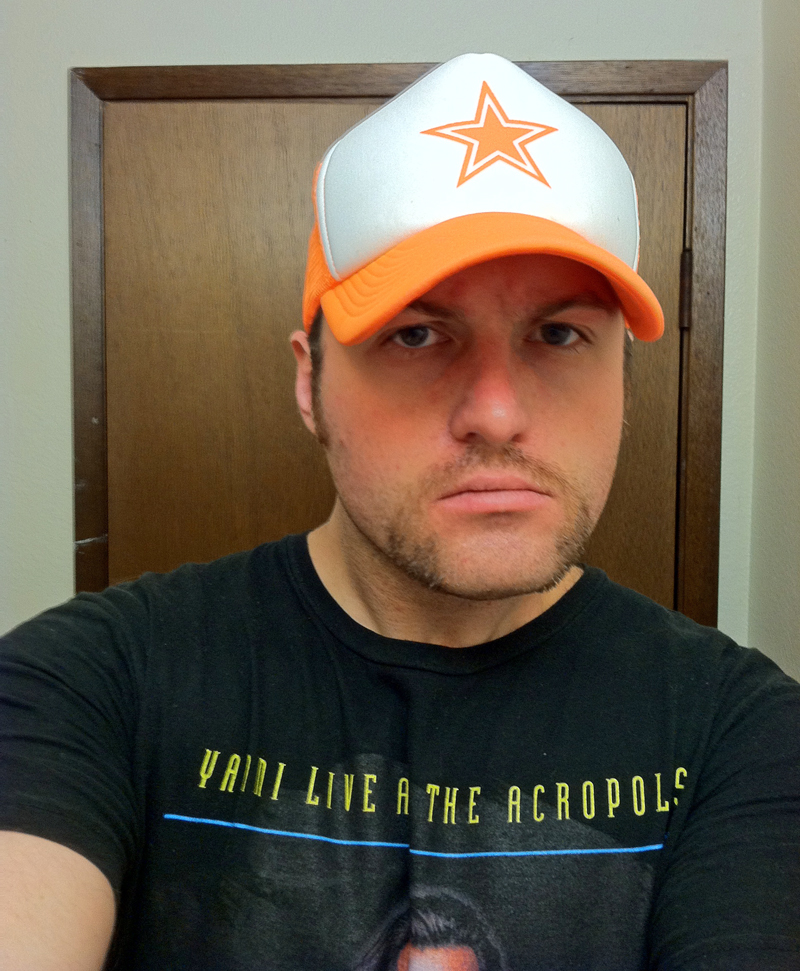 A few of you may remember the brush with greatness I had last year via the internets when Sam Elliott retweeted my Mo Space page. This year, I've been lucky enough to have two more (mustache) brushes with greatness.
If you follow me on Twitter, you may have seen the compliment I received from the inspiring and hilarious Kid President…


Well, since Kid President and me are total bros now thanks to twitter, I dropped him a line to see if he could retweet my Mo Space page link…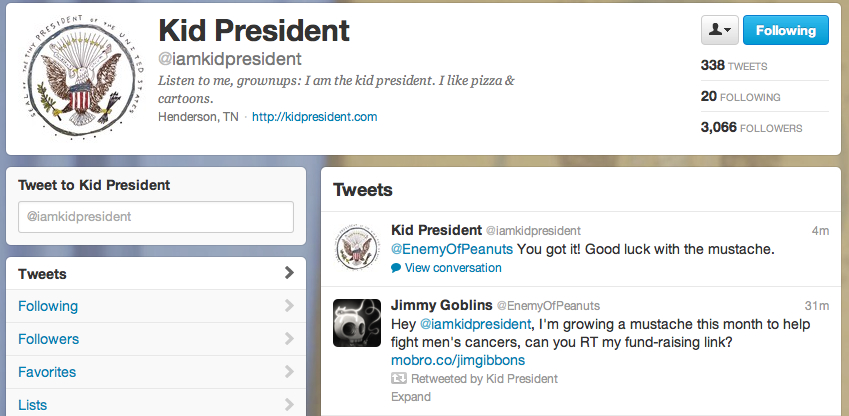 …and he did! Then he tweeted this message at me…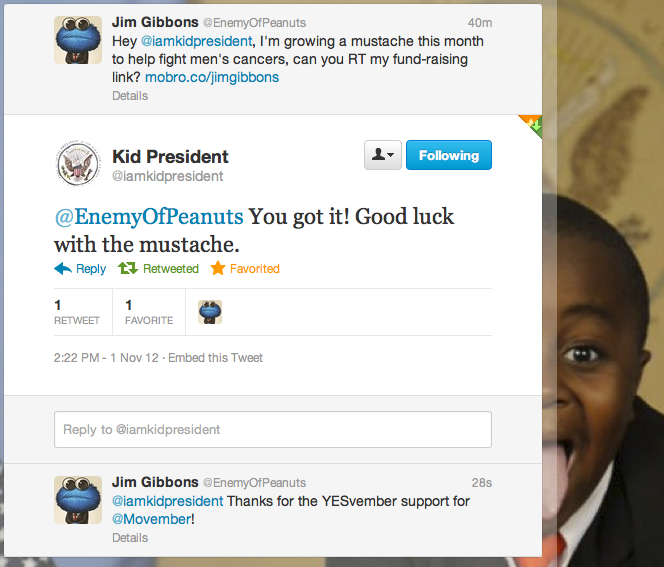 Now THAT is a brush with greatness! Thanks for spreading the word, Kid President! I can only presume, based on your awesomeness, that once you hit puberty, you'll be able to grow an insanely great mustache!
If you haven't watched Kid President's amazing videos, leave this blog right now and spend an hour doing so. I guarantee you'll be smiling and laughing the whole time. They are the perfect prescription for feeling better about the world! KidPresident.com… check it out!
My second brush with greatness, albeit brief, came from Portland's own Mayor Sam Adams, who's participating in Movember this year! As Portland's Movember network admin, I swung by Mayor Adams' Mo Space and left this message: "Mayor Adams, as the admin of the Portland Mo Network, I'd like to invite you to join your fellow PDX Mo Bros and Mo Sistas at our official Rose City network page: us.movember.com/mospace/network/Portland I'd also like to personally say that, as a four-time Mo Bro and Portlander of three years, it's really great to see an elected official like yourself growing a mustache for this great cause! May the mo' be with you!"
Mayor Adams joined the Portland network shortly after and sent along this message…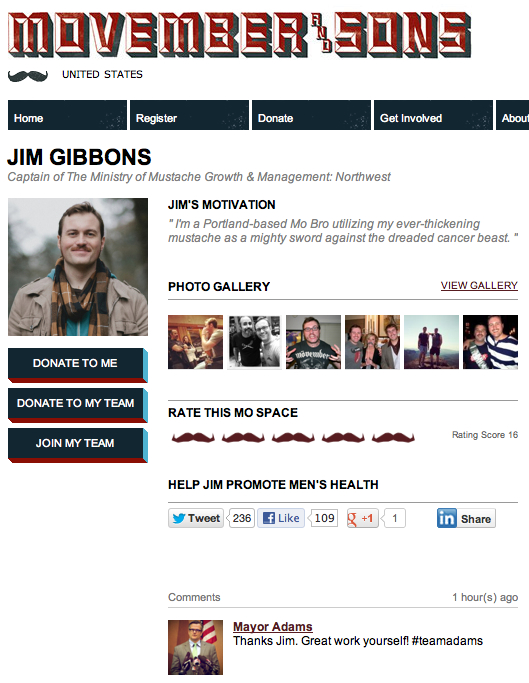 Okay, okay… It's a very tiny brush with greatness, but hey, still pretty darn cool! And it's really great to see someone in such an influential position sacrificing his upper lip for a month. It's for a good cause, and it's nice to see a politician sign on to help out.
As always, thanks for swinging by to check out and support our Movember progress. It's appreciated!
Donate now and help fight men's cancer: http://mobro.co/jimgibbons
Similar Posts: