I'm sure many of you (hopefully soon-to-be hairy-lipped) men out there are thinking, "Movember sounds like it could be lot of fun… but should I join?" That's fair. Let me lay out some more info for you that might help you make your decision…
(That said, if you're just excited and ready to sign up, head here or click the image below and you'll be a member of the Ministry of Mustache Growth & Management—a proud group of hirsute men making the world a better place through mustaches!)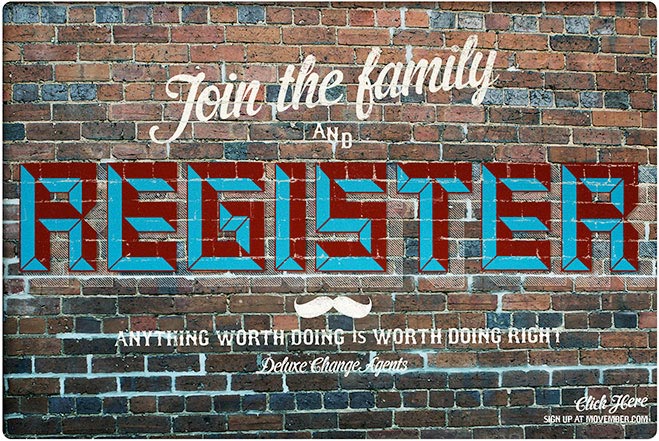 Not only is Movember a movement and community full of solid dudes and ladies passionate about doing some good, it's a positive force that is dedicated to spreading knowledge. It's a fun fundraiser that aims to improve men's health at a grassroots level and on a global scale. Check out the video below for an overview of the charity event!
This year's Movember campaign theme is "Movember & Sons." The idea being that father's are knowledge givers, but that doesn't mean that they can't learn something from their sons. It's a two-way street of information exchange, and some of that information should be about health issues. Check out the official ad below which focuses on one of the main aspects of Movember: the fact that "knowledge is king."
Movember… While it's about the transfer of knowledge from one man to another, it's also just about looking out for the health of the people you love—spreading knowledge and raising funds to support programs like The Livestrong Foundation and the Prostate Cancer Foundation. It's about father's looking out for sons and sons looking out for fathers. And, it's about sisters, mothers, and daughters looking out for their sons, fathers, husbands, and brothers. Check out the below presentation on what it means to be a Mo Sista—a woman participating in Movember.
(If the above presentation doesn't load, head to this link to check it out!)
It's about making a difference in the world and making a difference for the people in your life.
I hope you'll join up this year and help my team, the Ministry of Mustache Growth & Management, raise funds and spread the word! We want you… and your mustache for this awesome cause! Join up! It'll be fun!
Similar Posts: