When people ask what I do for a living I usually explain that I work at a comic book publisher and vaguely run down a few of my responsibilities. Each different rank of editor performs a ton of different tasks, all of which help publications reach their pinnacle before becoming available to the reading public. Some of these tasks are extremely interesting and some of them are fairly dull. All of them are extremely necessary and important to the production of comics, but listing them all doesn't usually make for interesting conversation. Long story short, I don't think many of us editorial folk explain all that we do very often, because it's a pretty lengthy list of responsibilities.

I have a feeling one of my colleagues, fellow assistant editor Brendan Wright, felt the same way. A month ago, he asked me to answer a few questions about what I do as an assistant editor as part of a series of blog posts he was writing on his site, The Wright Opinion, about what it's like to work in our tiny assistant editor corner of comics. Mr. Wright wasn't able to publish the interview, so I asked him if it'd be okay if I went ahead and put it online so people could gain a bit better understanding of what it is I do to earn a paycheck and help get funny books out to comic shops. He kindly consented (So go check out his blog and pay him back with some instant karma!), so here's some information about working as an assistant editor. It isn't the full list of everything we do, but hopefully it begins to paint the picture of what some of the little people in comics do day in and day out.
Brendan Wright: Why comics?
Jim Gibbons: When I—a young asthmatic kid finding out about my plethora of allergies—was doing scratch tests at an allergist's office, they gave my mom a copy of Captain America Meets The Asthma Monster (an old Marvel PSA book) to distract me from the discomfort of the tests. After that, every time I went in to the doctor for something major (tonsil removal, etc), my mom would buy a bunch of comics for me.
That's how I got started, but I kept going with comics because they seemed to be able to tell stories that movies and TV couldn't and tell them in ways those mediums couldn't either. There was a nostalgia and an affinity and a love for them, but they also seemed to be this unique, pure medium of fiction and pop culture where possibilities appeared limitless. They're a venue for modern mythology, who wouldn't want to enjoy that and try to be part of it?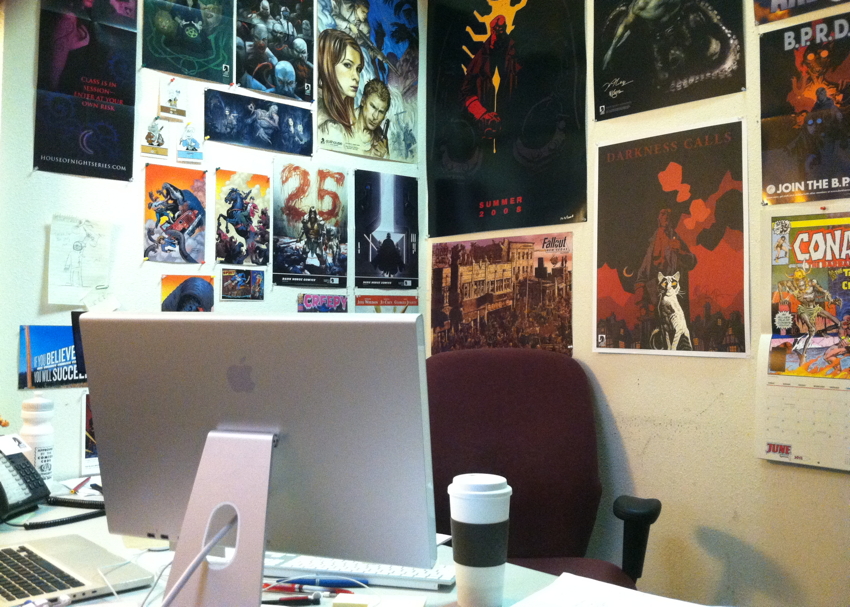 In brief, how did you go about getting this job?
I made it through many rounds of layoffs at Wizard magazine as they neared cancellation, but eventually the axe came down on me too. However, it happened at a really fortuitous time. A friend sent me a link to Dark Horse's site. They were looking for a publicity coordinator. Having just worked for a few years in the comics press, it seemed like a perfect opportunity. I applied, asked some former co-workers and friends if they could possibly put in a good word and, after a few phone interviews, I was hired.
After a while in PR, I was asked if I'd be interested in moving over to the editorial department. I said," Hell yes!" or, likely, something enthusiastic but more professional, and became an assistant editor after that.
Is this your first job in comics? If not, what did you do before?
I was an intern at Wizard magazine, the online news editor for WizardUniverse.com, an associate editor for Wizard magazine, and I even did a bit of freelance work for ComicBookResources.com.
What books do you work on?
I work on Dark Horse Presents, Brian Wood's The Massive and Channel Zero, Tom Morello's Orchid, Guillermo del Toro and Chuck Hogan's The Strain, PC and Kristin Cast's House of Night.
Do you have a specific additional responsibility besides those books?
I file books away in the editorial reference library and consult on our marketing efforts from an editorial perspective.
What are the most interesting parts of your job?
Getting to play a role in the creation of comics is chock-full of interesting little aspects, but any time I get to peek behind the curtain to see how tremendous creators work is the most fascinating. For example, Brian Wood was a writer I followed for years before I worked at Dark Horse. Getting to read his scripts, notes, and observe all the other things he does as part of the world-building process (graphic design, reference he sends to artists, explanations of why things happen at points in a script), well, it's been an amazing way to learn more about the nuts and bolts of comics creation from a creator who I—as a reader—have a lot of history with and respect for. Another great example is David Lapham on The Strain. Seeing how he paces his scenes for a horror comic is fascinating. A little silent panel here, an establishing shot there… just the way he lays out the shots and dialogue to set the mood has been really engaging to observe. Those are only a few of many similarly enlightening situations, though. Too many to count, really.
Is working in comics the main thing you do professionally, or do you have a related or unrelated gig as well?
I'm a full-time purveyor of high fives… Nah—I mean, that's true but…—it's all comics all the time for me professionally.
What are your longterm goals in comics?
I want to learn all the ins and outs of how comics are made and help produce some truly excellent work. Hopefully, a lot more editing and maybe a little writing are part of that equation.
What's the last comic you read? The last one you loved?
Last one I read? Wonder Woman #6 by Brian Azzarello and Tony Akins—good stuff! I really enjoy Wonder Woman and always wished her mythological origins played a greater role in what happened in her comic. Seems like Azzarello is writing this story just for folks like me who wanted more myth in their Wonder Woman. The last one I loved? I just read Jonathan Case's Dear Creature… truly and amazing piece of work. Highly, highly recommended.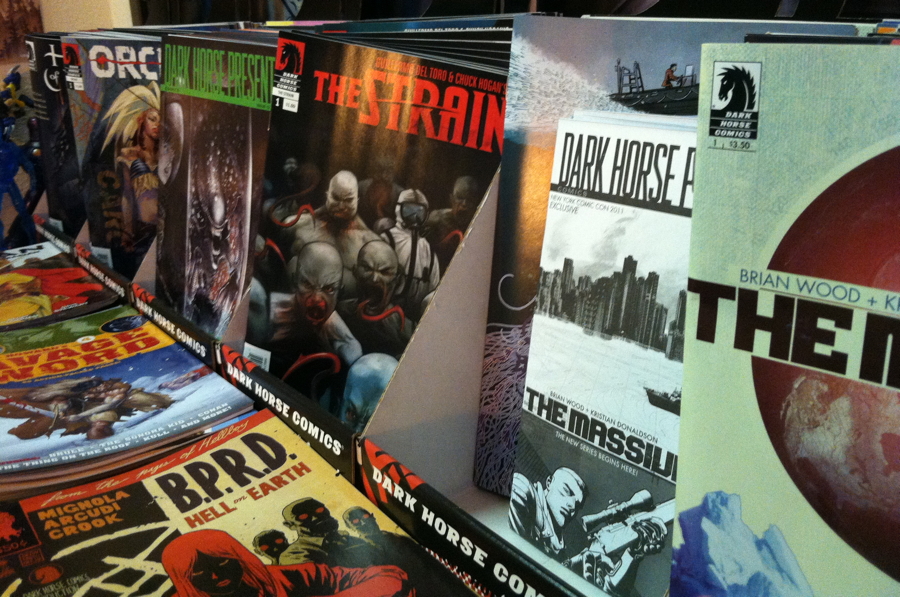 Similar Posts: