In my 27 years, I've grown a few different mustaches. During the past two Movember campaigns, I've rocked a classic 'stache and a bit of a western-style mo'…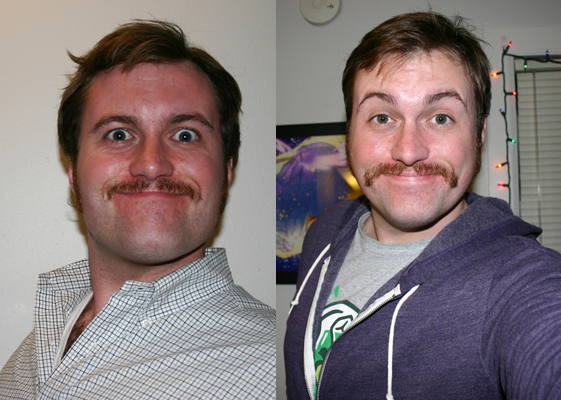 This year, I thought it might be fun to try and drum up some early funds this year by auctioning off my style rights to the highest "bidder." So, here's the deal…
Whoever makes the largest donation to my personal fund-raising efforts before November 1 will get to choose what style of mustache I grow this Movember.
But first, a few ground rules…
-No Hitler/Chaplin/recent and ill-advised Michael Jordan toothbrush mustaches.
-No mustaches that form crude or rude shapes. I will not be shaving my whiskers into a penis-shaped mustache each day.
-Whatever style 'stache is chosen must be fairly easy to shave into each morning. I will not be shaving letters, numbers, or complicated patterns into my face every day. (Pay attention to this one, Michael Ring!)
-Mustaches are limited to the face. I'm not growing one down to my nipples utilizing my chest hair.
-Lastly, whatever style is chosen must abide by official Movember rules. No chin hair or sideburn connection allowed!
Make sense? Everybody on board? This is your chance to choose exactly how silly I look this Movember… don't miss out!
Currently, Stephen Gerding is leading the bidding/donating with $30. Whoever tops a donation of $30 claims the right to choose my 'stache… until they're outbid, of course! The highest donator/bidder by November 1 wins!
Bid/donate here: http://us.movember.com/mospace/12430/
(Those who've already donated are now entered in this auction. Multiple donations will be added toward a single total. Two $20 donations outbids a $30 donation, for example.)
Similar Posts: