When you live in a city you really love, there's nothing quite like touring around it with out-of-towners. My brother Dan was in the Rose City on business last week and we used the weekend to bike around town, drink beer and eat food cart fare. On a slight buzz as we pedaled through the rain (and eventually that intense fresh-smelling and pure-feeling post-rain sunshine that drenches Portland in a vibe that's pretty damn magical), all I could think of was how I have to take all my visitors on a similar journey.
We rode a 15+ mile loop around East Portland starting down by my abode on SE Cesar Chavez. We began with a stop at The Green Dragon before biking on to The Widmer Gasthaus, Amnesia Brewing, Upright Brewing, a quick stop for pizza and poutine at the food carts on SE Hawthorne and—finally—a few pints at the Horse Brass Pub. Here's Dan with some Old Speckled Hens at Horse Brass…

All in all, it was a fantastic day that felt like the quintessential slice of Portland life. But it wasn't over…
Parking our bikes and heading out on foot for a few more rounds, we hit Lompoc's Hedge House before making our way to SE Hawthorne, not realizing that Portland's installment of the World Naked Bike Ride used that street for the second half of its route. And so, unexpectedly, we then saw thousands of naked people flying by on bicycles—possibly the perfect way to end a day of pure Portland adventuring.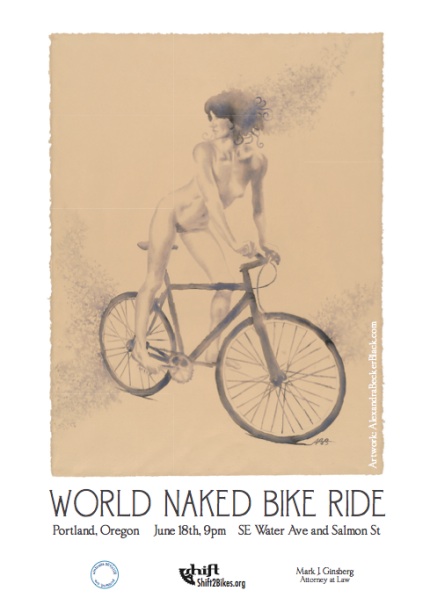 Prior to this weekend, my opinion of the Naked Bike Ride was that I didn't need to see it or participate but I was glad it was something the city of Portland condoned and helped run smoothly. Stumbling upon the event was an oddly affecting experience—I didn't expect that. I don't know quite how to explain it, but seeing thousands of your fellow citizens zipping down the street in their birthday suits having a grand ol' time made me feel like a more complete Portlander—like another strong tether between me and this city had been created. The joy and excitement this nude parade emitted was infectious, man! I think next year I'll have to join in.
BikePortland.org posted a number of photos from the event, if you're interested. Be warned, these images—of course—feature nudity.
Anywho, this rambling post has so far been a preamble to something I witnessed at the Naked Bike Ride that was inspiring, horrifying, heartening and surreal all at once…
Falling off a bike is never fun, almost always bloody and something you can't help but think about as a worst case scenario when imagining a naked biker. Considering this event had around 10,000 riders, the level of biker congestion on these crowded streets and the speed with which some of them were zipping down the asphalt, it seems inevitable that a few people have to wipe out each year. While watching in front of the Bagdad Theater, Dan and I saw one of them.
I didn't see the fall, but turned when I heard the accident. Lying on the ground was a mangled mess of man and machine. Initially, with the darkness of night and only the neon glow from the Bagdad's marquee to see by, it was difficult to tell where the road ended and this pile of man and bike began. When my eyes and brain caught up with what I was looking at, I saw a man with flat on his chest, cheek to knee smashed into the concrete, his leg cocked up in the air at the knee and a bike askew on the ground behind him. If this wasn't one of the greatest pains this individual had ever felt, I'd be tremendously surprised. That's the horrifying part…
There was a member of the Portland Police Department at the intersection in front of the Bagdad to make sure cars didn't pull onto the rode, keep the peace, etc. He was wearing riot gear (minus the helmet and glass shield), presumably in case crowds got out of hand—a fair precaution considering the sheer amount of nudity whizzing down the street. When this biker—after being cut off or clipping someone's tire—flew off his bike and hit the pavement, this cop was immediately at his side offering genuine concern and help to this bloodied naked man. It's just something I never expected to see. I'm a fan of police and have never had a bad run in with the Portland PD, but man, it was shocking and awesome to see this cop—decked out in riot gear and with not a single element of condescension—helping out a nude person on a public street. A personification of order coming to the aid of this bleeding, nude personification of chaos. It was a beautiful moment.
Just another instance that makes me proud to call myself a Portlander.
Similar Posts: