After blogging every day for a month, I needed a short break from Enemy of Peanuts after Movember ended. Sorry for the delay, folks, but I'm back with the final fund-raising standings for Team Mammoth-Stache from Movember 2010. To go along with the numbers, I've photoshopped early Movember, mid-Movember and end of Movember photos together to show some mo-growth progress for each member of the team throughout the month.
Team Mammoth-Stache's final fund-raising total reached $4,577. We finished the month as the 254th team in the United States rankings and—as far as I can tell—the highest fund-raising team in Portland (even without the money raised by our out-of-state members).
Alright, let's take a look at those final fund-raising standings…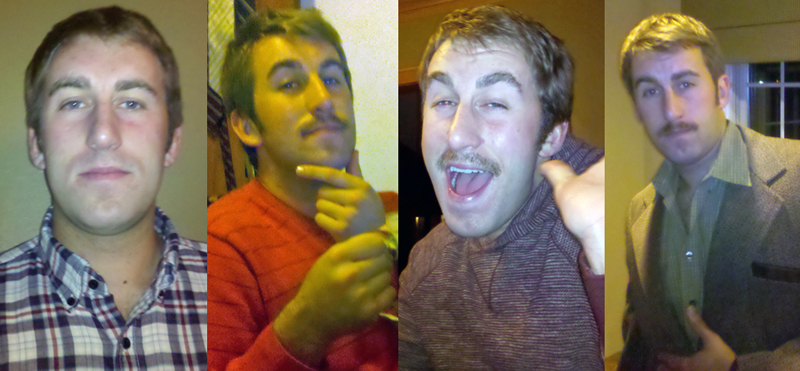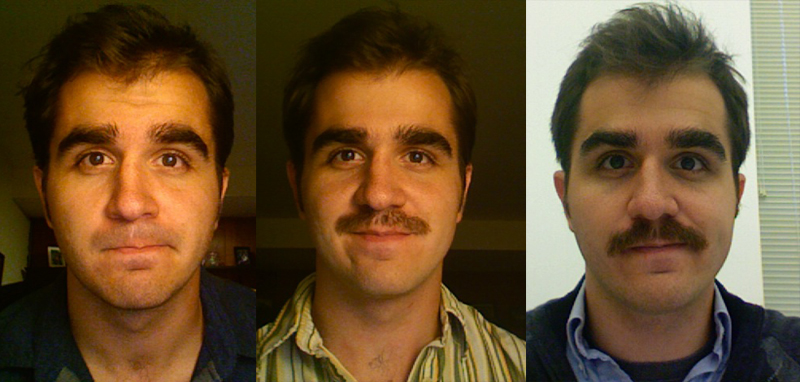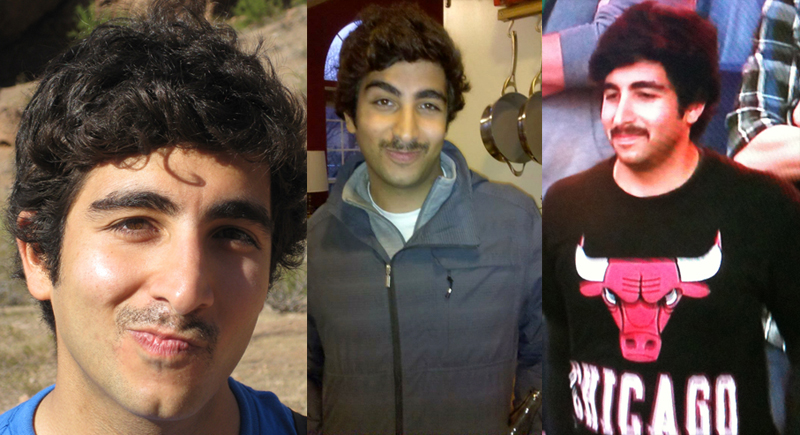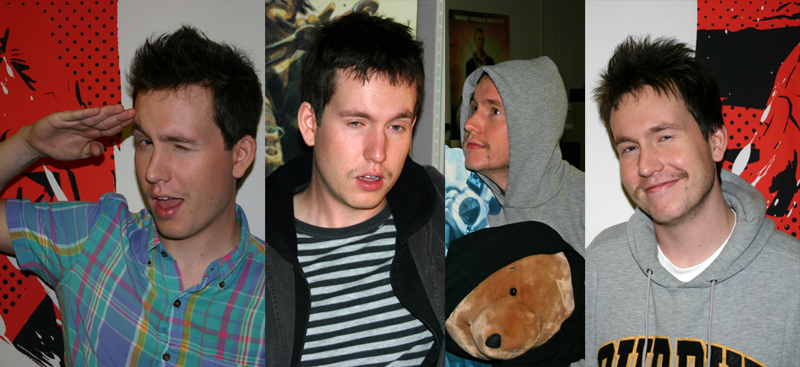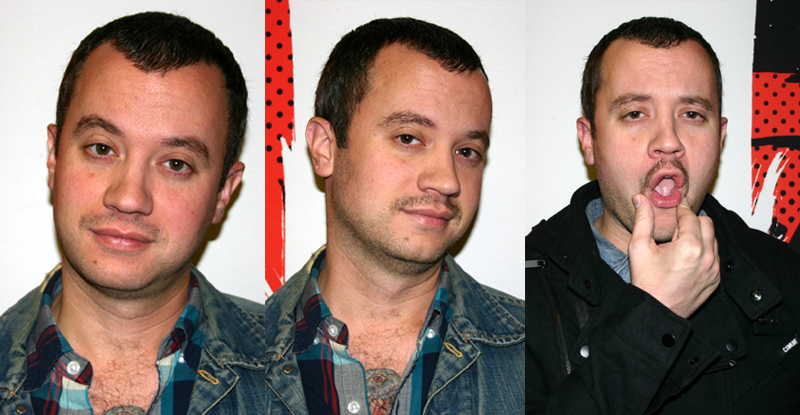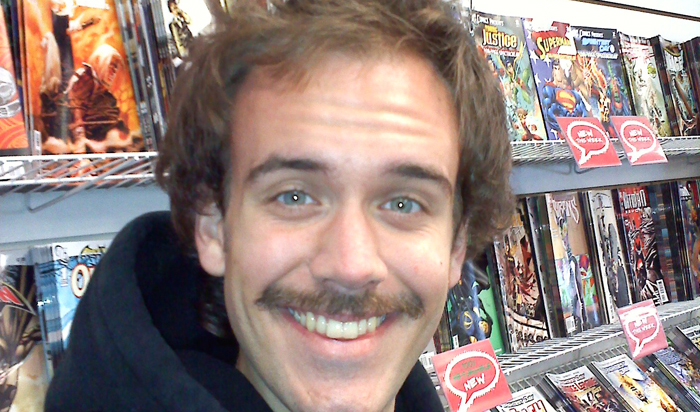 Nicely done, team! Excellent effort this year and tremendous 'staches! Hopefully, all you excellent dudes will be back for some mo-growing next year!
Oh, and don't forget, you can still donate and help fight men's cancer by heading here: http://us.movember.com/mospace/12430/ Movember may be over, but we can still change the face of men's health all year long!
A few other things…
The Portland Network finished Movember after raising a total of $10,843 and the Comics Network raised $14,729. Thanks to everyone—all 245 of you—who participated in these fantastic groups! You're all awesome!
On December 1, my brother Dan shaved into a "Half 'Stache" on a dare for a $100 donation. He sent some photos over in an e-mail…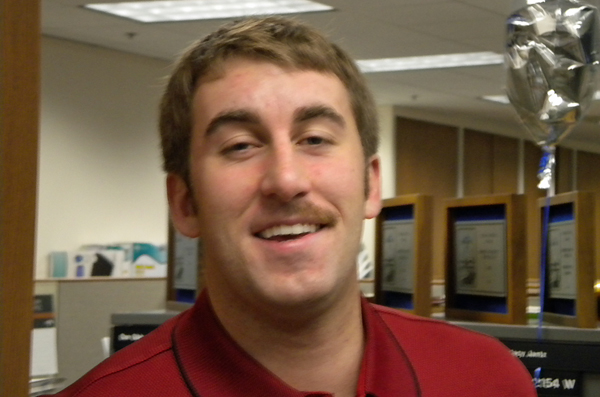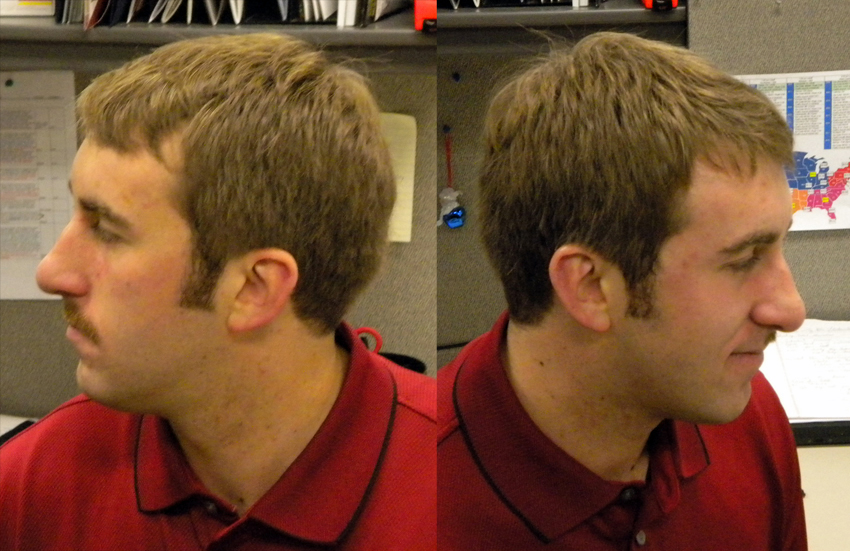 From Dan's e-mail…

"Thought for next year: Dec 1st is [dubbed] National Half 'Stache Day.

As you probably discovered just like myself, a lot of people don't quite get on board with the whole charity thing. Maybe they don't think it's official, maybe they don't like donating, maybe they forget or never have enough incentive to go to Movember.com to put down some money. My boss donated some money, and then additionally said he would donate $100 if I showed up to work with a half 'stache. This got me thinking… The half 'stache gives us an opportunity to get people to donate money based on a dare. This may be more compelling to some people who would pay money to see someone do something embarrassing or silly. This may be a way to tap in to those who did or [would] not [otherwise] donate.

Whether it be a half 'stache, zebra stripes, half 'stache and half sideburn combo; these are all opportunities to raise funds through the [power of the] dare. (Additionally a half 'stache definitely raises awareness.)"
I'm keeping my mustache around this year, but I think Dan's got a point. People are definitely motivated by seeing someone do something silly, so perhaps setting a number and saying "I'll go half 'stache on December 1st if I get $X in donations" could really help raise donations throughout the month. Definitely worth trying, or at least thinking about, next year. Good thought, Dan!
Lastly, Movember sent over a bunch of rad stuff for our Manly Mustache Movie Nights (Big thanks to Movember's Andy Leonetti for his gracious support!) and I've got a bunch of leftover Snapfish coupons…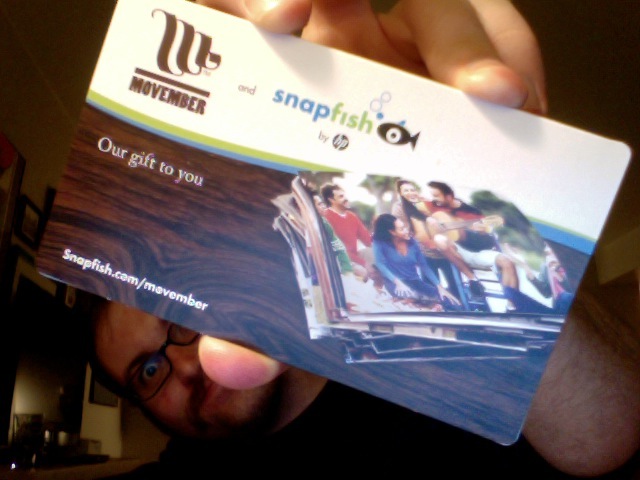 …So, especially if you donated, drop me a line and I'll pass you a code for 50 free 4″ X 6″ prints (or 70, if you don't already have a Snapfish account). Just Team Mammoth-Stache's way of saying thanks for your support! Leave a comment below with an e-mail address I can send the code to or drop me a line at JimGibbons1[at]gmail[dot]com.
Once again, thanks so much to everyone on my team and everyone who supported our efforts! You've all been extremely excellent! Thank you!
Similar Posts: