Lots of Movember news coming in from the front lines of the big month-long 'stache-a-thon today. Let's dive right into this Mustache Dispatch…
————

Legendary gentleman, scholar, filmmaking guy and all around excellent dude Paul Hillman just joined Team Mammoth-Stache!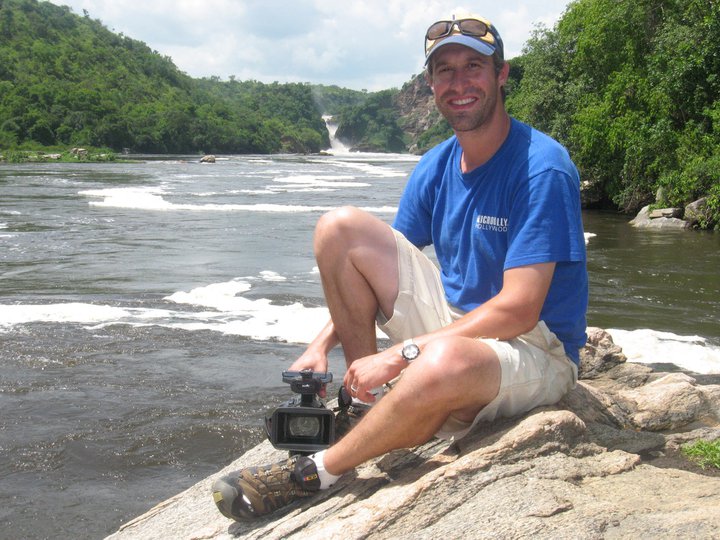 Swooping in as Movember kicked off to add another proud upper lip to our most excellent international mo-growing force, we're certainly lucky to add Paul's expert moustachery to our fund-raising effort! Too much hyperbole making you skeptical? Well…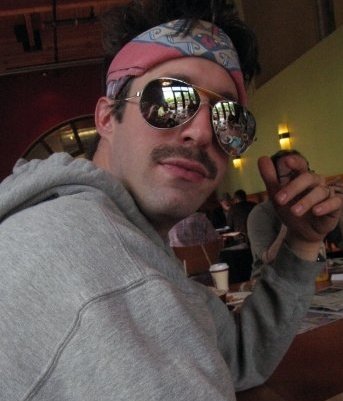 Yeah, this mother trucker is gonna grow one fine 'stache.
————
ComicBookResources.com's Robot 6 blog posted a brief story on Movember and the comics-heavy, Dark Horse employee-filled lineup of Team Mammoth-Stache.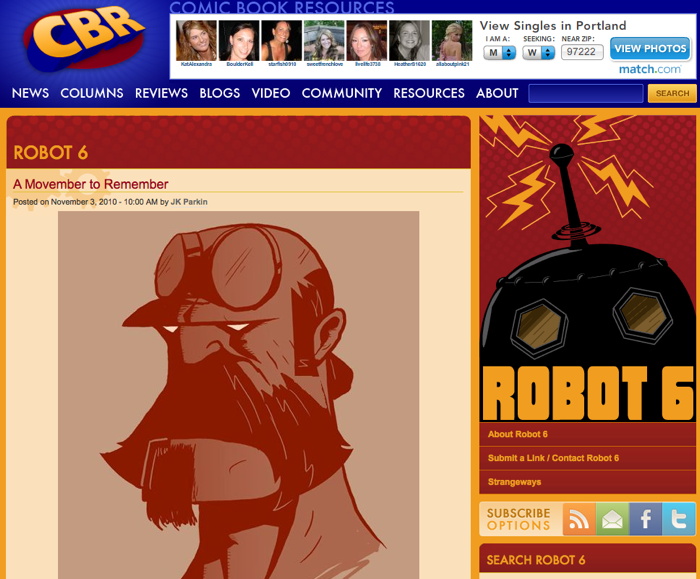 A link to the article was also briefly featured on the CBR homepage…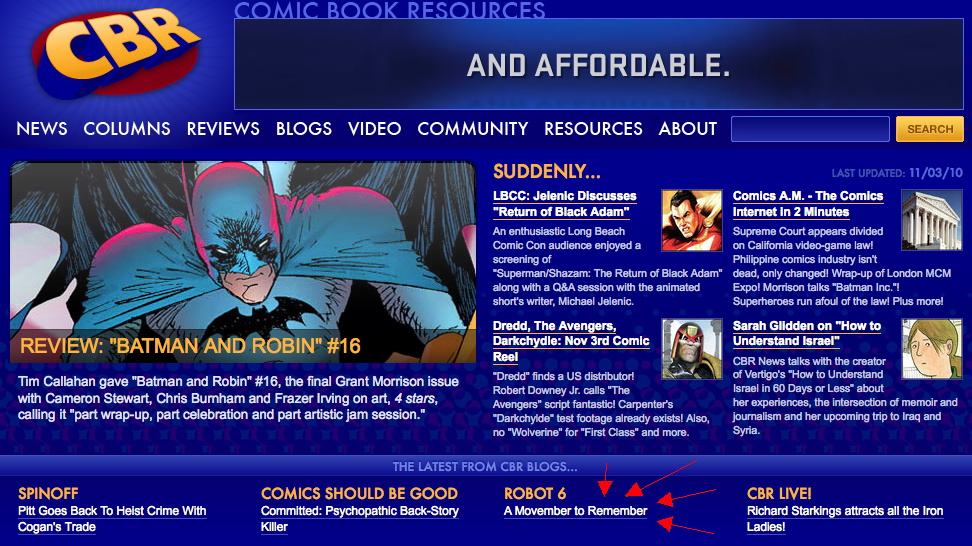 Many thanks to the most excellent JK Parkin for making the post happen and helping spread the word about Movember and the fundraiser's Mammoth-Stache-curated Comics Network page.
————
While we're on the topic of comics-related linkage, I'd be remiss if I'd didn't point out that Comics Alliance also dropped a link to the Comics Network into a story today. My main man Caleb Goellner over at CA (Who's already kindly made a donation to the cause, as has his lovely wife.) is to thank for this one, so pat that guy on the back next time you see him.
————
One final note on the four color front, the Comics Network welcomed its first big name writer to the fold today when Joe Hill—whether responding to a MoSpace message or a tweet—joined the group to have his fund-raising tallied alongside other comic book enthusiasts and professionals! Thanks for joining the network, Joe! You can learn more about Mr. Hill's works of fiction here.
————
A while back, Movember U.S. asked Mo Bros to send in photos to use as the day-long spokesman images for their Facebook account. I sent over a shot of myself, hoping the amateur photoshopping would win them over and today my mo'ed-up mug graced each Facebook post from Movember HQ.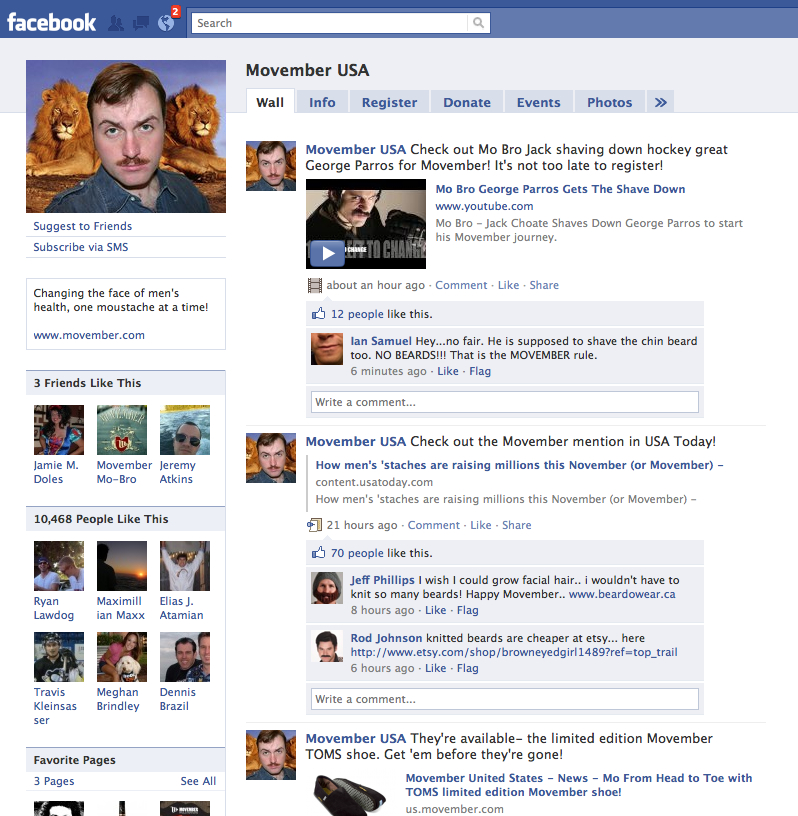 I suggest you go "like" the photo and post all sorts of Mammoth-Stache-related links to it. Say a few words, link your MoSpace and let's use this as a chance to show all of Movember how active Mammoth-Stache can be.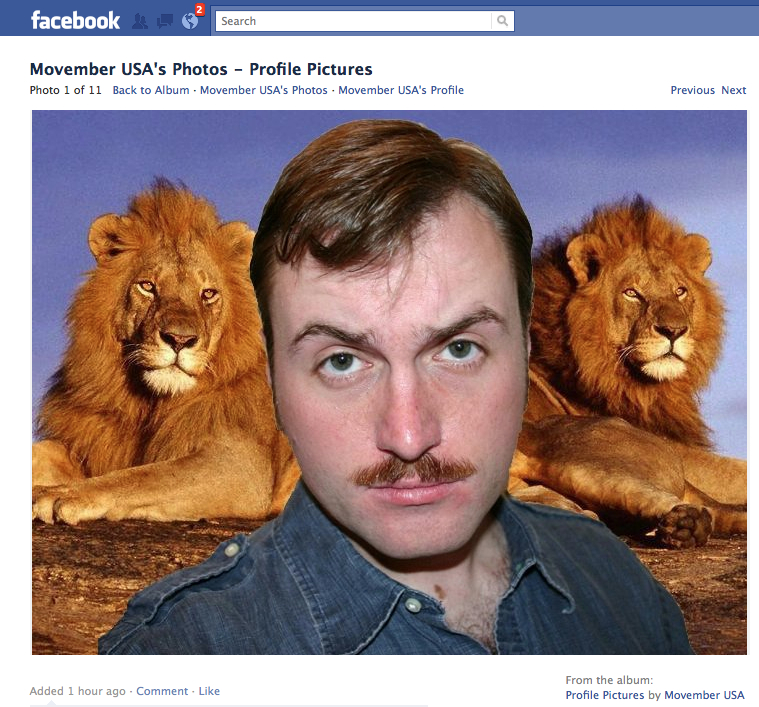 ————
My old friends over at PanelsOnPages.com invited me to appear on their fantastic podcast—known as the PoP!cast—to plug my Movember efforts and talk comics. Last night, when we recorded the show, they were kind enough to let me kick things off with a little mustache talk before things got crazy and a little offensive. You can listen to the show by heading to this link, but be warned, it's NSFW (Not Safe For Work) and contains profanity.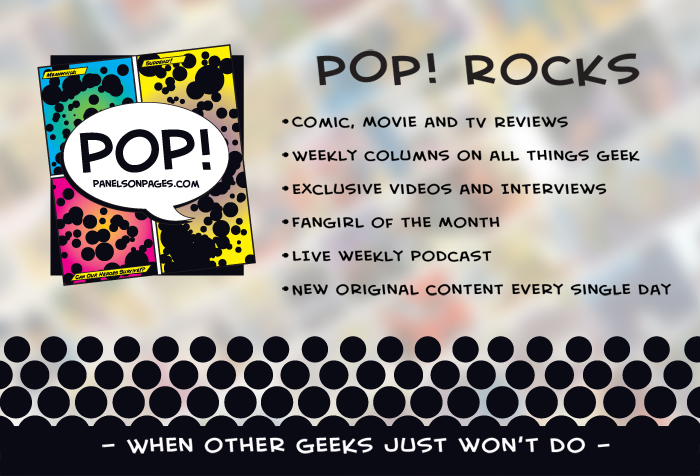 Many thanks go out to Lee Rodriguez, Jason "K-Nice" Knize, Jason "K-Whack" Keruoac, Jose Guzman and Nick Bremmer for having me on the show and the entire PoP!ulation for listening in and being so rad and supportive in the show's live chat. Those gents and everyone involved in that site are all real stand-up folks and good people, so you should make an effort to visit their site regularly. Again, thanks guys!
————
Man, this Movember's off to a great start! Read theses stories and grab these links, pass them around, spread the word and then take some time and donate to a great cause!
That's it for now, friends! Thanks for checking in!
Similar Posts: