It'd be easy to assume that my enthusiasm for mustaches in the lead up to Movember is reaching unhealthy levels based on the amount I've been blogging and talking about the fundraiser, but thankfully it's impossible to be "too excited" about mustaches. That's pure science fact! Ask a scientist, they'll absolutely verify that… with data!
Anywho, that's my lame intro to a hodgepodge post for housing some assorted 'stache-savvy links. Let's get to it…

Firstly and foremostly, Movember sponsor Schick has set up an online service that's perfect for a little mustache style planning or for Mo Sistas to adorn their upper lips with a hair-free crumb catcher. Head over to SchickMoPic.ca and you can throw a few faux-staches over a picture of your face. It'll look something like this…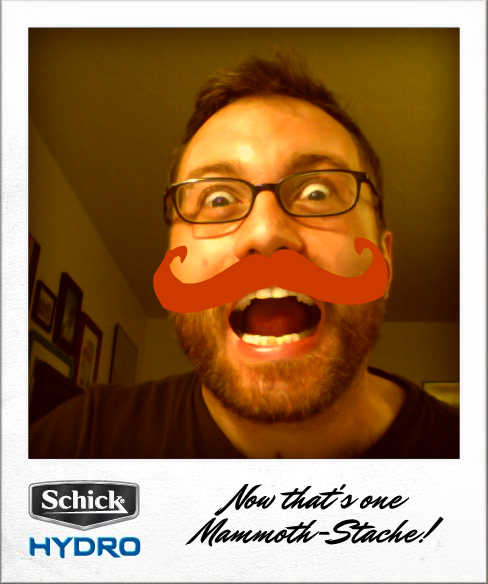 If you like how you look all mo'ed up, Mammoth-Stache could always use another member. Please, join up!
I was recently soliciting folks on Twitter and Facebook for their favorite mustaches from fiction. Movies, TV, comic, cartoons, it doesn't matter to me. I just want to compile a list of some of the most legendary and memorable mustaches in pop culture. Here's what the list looks like so far…
Lando Calrissian
Wade Garrett from "Roadhouse"
Thomas Sullivan Magnum from "Magnum P.I."
Dum Dum Dugan from Marvel Comics
Yosemite Sam
Sean Connery in "Zardoz"
Super Mario
The Stranger from "The Big Lebowski"
Admiral Adama from "Battlestar Galactica"
Snydely Whiplash, villainous rival of Dudley Doo-Right
Any character played by Vincent Price.
Shaft
The Tick's short-lived 'stache
Shepherd Book from "Firefly"
Biggs Darklighter from "Star Wars"
Hoban "Wash" Washburne, also "Firefly"
EJO, aka Edward James Olmos, in "Blade Runner"
Dr. Robotnik from "Sonic the Hedgehog"
Floyd Pepper, bassist from the Muppet band Electric Mayhem
Nick Nolte as David Sanders in Peter Benchley's "The Deep"
Ned Flanders from "The Simpsons"
Swedish Chef, another Muppet
Scruffy from "Futurama"
Axe Cop
And, Dan Stark from "The Good Guys," who actually has a rad featurette about his 'stache. Take a look…
If you are a fan of a mustache we missed, let me know in the comments below!
That's all for now, folks! Click here to donate and here if you'd like to join the Movember effort!
Similar Posts: