I went to my first San Diego Comic-Con three weeks ago. Long story short, it was a work-filled, more or less sleepless, alcohol-infused 6-day bender of nerdiness. Long story even shorter, I had a blast.

Before this year, my history with Comic-Con primarily involved me hearing a lot about the show from afar, first as a fan and later as an online news editor. I always ended up being the guy who spent Comic-Con thousands of miles away behind a computer. Two years ago, Josh Wigler and I, alongside 24 ice cold Yuenglings, spent hours drinking and editing news from armchairs in his Brooklyn apartment. Last year, I followed the news online from my abode in New Jersey—nothing special compared to actual attendance. When I began working in comics, I heard horror stories and epic adventure tales about Comic-Con and the maddening sensory overload experienced at such a massive event. I suspected all the stories I heard were rife with hyperbole. Surely, it seemed, no single event could live up to the craziness with which people boasted about Comic-Con, right?
Today is the first day I actually feel like I've full recovered from the con. (I began writing this about a week ago, turns out I still had some more catching up to do. Today is the first day blogging seems like a good plan.) It's a fun convention, but it'll wreck you physically and mentally for while. Also, Comic-Con left me with a ton of work to catch up on, so I've been super busy as my mind and body have healed up after the onslaught that was Comic-Con. Now that I think I'm ready to remove the metaphorical bandages, I'm going to shrug off my blogging rust with a recap of my personal highlights and odd stories from the show.
Here we go…
-I saw Pauly Shore wandering the show floor on Thursday. Later at the surreal IGN party, I saw Pauly again. I was tempted to go up and say hello, as I legitimately enjoy Shore's films, but he was the most upset looking guy I'd ever seen at a party. I'm probably a good 70 pounds heavier and 7 inches taller than him, but I was sure he would have punched me in the face if I had approached him, so… I didn't. (In fact, looks like he did try and fight some people at CCI.) Still, it was crazy to see Pauly freakin' Shore in person!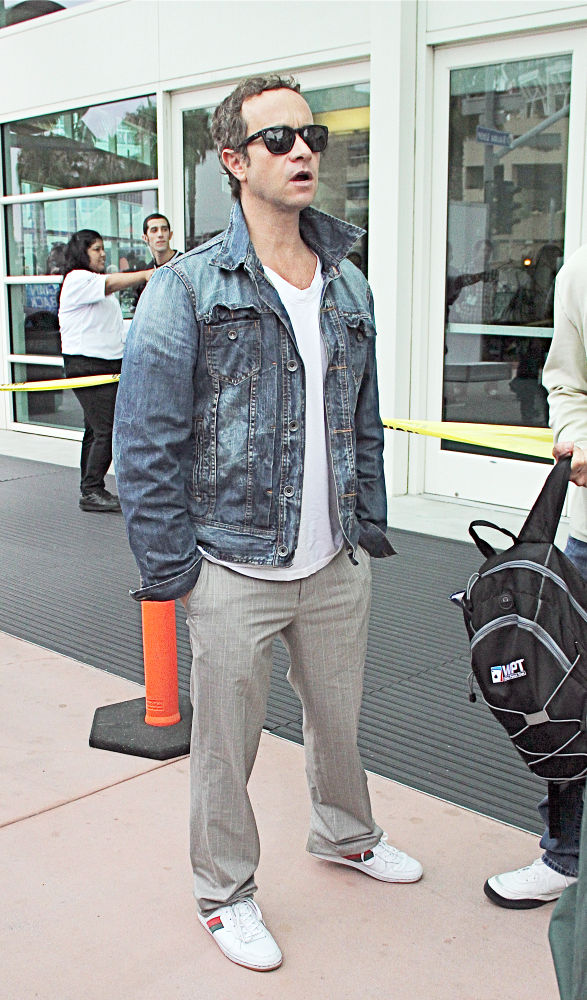 -The IGN party on Thursday was a trip in the most '70s-esque sense of the word. It was the first party this Midwesterner had ever been to where a list of VIP names determined who got in to the party and who was left on the curb. It was also the first time I was on the list for such an exclusive event. I'm one for one, folks! That average can only go down… Anywho, this party featured free booze on a rooftop Hard Rock Cafe bar and an appearance by Sylvester Stallone. Pretty nuts. Swank is the word people—or swanky. Swanky works too.
-As Dark Horse Editor Dave Marshall, Dark Horse Director of Custom Programs Nick McWhorter and I enjoyed this super swanky IGN shindig, I realized at one point that the red-headed chick from "Forgetting Sarah Marshall" was sitting right behind Dave. While this party made me realize I'm definitely not cut out for the LA lifestyle, it was pretty cool to be hobnobbing around folks I'd seen in major motion pictures.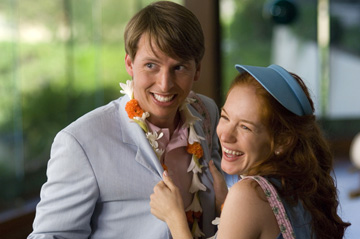 -Later, when I went to the bathroom, I saw some dude chatting with a girl in a bikini about how she needed to be ready to go on stage early… because she was a background dancer for Big Boi and he was performing at the Marvel versus Capcom party next door. Even later, from afar, I witnessed Big Boi rocking a rooftop stage… have I mentioned it was a crazy night? Well, prior to seeing Big Boi, the craziest of crazy things happened…
-The IGN party was sponsored (or co-sponsored) by Sly Stallone's new movie "The Expendables." At the party, IGN launched their Action Hero Hall of Fame with Sly being the first inductee. Before they presented the award, Sly's co-stars from "Expendables," took the stage. So… I'm on a roof top bar, drinking free beer and Dolph Lundgren, Terry Crews, Randy Couture and "Stone Cold" Steve Austin all take the stage to say a few words about Stallone. But wait, it gets better! When "Stone Cold" grabs the mic, he does a little spiel and before saying (not an exact quote, but pretty close) "If you think Sly Stallone is the greatest action hero in the history of movies, GIVE ME A HELL YEAH!" I raised my free beer, yelled "Hell Yeah!" and started laughing to myself as I'd—apparently—just reverted to my 7th grade self. It was goofy but pretty damn incredible as well. I loved it. Stallone took the stage after that, which was pretty cool, but after that "Hell yeah" I as pretty set for the evening.
-I walked by Joe Lo Truglio in my hotel bar. He had a beard.
-I saw Guillermo Del Toro enter an elevator in my hotel.
-I saw Morena Baccarin walking her tiny dog through my hotel lobby. She was wearing big sunglasses and her hair was bleached blonde and spiked, but it was definitely her. Since "V" began, I've commented a bunch of times to Jessi about how freakishly thin Baccarin has gotten compared to her days as the curvaceous Inara on "Firefly." She's definitely thin, and taller than I imagined, but she doesn't appear malnourished in person—which is a good thing and totally random. This sighting, by the way, I think fully solidified how fucking crazy Comic-Con was for me. The show floor and the panel rooms within the convention center are their own brand of sensory overload, but it doesn't stop there. I left the show floor after a long day and was going to drop my bag off in my room. The hotel bar was so loud it was hard to think, the entire lobby area was packed full of people and I turned the corner and an actress from one of my favorite TV shows of all time ("Firefly," not "V.") is walking her dog through my hotel. It's surreal moments like that which make Comic-Con hard to explain, but also pretty darn great. There's a more profound way to get this point across, but that's the problem with Comic-Con. You're so fried from the magnitude of it that the unique quality of all these little insane moments doesn't quite sink in.
-I saw Seth Green run, unnoticed by anyone else, down an aisle on the show floor and wondered if he could make it through so speedily if he weren't wearing a hat.
-At the Dark Horse booth, I got a chance to meet and chat with Cole Haddon, who is writing the upcoming comic "The Strange Case of Hyde" and to go with the script he wrote for it's film counterpart "Hyde." It's always cool to chat with a writer who's enthusiastic about his work, but getting to nerd out with Haddon about the coolness of Magnus, Robot Fighter was a particular treat. During the conversation, Cole pontificated about how awesome a Magnus movie would be (Yeah, it'd be extremely awesome!) and then ran me through an opening scene for this yet-to-exist movie that he said he'd love to write. Cross your fingers, folks, because—trust me—you want to see a Cole Haddon-scripted Magnus movie!
-Over the past year, I've e-mailed the fetching Felicia Day—writer and star behind the webseries "The Guild"—pretty regularly about doing interviews to promote the three-issue Dark Horse comic tie-in to her series. Always easy to work with, I was curious to see if the sweet nature in which Felicia conducts herself with via e-mail and in interviews was legit. It absolutely is, that girl's a class act! At the con, I waved Felicia through a crowd to get her to the Dark Horse booth for a "Dollhouse" signing. When she made it through the masses waiting to meet her, she peeped down at my badge, saw my name and immediately reached for a handshake, saying "Jim! Oh my gosh, good to finally meet you face-to-face." I'm paraphrasing what she actually said here (memory's hazy at this point, on quotes at least), but the point is that she recognized my name and was super friendly and nice. I've generally had really good experiences with celebrities and comic creators in person, but Felicia was particularly pleasant—she deserves all the success she's had over the past few years and that she still has coming. It's really great when exceedingly nice people are doing well in the world. Go read The Guild and watch the webseries!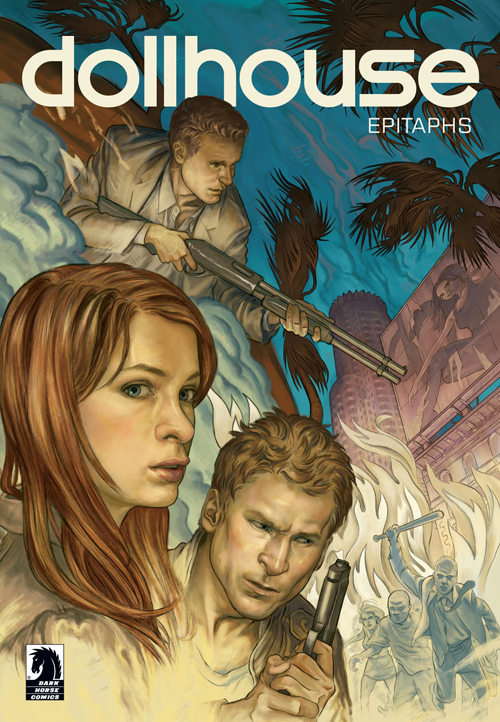 The rest of Comic-Con was great thanks to many people I work with regularly as a Publicity Coordinator at Dark Horse Comics…
-Meeting Marc Benardin in person and getting to gush about how much I love The Highwaymen was fun.
-As always, it was great to share drinks with the captain of Comics Alliance Laura Hudson.
-I finally got a chance to meet Jonah Weiland, head honcho of CBR, and he bestowed upon me a kazoo… much like the one LeVar Burton has in this video interview… an interview I coordinated, by the way. PR powers, activate! Also, CBR's Senior Editor Stephen Gerding is a rad and hilarious man! And reporter extraordinaire, Shaun Manning is a dude among dudes indeed! Good times!
-And of course it was great hanging with the clowns who do The Cool Kids Table, my main man Josh Wigler, the hilarious and bearded Justin Aclin and other fellow Wizard alum—rad folks!
Ok, time to get this long overdue post up. Comic-Con International… it's a crazy, crazy event. Get out to it if you have a chance, it's an experience! I loved it. I hated it. But most of all, I lived it. Till next year, Comic-Con!
Similar Posts: