Illustrator and graphic designer Julius Santiago has a project called "365 Bears" that's well worth checking out. For a whole year, Mr. Santiago is taking his relatively simple bear design and dressing it up in all sorts of outfits and costumes to compile 365 unique bears. There's a new bear each day and you can view them all at KingPanPan.com.

After seeing some of the super nerdy bears Mr. Santiago was putting together (particularly his "Avatar: The Last Airbender" bears) I began pestering him via his twitter to do some Dark Horse Comics bears. Hellboy was at the top of my list and after weeks of nagging, Mr. Santiago was kind enough to bear-ify Big Red.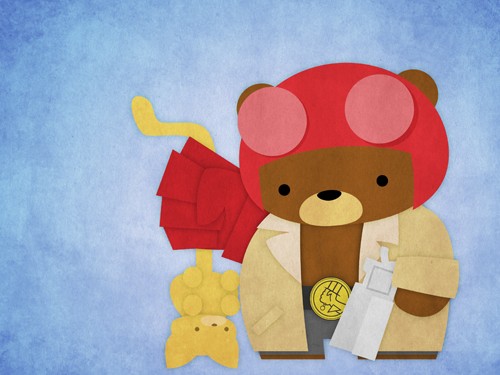 I've been meaning to blog about this for a while, so a big thank you is long overdue for Mr. Santiago! Thanks so much, sir!
Remember: A new bear pops up everyday on KingPanPan.com, and you can follow "365 Bears" on Twitter too!
Similar Posts: