It's been ages since I reviewed a beer here, and I recently picked up a brew I couldn't go without mentioning. In other words, I had to mention it!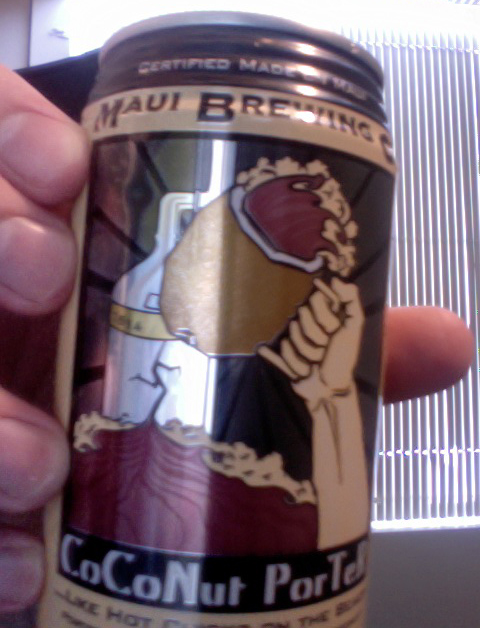 First, a sidenote…
I love canned beers. I prefer them to bottled beers and that's often something I've gotten teased about. I'm not sure why canned beers have such a bad reputation, but I think there's something enjoyable about them. They just seem preferavle to me, be it the feel in your hand as you sip or the comparative ease in disposal after a night of drinking. You snap open that pop tab you've grown to know and love throughout a childhood of guzzling down Mountain Dew and you've got delicious beer right there in your fist—it's perfect! Last summer I picked up a microbrew that came in a can. It was the first canned microbrew I'd ever seen, so I was intrigued. On the box, it had an explanation about why canning beers is actually a superior method for delivering delicious ales and porters to your taste buds. Maui Brewing Co. succinctly and effectively sums up the advantages of canning microbrews on this Coconut Porter, so I'm going to reprint it here…
Welcome to the MicroCanning Revolution…
Cans eliminate light damage and reduce the risk of oxidation, keeping our beer fresher than in bottles!

Cans are lighter, chill quicker and can be enjoyed on beaches and in sensitive environments. Aluminum is the most recycled and most eco-friendly material.
I prefer cans, they make sense for drinking beer in diverse locales and are better for the environment! Excellent!
On to the beer…
I snagged this brew at a specialty grocery store for the steep price of $9.99 for a four pack. The price may have been elevated due to the nature of the high-class grocery I was in, but the beer was tasty enough to make me forget the exorbitant amount I paid for it. If I only had two words to describe this porter, I'd go with tasty and smooth. At 5.7 percent ABV, this porter goes down extremely easy with a full taste that ends with something I initially mistook for chocolate. The hand-toasted coconut, which was responsible for my initial thought of "chocolatey," worked into this beer makes for a downright sweet deliciousness I've rarely tasted in a truly excellent beer. If you can find it, I highly recommend you buy, drink and enjoy the heck out of it!
Also, it was a Gold Award winner in the World Beer Cup's herb and spice beer category, so if you don't want to take my word for it, take that.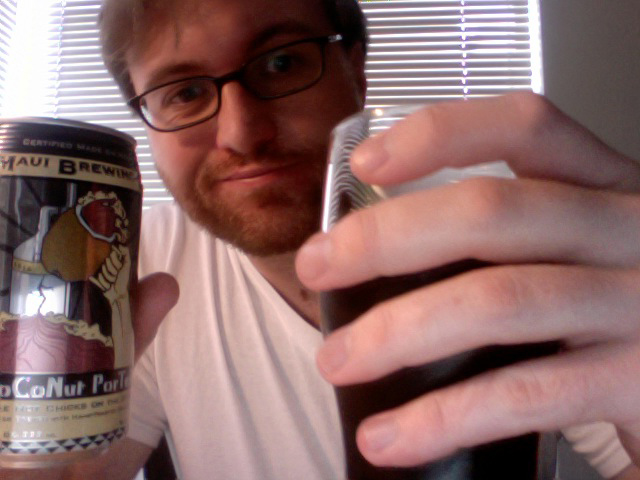 (Sorry for the poor picture quality. I just snapped a few quick shots with my computer's webcam.)
Similar Posts: