Keeping up with comics has become a curious situation for me over the past six months.

For nearly two years while working at Wizard, I had access to a box that contained the entirety of each week's comics. The question was never "What do I read?" but more "What don't I read?", especially as the latter always ended up being a shorter stack of books. I'm very much the type of comic reader who will give anything a chance, and when the weight of my wallet didn't factor into that equation, I gave most things a read for two or three issues before deciding whether I'd keep up or let them drop. This led to a ridiculous amount of reading and I was trucking through something like 30 to 40 titles a week and, over the months, kept up to date on a majority (Think 50 plus series) of Marvel, DC and Dark Horse comics with a smattering of IDW, Oni and other smaller publishers catching my eye with occasional books.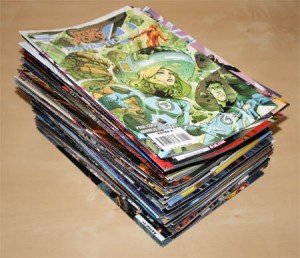 I deeply love comics and would thoroughly enjoy being able to keep up on the amount of titles I had been reading, but when I lost my job at Wizard, the hundred or so dollars I would have had to spend each week to stay up on "current events" was too staggering an amount to even consider. I had simply been reading so much professionally—if you will—that transferring that reading list to my private life was in no way feasible.
It was, in fact, impossible.
So, feeling my lack of a paycheck stabbing directly into the butt cheek that's normally adjacent to my wallet (Not literally, but not a great metaphor either.), I took the exact opposite route (which wasn't hard considering the aforementioned lack of income during my unemployment) and dropped every single title I was reading. I grabbed occasional trades when I could spare the cash, but I quit weekly comics cold turkey for monetary reasons and haven't delved into them again since.
Now I have a job, a paycheck and I get comped all of Dark Horse's weekly titles (A nice perk!), so I'm thinking about getting back into the game and catching up on comics' recent history. This is, however, where I need a little help.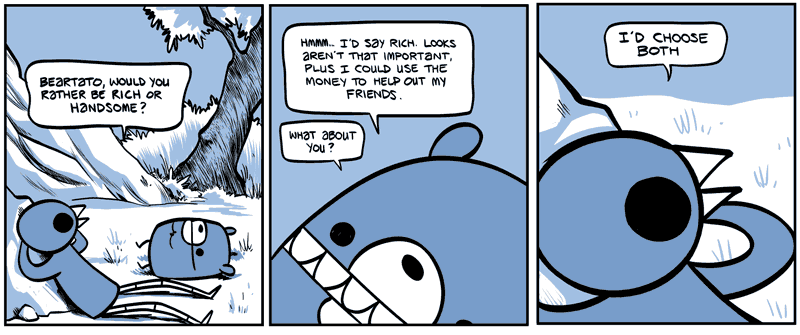 Since I've entered the working world, I've always been able to keep up on comics for free. I haven't purchased weekly comics since I was in college, and then it was a simpler matter of just not buying too much beer on the weekends and I'd have money for comics on Wednesday. Now, my financial situation is hindered by such gloriously adult things as paying for medical and auto insurance or thinking about how to finance retirement, alongside other necessities that didn't really factor in when considering my weekly spending in college, and I'm wondering how best to buy and read comics in my current situation.
So, here's what I'm thinking and where I'm hoping to get a little feedback…
While I do love keeping up on weekly comics, I think I am going to have to make the move to a solely trade paperback (or graphic novel, if you prefer) form of comic reading. Not only are trades cheaper in the long run, but I I'd rather have a nice looking bookshelf as opposed to piles of long boxes taking up space in my living quarters. Does this make sense? Can any weekly readers talk me out of this "payment plan?"
Also, while I have a few titles in mind that I want to catch up on in trade (Pak's Hulk, Pak and Van Lente's Herc and a few other non-Hulk/Herc related books), I really don't know what titles have stayed good over the past few months and what has really fallen off. If anyone has any "must read" recommendations that date back to September, please let me know. I won't be reading as much, so I want everything I am reading to be really good. Help me out, peoples!
Similar Posts: