As someone who studied abroad in the United Kingdom, I am frequently asked, "Is Great Britain similar to the many 'quintessentially' British things I've seen in Guy Ritchie movies, Harry Potter and Doctor Who?"
The answer is, of course, "Absolutely."

For instance, one might presume that everyone in England not only watches, but personally knows, Doctor Who—or at least someone who appears Doctor Who-ish. While watching "Doctor Who" last weekend, I came to the realization that my friend Harry (Who's real name is—in fact—James, but the nickname Harry cropped up due to his passing similarity to the English prince of the same name.) would look a bit like David Tennant, aka The Doctor, if clad in the proper attire. I took this realization to Twitter and tweeted my good, and thoroughly British, friend Chris.
EnemyOfPeanuts (Me): @justcalledchris Harry does look a bit like David Tennant, yeah? I'm not crazy, right?! He is a bit Doctor Who-ish!
The next morning, I awoke to find this tweet from Chris directed at me…
justcalledchris (Chris): @EnemyOfPeanuts HAHA. I've just made Harry dress up as Dr Who. I've taken photos and results will be on Facebook very soon! Check it out.
…followed quickly by this tweet…
justcalledchris: @EnemyOfPeanuts I've now uploaded a comparison picture to Facebook. Check it out!!! Good call Gibbons. Uncanny.
I immediately made my way over to Facebook and found the following hilarious and amazing photograph…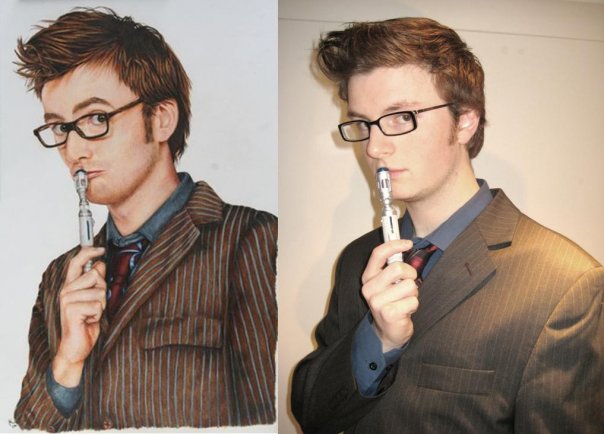 Caption accompanying the photo on Facebook: "Jim Gibbons mentioned that Harry Davies looks a bit like David Tennant (aka Doctor Who)… SO I MADE HARRY DRESS UP. I don't think he was very happy about it; hence the annoyed look in the picture!"
Now, first of all, Harry looks shockingly similar to David Tennant/Doctor Who when in costume, does he not?! Secondly, the fact that a Doctor Who-ish coat, shirt and tie, not to mention a sonic screwdriver (which I presume is standard issue in all British homes) was lying around to make this photo happen is truly magical. All in all, I have never had a single tweet lead to such a satisfying and hilarious result. Thanks, Chris! And thanks for your patience, Harry!
Now, here's the shocker: this photograph of Harry may not be the best example that all peoples of the British Isles are somehow intricately intertwined into the world of English fiction that I witnessed last week.
Poppy Corbett, another of my close and delightful British friends I met while studying abroad, is involved in London's Theatre scene—in ways I wish I better understood so I could brag about that more. Anywho, to illustrate this next story, here is a picture of Poppy (whom I sometimes refer to as R2-D2 due to her tiny height and ability to launch lightsabers out of her head) and me in which I am wearing 30 t-shirts at once.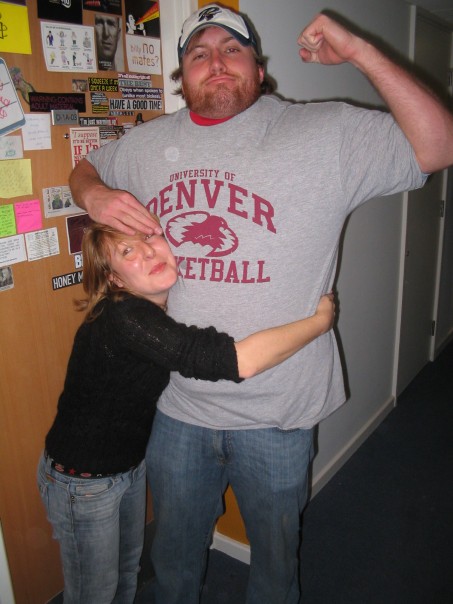 Long ago, again while watching Doctor Who, I became convinced that Poppy would be a great and hilarious companion for The Doctor. You're undoubtedly noticing a trend about my thought process while watching Doctor Who, and yes, I do often think about how my few close British friends could be written into the Who mythos. So, imagine my surprise and delight at this series of tweets from Ms. Corbett from earlier this week…
Poppy_Corbett: of course I am at the Legally Blonde gala party, of course I sneaked in. OF FUCKING COURSE!

Poppy_Corbett: am I drinking the free champagne, am I eating the free canapes? yes I FUCKING AM!

Poppy_Corbett: at the Legally Blonde party with @Dan_Baker83, Tennant, Stacey Solomons and Graham Norton also here…

Poppy_Corbett: Tennant loving the canapes…

Poppy_Corbett: Eaten four mini hamburgers in the presence of The (former) Doctor. I'm not sure how he feels about this…
Freakin' awesome, right?!
So, in conclusion, if you think every single British person has a personal connection to British fiction, particularly Doctor Who, you are entirely correct!!!
Case closed.
Similar Posts: