Nothing says "Please donate to this worthy cause" like poorly photoshopped promotional materials, so please enjoy this image of me as an astronaut!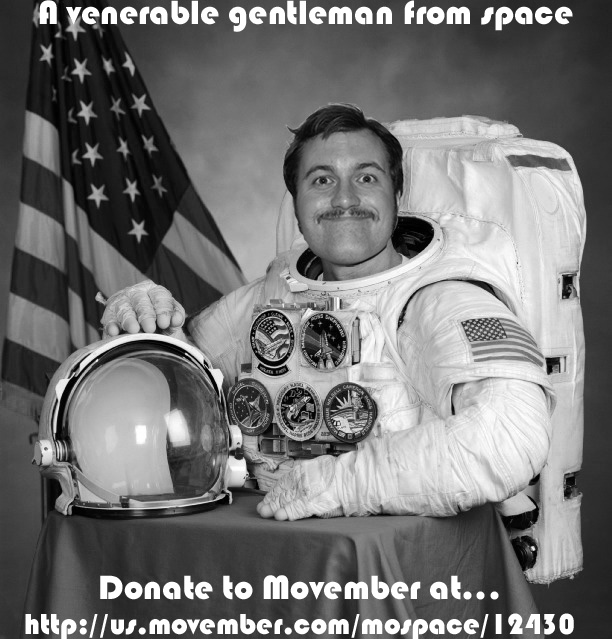 Here's a hyperlinked version of the link in the "promo poster" just to make it easy for you folks keen on donating: http://us.movember.com/mospace/12430.
Now, please enjoy a Movember-inspired essay on the virtues of facial hair by Matthew Lubicky…
Santa Claus would look stupid without a beard
By Matthew Lubicky

Author's Note: This piece was composed with no research to bolster its claims. If certain information sounds false, well, it probably is. But, that doesn't mean if I read this to you loudly it would sound false, no, it would sound true because loud, verbose rhetoric equals the truth. I'm concerned only with what sounds like truth.

Santa Claus would look stupid without a beard. Seriously. How do I know Santa Claus would look stupid without a beard? Because I saw "The Santa Claus" starring Tim Allen and he looked ridiculous when he had gained weight and grew a beard inexplicably and then tried to shave the beard off so he didn't look like Santa Claus but the beard grew back right away.

Santa Claus aka Kris Kringle

Santa Claus aka Buzz Lightyear

Scenario: A man in a weird red suit slides down your chimney and starts placing stuff under a coniferous tree you've brought into your home. You catch the man in the act and he turns around and he is clean-shaven. What happens? Here's what I'm willing to bet: You beat the strange man with the fireplace log-poker, call the cops, assume anthrax is in every package and/or question him on how his suit has stayed so clean despite sliding down a chimney that is lined with soot. Now, had the man had a fluffy white beard, reminiscent of snow, you would still be surprised that he's in your house but rather than get violent you most probably would have smiled, felt cozy and delivered him a plate full of fresh-baked cookies and milk (and also carrots (?) if you're Kevin McCallister from "Home Alone").

What's the point? Beards, and facial hair for that matter, are good for everyone. Fact. Facial hair allows strange men to deliver gifts on Jesus' birthday, beards are responsible for keeping the United States from fully cleaving in twain and it was a beard that first described the process of evolution. Facial hair has cradled humanity for all of history and it's time that these beards, mustaches and goatees got their due respect in a time when political pundits and big-dumb idiots try to point to outliers in facial hair history as the downfall of society.

Honest Abe

Hottest president in history? (B)Abraham (pronounced Babe-raham) Lincoln. No other president has faced the severe scale of domestic trouble that confronted Lincoln while in office. Some people dare talk of record unemployment, crime, economic downturn, blah blah blah… How about half of the country seceding? How does that strike you? Lincoln's job as president: Stop the country from literally imploding! No easy task, and not possible without a solid beard to stroke while pondering about how to solve the biggest problem ever. Lincoln's beard, sans mustache, is now revered internationally as the sign for "I'm taller than you and I'm going to kick your ass if you secede!" From the U.S. penny to the U.S. five-dollar note to the side of a frickin' mountain, Lincoln has been immortalized as the coolest, tallest, bearded, country-saver ever. Fact.

Chuck D

Guess what Charles Darwin did? He discovered how life works. What have you done? Grow a beard and maybe you'll get something done today.

Poe-Boy

Edgar Allan Poe, with his short—albeit thick—mustache invented the detective story, had one of his poems turned into a cartoon via "The Simpsons," married his cousin (1st), drank more than Shawn Kemp could ever dream of and was found in a gutter in Baltimore soon to die. The good stuff was because of the mustache, the bad stuff was because there wasn't enough 'stache. Speaking of the good stuff and enough mustache to go around and "The Simpsons," Ned Flanders! The god-fearing, left-hander from next door had nothing but sage advice and a good heart (and rippling muscles) because his mustache was his number one priority.

Freddie "The Fastest Planet" Mercury

While we're on the topic of mustaches, how about Freddie Mercury? He's possibly the greatest front man to a band, in history—including Beethoven. Some of you may say, "I'm an idiot and I don't like Queen because I'm an idiot." Whine all you want and don't like their awesome music all you want but that doesn't take away from the fact that even through a damn television screen Freddie Mercury is the most engaging, tight-jeaned, lead singer of all time. Plus, he always held the microphone with the top half of the stand still attached. Innovation! Plus, Mercury could belt out glorious tunes while playing the piano like pimply, anti-social kids play Guitar-Hero—that is, very well. Plus while he was playing, he would do the cool hand cross-over move where he would play the low notes and then the high notes with his left hand while his right hand continued with the melody mid-piano, i.e. "Bohemian Rhapsody."

Now I could go on for ages mentioning this man and that man (and in some cases woman) and how great they were and that should be enough convince you that facial hair benefits society, but let's think a bit deeper about the subject and see what else there might be to the situation. Of course, hair on the face for a young gentleman is often the first sign of manhood, leading a life of his own, striking out from the nest as it were. Here the facial hair provides a buffer for the young buck as he jumps head long, face long into the throes of society to see what he can offer, and often behind the beard or mustache is a brain ready to engage the world. For some, that buffer of facial hair is exactly what they need to gain the confidence in offering their ideas to the world at large.

Albert "Dr. Frank" Einstein

Example: Albert Einstein. Little Albert was just a mere patent clerk in Switzerland until he grew his mustache and grabbed life by the balls and swept the world off it's Newtonian feet and launched Relativity on the world, not to mention loads of other stuff. Turns out it was the non-mustached leaders of the "free world" that took Einstein and his ideas and decided to blow up half of Japan. The jerks. But it wasn't just the buffer effect that allowed Einstein to blow everyone's hair to the back of the auditorium; he had the ability to stroke his facial hair while thinking. A huge innovation in facial hair cultivation from the likes of Socrates.

What can anyone say about Socrates other than he thought of that (whatever "that' may be) before you did. The beard stroke is a long held tradition in Beardom used by everyone from Jesus to Uncle Jesse in "The Dukes of Hazzard." How many times did the boys get out of trouble because of some quick thinking by Uncle Jesse and Jesus out in the garage? Three thousand times, that's how many.

Take it from me, as a guy who has tried every type of facial hair (including the fumanchu with accompanying sideburns), facial hair has infinite perks. One definite perk is that when your beard gets long enough you can hide whole peanuts inside it and take them out later for a snack. Fact.
Note: This blog DOES NOT encourage hiding peanuts….anywhere!
Double Note: This blog DOES encourage you to donate to Movember and help fight men's cancer!
Similar Posts: