It's no secret that I grow some mean facial hair. But what you may be less aware of, dear readers, is the yearly custom of growing a moustache to promote men's health awareness that rolls around each November. Entitled Movember, this month-long growing of upper lip hair is a full-fledged and actual event that you can learn more about by visiting the Movember Foundation's Web site. This year, I'm thinking about participating.
Thoughts?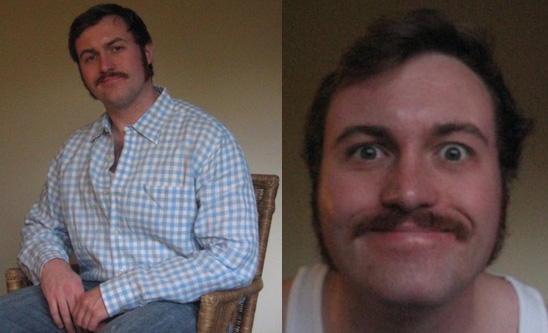 From the Movember Campaign…
Whichever way we look at it, men are far less healthy than women. The average life expectancy for men is five years less than women. Men lack awareness about the serious health issues they face. There is an attitude that they have to be tough – "a real man" – and are reluctant to see a doctor about an illness or go for regular medical checks.

Movember aims to change these attitudes and make men's health fun by putting the Mo back on the face of fashion and in the process raise some serious funds for prostate and testicular cancer.
Would anyone be willing to make a donation if I 'stached up this Movember? Would any of my male compatriots be willing to join my 'stache growing team? Please hit me with some comments below (or email me at jimgibbons1 [at] gmail.com) if you are interested in participating with me, would like to donate to my men's health-related charity of choice or just want to voice your support that this would be a fun and good thing to do…or if you just want to see 'stache updates on this blog everyday!
———-
Credit where it's due, I have to thank Caleb Goellner for the Comics Alliance article that reminded me of this awesome event!
Similar Posts: