While many may see the coming of fall in the foliage, the kick off of football season, the conclusion of the year's baseball games or the beginning of new TV, the autumnal season always begins for me when the liquor stores begin stocking pumpkin beer.

This weekend, I walked into my local discount wine and liquor store (A massive emporium filled with numerous wines, spirits and beers at amazingly low prices in River Edge, N.J.) and was pleasantly surprised to see stacks of six-packs promoting all the new pumpkin-infused seasonals that had just arrived. Like a mini-holiday at September's end, this first trip to get pumpkin beer never fails to thrill me for the upcoming sweater weather and good times sure to be associated with the delicious fall taste and aroma of these autumn brews.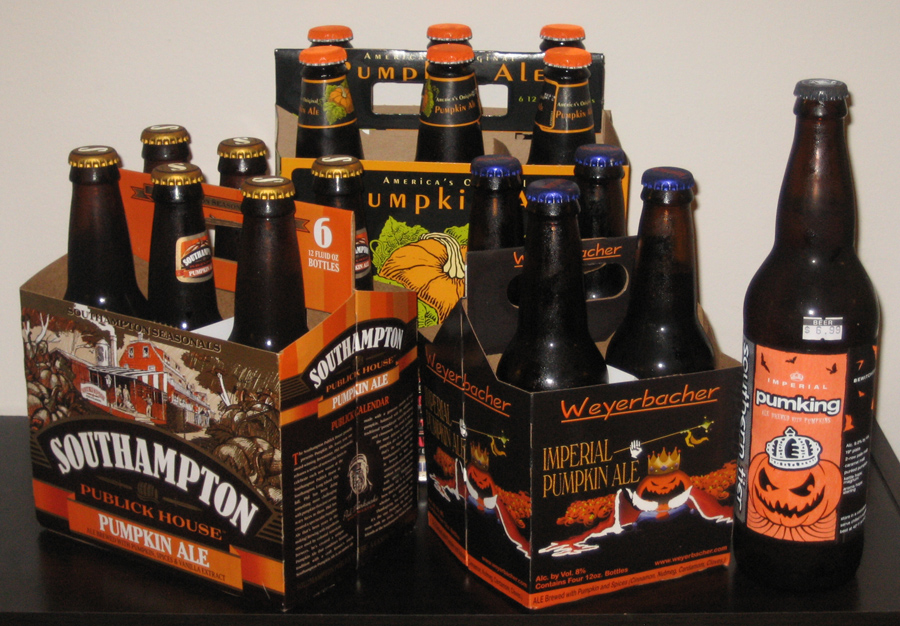 My love of the pumpkin brew began a few years back. After returning from abroad in early 2006, my time in England at the age of 21 led me to the realization that beer can be about taste and palate enjoyment instead of just the quick-chugging I was surrounded by in college. I spent the next six months seeking out every single American microbrew and rare foreign beer I could get my hands on to discover exactly what my taste in beer was while also determining which were my favorite drinks among the many available to me in the Mid-Missouri and Chicagoland areas.
In the summer of 2006, I found that my enjoyment of spring brews—which had overwhelmed my love of winter seasonals—paled in comparison to how the summer ales of the Midwest spoke to my beer-loving heart. I thought I had found my true season for beer. Summer's wheats seemed built to satisfy my taste buds. But, of course, my beer odyssey wasn't quite complete and fall arrived and blew my mind. Amidst tasty Oktoberfests and the first complex and enjoyable cold weather Pale Ales, I came to know my one true love in the world of beer: the American Pumpkin Ale.
I found a few pumpkin beers I felt passionately enough about to thoroughly enjoy a Midwestern autumn, my love affair with the pumpkin beer continued steadily and satisfyingly well until I moved to New York in December 2007. My exploration of fall beer could previously only extend as far as the breweries that distributed their product to the Midwest. With an entire new coast full of breweries producing seasonal fare, not to mention many of my stock favorites being unavailable on the Atlantic Coast, I had quite a journey ahead of me: I had to find a new arsenal of delicious pumpkin beers to get me through fall.
And so began "The Great Pumpkin Beer Hunt of 2008." I sought out different local liquor stores to see where the best selections were located and which ones stocked certain breweries' seasonals, not to mention embarking on a good amount of online research to find out which pumpkin ales were getting the best reviews on the East Cost and where I could find them in the suburban New York area. In the end, after miles of driving, hours of Googling and pints upon pints of tasting, I found quite a few regional ales with which I could continue my pumpkin beer dalliance. In my pursuit, I even broke out my seldom-used brewing equipment to conjure up my own pumpkin beer (which I named "Pumby-Umby-Umpkin Ale"), and received rave reviews from those who partook in its sweet refreshment—clearly a product of all of diligent research.
Now, a new fall has come to Earth's Northern Hemisphere and I live in a new locale where I can potentially find even more pumpkin beer to discover and enjoy—I may only live 15 miles away from my former apartment, but being in Jersey, I have already located a few new pumpkin beers I never saw in New York. As I've already established a penchant for reviewing beers on EoP and last year challenged myself to find and try as many pumpkin beers as I could find within the limited autumn window they are available, I have decided to combine those two efforts this year for the "The Great Pumpkin Beer Hunt and Review Festival of 2009." That means, I'll be spending my beer funds almost solely of pumpkin beers this season in order to taste and review every delicious fall flavor I can get my hands on, including my favorites from years' past and any new brews I can secure in the "pumpkin beer" category.
"The Great Pumpkin Beer Hunt and Review Festival of 2009" is sure to be a new and exciting beer odyssey for me, and one that everyone can enjoy on this blog. I've already bought the first four beers I plan on reviewing for this "event" (see the picture above), so stay tuned and get ready for some seriously awesome autumnal beer reviews!
Similar Posts: