Over the past year as a comic reader, I've come to a unexpected realization: I love graphic novel introductions and written supplements. Be it the enthralling backup in the first Starman Omnibus where James Robinson explains how his unique series came to be, Brian K. Vaughan apologizing for his early work in DC's False Faces trade containing some of the scribe's early superhero tales or the lengthy but informative epilogue's recapping the life of Robert E. Howard in Dark Horse's Conan collections, I love reading as much as I can about the process that went into making these great reads.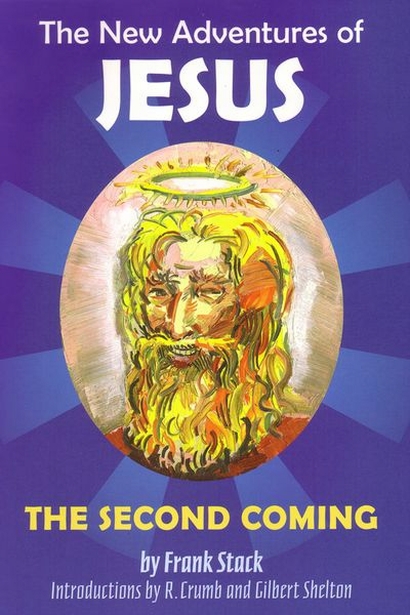 This morning on my commute, I began reading the Frank Stack's notes proceeding his The New Adventures of Jesus. Taking a trip back in time, Stack walks the reader through his frustration with his military reserve status removing him from grad school and moving him to New York City at age 24, his love of the city and the close group of creative and supportive friends and how these goods and bads fueled him with all he needed to create a now legendary underground comic rich with potent satire and groovy art. Though Stack then was more of an artist than I'll ever be able to boast, his struggle to find creative outlet at a young age coupled with some historical storytelling not only spoke to my inner-cartoonist, but also read like a captivating tale of the yesteryear from a grandfather—and from a guy who found, and still finds, everything his grandads said completely enthralling, I couldn't ask for more.
However, reading this brilliant history of what led to The New Adventures of Jesus filled me with a sense of melancholy at opportunities missed. Around three years ago, I purchased my copy of New Adventures with the intention of interviewing Frank Stack about his comic career. I was a student reporter at the University of Missouri trying to make my final semester's focus local comic book news at the time, so the fact that a living legend was teaching in town seemed too good to be true.
And it was. But that was my fault.
My priorities in my final semester of school mostly entailed eating sandwiches, getting drunk and hitting unsuccessfully on numerous college girls. Thankfully my amazing adviser and the head of the newspaper sequence at Mizzou sat me down and told me—in so many words—to get my shit right, and I managed to pull out a C for the semester with some pretty decent local arts reporting, but I never followed through on the Stack interview.
I still have a lot to learn about comics and cartooning, but I had even more to learn back in 2007. Some brief iceberg tip research on Stack revealed the hulking comics mountain that hid beneath the water, and after a few e-mails and voicemails went unanswered, I wimped out and never sought out or talked to Stack, nor did I write an article on him.
I missed a huge opportunity, but maybe I had to figure out some stuff about this medium I love on my own before I could sit down with an innovator like Stack. Reading his introductory notes this morning, my head was flooded with questions and all I wanted to do was jump back to Columbia, seek him out and beg for an hour of his time to pick his brain. But without the amount of comics I've read since college and the knowledge I've gained of this art form and industry, that talk would have been superficial and a means to one more newspaper article, not a profound interviewing experience. Maybe that's why my subconscious sabotaged my efforts at the article. Maybe not. Uncontrollable mental subterfuge is a good excuse, right?
Semi-pretentious pontificating aside, it's time for a bit more truth: I haven't actually read a single panel of Frank Stack's work. Still, when an intro talking about art, comics and everything in between that led to a crucial piece of comics work gets me this excited, it solidifies two things. First, I'm in for one hell of a good read. And second, I've definitely found the creative medium for me.
Man, I love comics!
Similar Posts: