Back in 2004 I decided to bleach my hair blonde, sport a fu manchu and shave some male pattern baldness into my head. At the time, this seemed like a pretty hilarious idea, and whether it was or not, here's how it all went down…

In the winter of 2003 during my freshman year at college, I had grown my hair out and decided to dye it dark for kicks. The result of using the 30-day dye was a pretty creepy look, not aided by the 'stache, that didn't wash out after a month was up.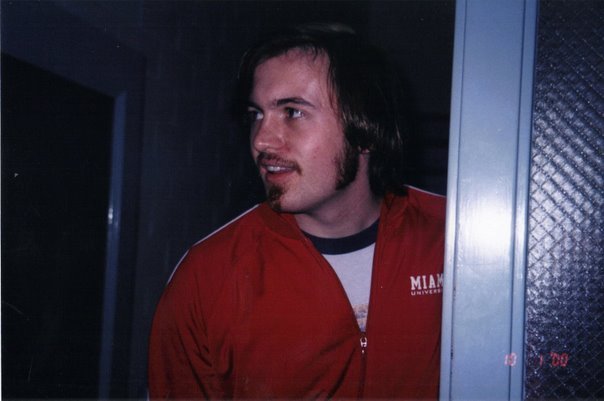 So, as had been the case for the past few years, I decided to go from long locks to a shaved cabeza in order to eliminate all the now-greasy looking dark hair adorning my head. However, as I'd already done a mohawk before during this process of hair to "not there," I thought I'd try something else.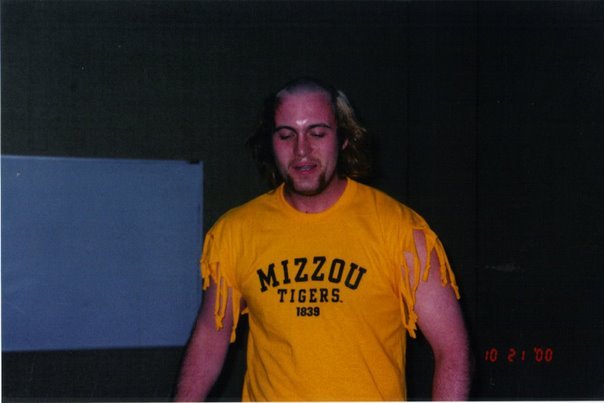 I can't remember exactly how the idea came up, but cutting my hair into an homage of Hulk Hogan's late career doo seemed like a fun idea, and as I'd already spent a night that winter bounding through downtown Columbia, Mo. dressed in a bright yellow Wolverine costume and doing sexy dances in front of restaurant windows, it seemed Hulking out could provide some fun as well.

With the help of a few girls from my dorm, I bleached my hair before essentially being scalped. Add an altered Mizzou t-shirt to the mix, some yellow sweats with red tight undies on the outside and a bandana (to be thrown off an anger while in character, revealing my bald head) and I was ready to be Hulk around town.
That night, I visited a few locales with friends in tow (one with a camcorder) just to get a rise out of people and hopefully crack a few smiles. My motivation for the night's role? Attempting to find an opponent to challenge me for my world title belt at the next Pay Per View event.
The night began with a cocky strut through local pizza place Shakespeare's during dinner hour and ended with me calling out a roomful of studying students at Pershing Commons before being handled in the only wrestling match of the night by the massive Joel Brown—an accomplished high school wrestler in his day.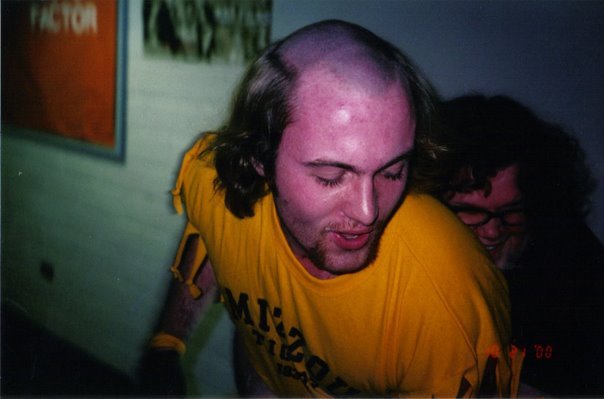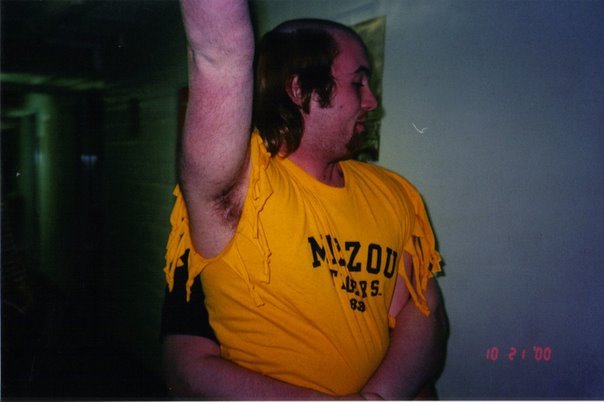 The greatest moment of the night came somewhere in the middle when I decided to barge in on Mizzou's stand-up comedy troupe, Comedy Wars, and call out whoever was on stage. Interrupting an atrociously bad stand-up act about campus chipmunks, I huffed and puffed with many a "Listen, brother!" and "Whaddaya gonna do when Hulkamania runs wild on you?!" before storming off in a fit as onlookers gazed at me wide-eyed.
At this point, the squirrel comedian made some snide remark into the mic, attempting to turn his unimpressive act on its ear and get the crowd laughing with him. I stopped dead in my tracks. The Hulk Hogan inside me grabbed the wheel and steered me straight back into the area where the show was being held before launching into another impassioned Hulk rant. I remember thinking it was quite a triumph as I fielded a few insults and sent many more Hulk-like jabs back at them, but I probably just looked like an ass. Ah well, I was just a freshman!
An odd addition to that story, ESPN "Dream Job" winner Mike Hall was among the comedians I ranted at on stage that night.
I had actually thought that all video and photo documentation of that night had been lost, so it was a treat (Or huge embarrassment? Nah!) when former Cramer Hall resident David "Chico" Pham posted these gems on his Facebook this week. Seeing the pictures got the ol' storytelling nostalgia train out of the station and one stop had to be this blog. So, that's that. Go visit Chico's blog and thank for him getting these great pictures out onto the interwebs!
Similar Posts: