Hey folks, I've trucked through a fair share of comics this week (my new daily train ride has certainly helped me allot more time to reading) and even though I'm only halfway through all the books I want to read, I'm posting up these initial brief reviews. I'm hitting the DMV (or MVC, as it's oddly called in New Jersey) tomorrow and then picking up my broseph from the airport for a weekend of New York City fun, so if I do get through the rest of those books, I likely won't have time for reaction-reviews.
So, please enjoy this smattering.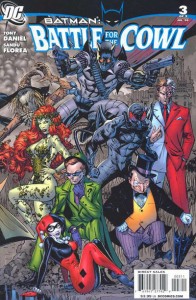 Batman: Battle for the Cowl #3 (of 3)
I'm glad this clumsily-told mini has come to an end and we can finally get to all the cool stuff set up for Gotham throughout a series of mostly mediocre tie-ins. Some very cool ideas in here, but not very many well told stories. Based on the announced creative teams for the books spinning out of this, I am optimistic that'll change in the months to come.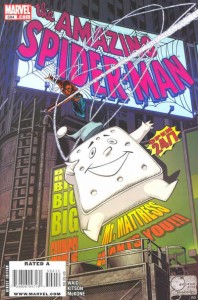 Amazing Spider-Man #594
Another solid issue, but Spidey's vow at issue's end to take down Osborn is what has me really psyched. Spidey says it himself, his greatest enemy is now in charge of the U.S., so it's time for Spidey to swing into action. Oh, also, Aunt May is gonna marry J. Jonah Sr, which I am totally cool with—good for them!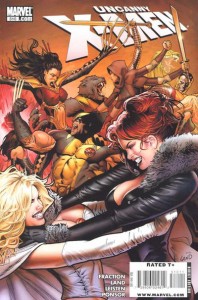 Uncanny X-Men #510
A fun, big fight issue that escalates things with the Sisterhood of Evil Mutants. I love that these old X-baddies had plans to deal with all the classic X-Men but had no clue how to fight the young mutants—simple idea, but smart and—again—I loved seeing that.
Punisher #5
Wow, I love this series. A while back when Remender and artist Jerome Opeña did a Wolvie story, I called for them on a Logan ongoing. With Jason Aaron writing Wolvie, I couldn't be happier, but seeing Opeña and Remender on this book might be the world's greatest consolation prize—for them and readers. Opeña's art, which I've been gaga for since the first time I saw it, is at it's best here.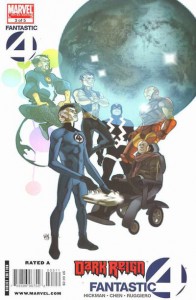 Dark Reign: Fantastic Four #3 (of 5)
Whether you're digging this series or not (I am!), I think it solidifies Jonathan Hickman as a great match for the FF. The science aspects of this story are super intriguing and making Val and Franklin more than bumps on a log is a great way to make Marvel's first family interesting. A darn good read!
Outsiders #18
Already a great book, this ish explains the Vandal Savage angle and what Deathstroke is doing in the book. Also, badass Alfred is always a plus. I love that he's such a major player here and Tomasi is delving into his time with MI-5! Otherwise, not too much to say…I enjoyed it and can't wait for the next part of this story.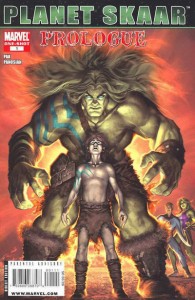 Planet Skaar One-Shot
Holy Stromboli! I normally rave about all Pak-written Hulk work, so my love of this issue is explained a bit there. However, it's artist Dan Panosian that really blew my mind. I love this art! It's a smidge cartoony but in no way loses the severity of a Hulk vs. Skaar battle potentially splitting the Earth in two—perfect for the Pak Hulk stuff that has elements of humor intermixed with the massive action! A great ish, and I hope the Hulk Office at Marvel convinces Panosian to stick around for a while…like on Incredible Herc, hint hint.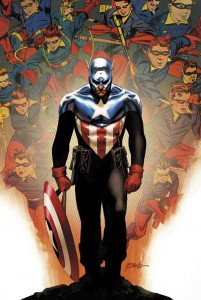 Captain America #50
A nice little flashback issue that's clearly taking up some space before the big #600 event, it's nice to see that it doesn't feel like a waste with a cool Bucky birthday story crafted by Bru.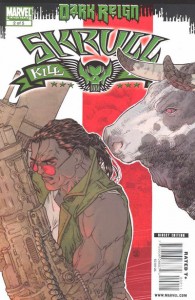 Skrull Kill Krew #2 (of 5)
This book isn't amazing, but it keeps happily surprising me. When Secret Invasion came along, I was thrilled because not only do I love Skrulls, but they are the perfect villain in the Marvel U—they're tons of them, they aren't pushovers and they are completely disposable! This book takes complete advantage of that fact and kills tons o' Skrulls, mixing in some nostalgia and subtexty messages along the way.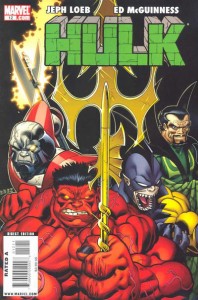 HULK #12
Ok, I used to really hate this book. It was just way—WAY!—too over the top and ridiculous. But—BUT!—with this ish they pushed it so far I couldn't help but start enjoying it. I mean, a two page spread of Red Hulk wielding Terrax's ax and the power cosmic while flying through space on the Silver Surfer's board…yeah, it's almost so bad it's good!

Ex Machina #42
Insanely good. INSANELY good! What else can I say? Honestly?! This is just a fantastic comic and the fact that Hundred's history with Pherson is starting to come together to be fully revealed is completely awesome and has me very, very into these newest issues.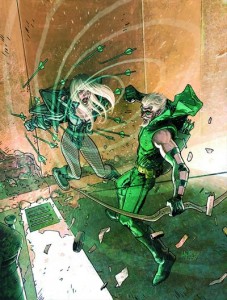 Green Arrow/Black Canary #20
Kreisberg has done a pretty good job of taking a book that had really piddled out before he picked it up and laying some serious groundwork in it with new villains and drama, but this book just can't seem to jump from "ok" to "good" or "great." I think Kreisberg is on target, but he hasn't hit the bull's-eye yet.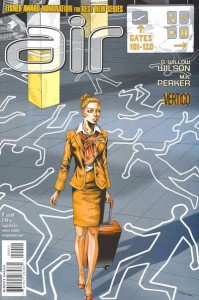 Air #9
I've been a big advocate of this book, but this ish was very…stale. The series has really been ramping up and then this installment takes a step back to have Blythe talk out her internal struggle. Though the story of two lovers separated by war and brought together in the airport was nice, I think there could have been something better behind Blythe to really push the book forward instead of taking a pause to allow her to talk out her feelings.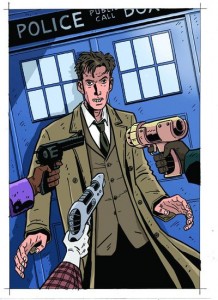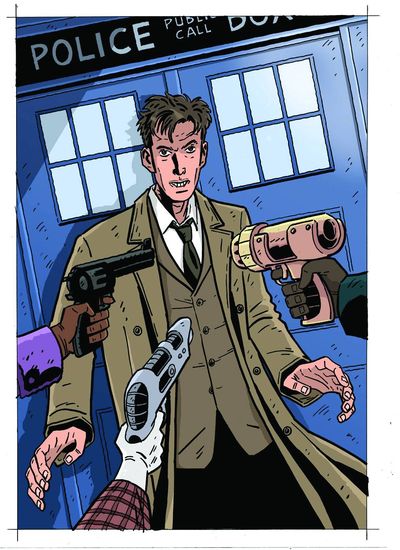 Doctor Who: The Time Machination
I just finished season three of the new "Doctor Who" and got the first disc of season four from Netflix in the mail. My recent fanship of the Doctor has had me take greater note of the comics, but it wasn't until I saw the awesome art of Jack Staff's Paul Grist that I picked a Doctor comic up. For a first foray, this was great! Delving into numerous moments from a few different seasons of the current and older "Doctor Who" series, the story is a quick team-up romp with H.G. Wells that would almost feel a bit like a cleanup issue if the Doctor wasn't a time traveler and essentially doing cleanup all the time. More to the point, it's a great done-in-one story that is a near perfect companion to the show!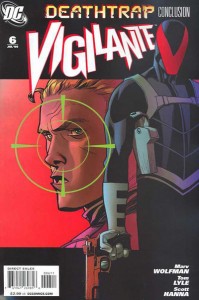 Vigilante #6
Kind of a cool ending, but that was about all that was cool about this whole tie-in.
—-
Given the spontaneous nature of this week's reviews, I apologize that I don't hit more books from more company's. These were just the first 15 or so that really jumped out at me.
Similar Posts: