Last week, I wrote up a bunch of notes on four beers I had grabbed for review. Then I wrote up some short, rough recaps on the drinking experiences. Put simply, it's been an extremely busy week and I haven't had a chance to take a look at these, but I've whipped them into what I think is a palatable reading experience that'll hopefully be helpful to fellow beer-drinkers. So, read on, whet your appetite, then head home and have a beer.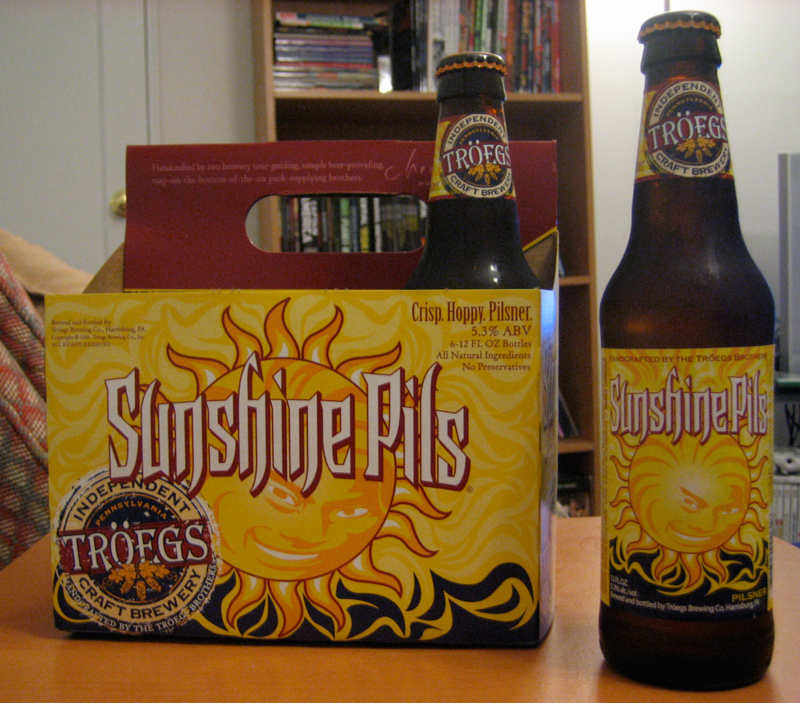 Troegs Sunshine Pils
A brew from Troegs Brewing Co. in Harrisburg, Penn. the package quite accurately describes this beer in three words: "Crisp. Hoppy. Pilsner."
Like all Troegs I've had, Sunshine Pils is a very hoppy beer—they are a hop-tastic brewery. The Pils captures the lightness of a summer beer, but stays heady with an appropriate bitterness—but one that doesn't linger.
Also, this brew has the benefit of being a funny homophone that sounds like you need some sort of bizarre medication that fills you with solar energy, "I need my Sunshine Pils!" "Sunshine Pills?! Super cool!"
More seriously, Sunshine Pils is a bit too bitter for a summer beer—in my opinion—as a summer seasonal should be all about taste and being able to drink plenty upon a warm, sunshiney day without problem and extra bitterness here will not help that. Not bad for the hop-fanatic, but for the average summer-day drinker I wouldn't put it high on the list.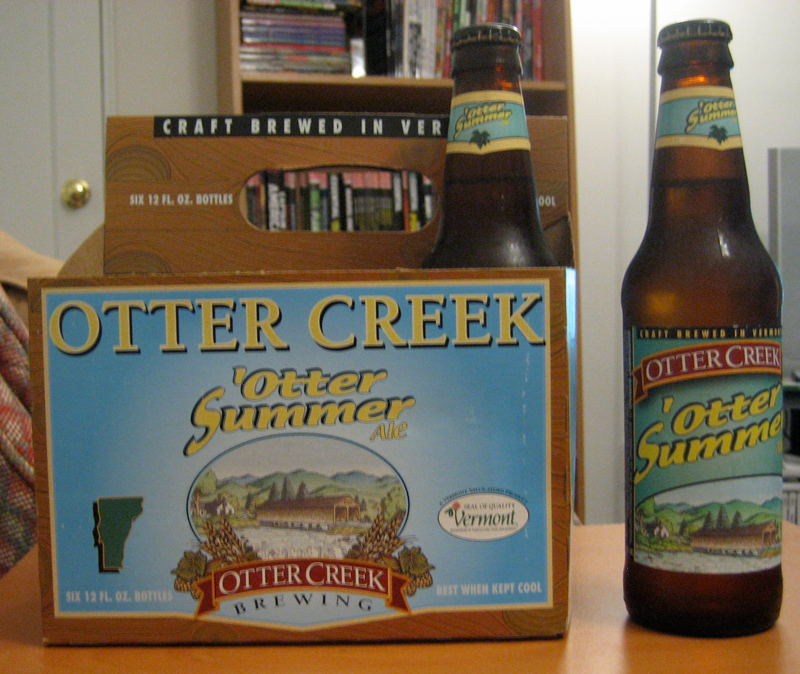 Otter Creek 'Otter Summer Ale
From Otter Creek Brewing in Middlebury, Vermont, this brew is from the same folks who make the Wolaver's organic beers—well worth trying, especially for the organic food connoisseur (their pumpkin ale is particularly tasty).
'Otter Summer is an extremely good, simple ale. It's tasty but not overwhelming, hearty but not thick as well as light and warming. Like the image on the bottle, it feels like an ale you'd be served after entering a lodge made of oversized logs on a thick pine bar, in a boisterous pub on a breezy, warm summer night.
Allusion aside, this beer is just so fucking good. You could drink it all night and never regret a sip. The taste is constantly fresh, good and unimposing. Highly recommended!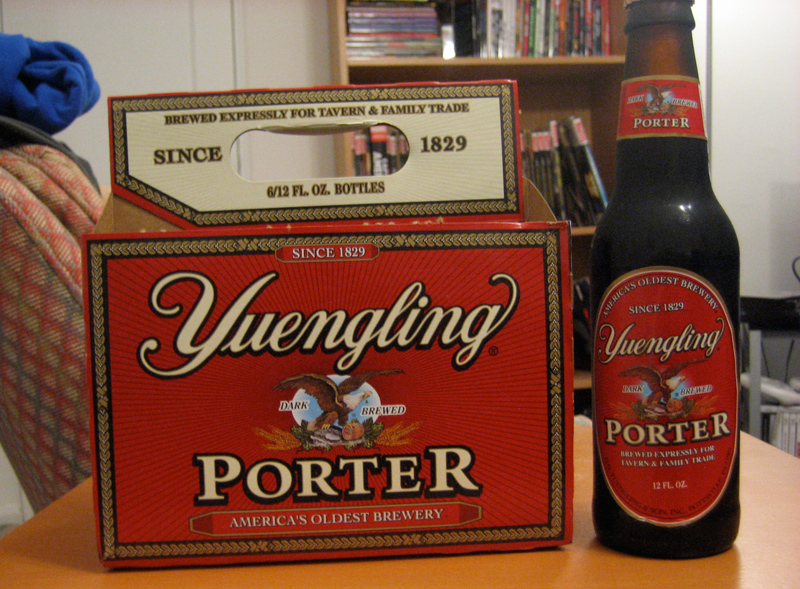 Yuengling Porter
New York area staple lager Yuengling is one of the best beer reasons to be on the East Coast. From America's oldest brewery in Pottsville, Penn., Yuengling is never skunky, extremely tasty, full bodied and still light. This wouldn't be such a big deal, as great beer is found in many locales, but Yuengling is extremely affordable. I can pick up a six-pack of this flavorful beer for $4.99 locally, and for a widely distributed beer that could fairly easily be passed off as a pricier craft brew that's a heckuva deal.
Now, I've downed a fair share of Yuengling in my time out in New York, but I'd never had their porter. So, a few weeks ago when it was a little gloomy and I was thinking about how nice a dark beer in a musty pub would be, I picked up a sixer of this porter. Not surprisingly, but still impressively, Yuengling's porter tastes very much like the lager—a nice feature, as you've already read me rave about the lager's place as a very palatable and affordable stock beer. The porter is darker but not too complex and thicker as its porter nature would require but not so much it's discouraging to the ease of imbibing. For people looking to branch out to darker beers slowly, this is a great place to start beginning a taste for porters and stouts.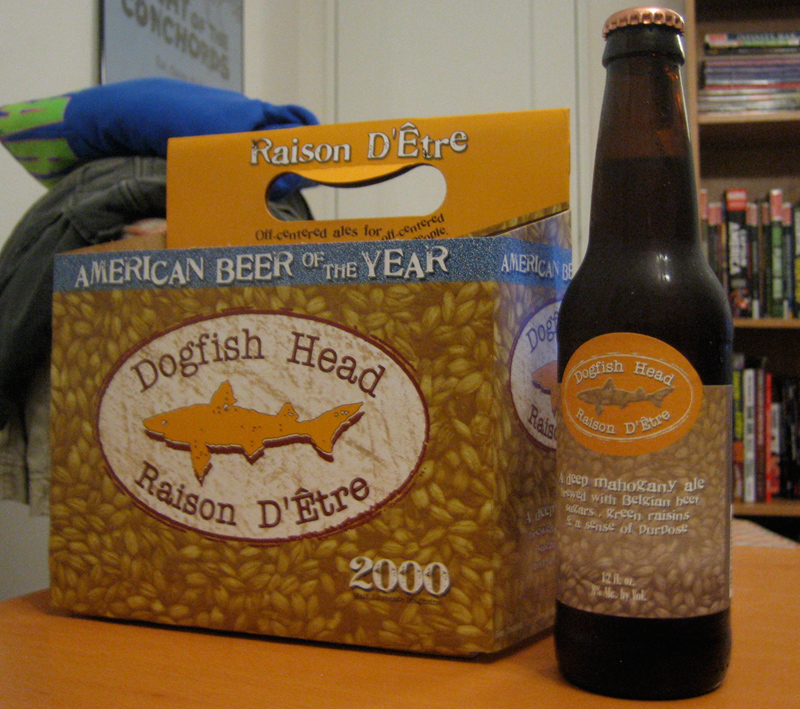 Dogfish Head Raison D'Etre
This great beer hales from the Dogfish Head brewery in Rehobeth Beach, Del., which first caught my attention when I was on the great pumpkin beer kick of '08. Dogfish's Punkin Ale was one of the best pumpkin infused beers I had all Fall, so I picked up this "reason for living," this Raison D'Etre.
A heady, complex beer that tastes like it should have a higher alcohol content than it's 8 percent—leading me to dub it "The Red Wine of Beers," after a trend we have amongst my group of college friends which began with Frank Johnson referring to New Castle Brown Ale as "The Iced Tea of Beers"—this is an extremely rich and flavorful drink worth getting again and again. Perfect for the same ideal drinking situation as the Yuengling Porter, this brew is for the more advanced drinker as it's about three steps up for pub drinking on a rainy night. Definitely worth trying, this one is strong but has a sweetness, as well.
Similar Posts: