This is probably the rest of everything I am going to get through this week, so here are the reactions.

Starting with speedos…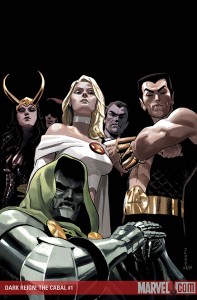 Dark Reign: The Cabal
Normally, if I'm leaving an issue thinking Namor
was the best part of it, then there wasn't much good to be had. But damn, this five-pack of stories about each member of Norman Osborn's Illumin-naughty was good. Carmine Di Giandomenico
has been slowly growing on me and I am now aching to see him and writer Kieron Gillen
tackle a Namor ongoing. Plus, some uncanny Matt Fraction
-written Emma Frost is always nice to have on a book!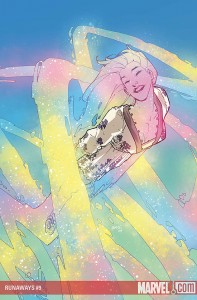 Runaways #9
Wow! I loved this issue. My heart, which is already massive, grew three sizes with that last page. Much as I miss BKV
, Terry Moore
knows exactly what he is doing here.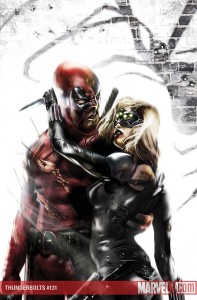 Thunderbolts #131
The crossover with Deadpool was fun while it lasted, but I'm thankful to be moving on and see this book get gritty.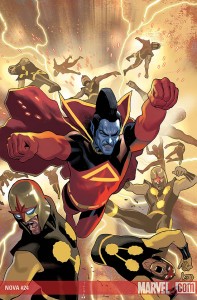 Nova #24
Abnett and Lanning
can do wrong for me of late. This issue is mostly shoot'em up, punch out cosmic action, and really, there is never anything wrong with that. Keeping things in Nova moving along nicely while also working things into the cosmic battlefields of War of Kings, this is a prime example of how crossovers should be done.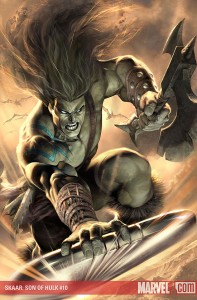 Skaar #10
Each issue of this series builds upon the next, and at this point everything just feels more and more epic with each installment. As a huge-normous fan of Pak's "Planet Hulk
," this series has been a great exploration of the planet Sakaar and a very focused character-driven story with a plot of massive proportions. Now, Skaar is headed to Earth and, hot damn, I cannot wait for the face off with Daddy Not-So-Dearest!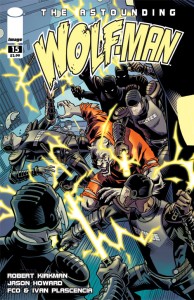 The Astounding Wolf-Man #15
Man, this Wolf-dude just cannot catch a break! I'm glad the face off with Zechariah is here, because watching Wolf-Man get dragged through the mud is getting hard to read month after month. Given, I'm sure shit's gonna get worse 'fore it gets better, but I am ready for this book to move to it's next phase. Also, it's nice to see Cecil acting like a damn good guy again after his necessary betrayal of Mark over in Invincible
. His smiling, scarred face adds a little light to the darkness of this title.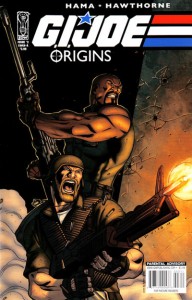 G.I.Joe: Origins #3
This title picks up a little bit with this issue and hooked me a tad, but it certainly isn't anywhere near as good as G.I.Joe: Cobra.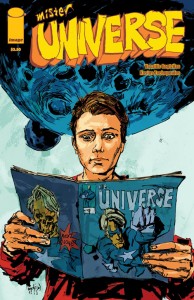 Mister Universe
Bizarre, interesting, intriguing and—in the end—a bit overwhelming and terrifying. The art is downright mesmerizing and for a singe issue, this is well worth picking up and checking out, especially for those who enjoy psyche-expounding character-driven tales.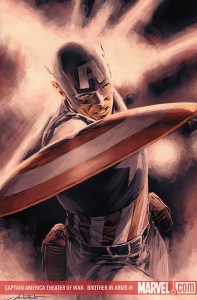 Captain America: Theater of War—A Brother In Arms
Though the dialogue was mostly cheesy in an attempt at period accuracy, I'm a sucker for a WWII Cap story and loved the plot behind this one. I'm admittedly bias when it comes to Steve Rogers
, but the more exploration of his time in WWII the better as far as this die hard Cap fan is concerned.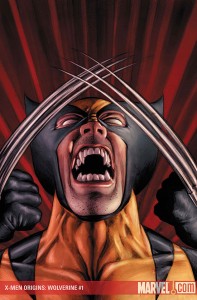 X-Men Origins: Wolverine
A cliffnotes version of Wolverine from the manifestation of his claws to joining the X-Men, There's nothing here that hasn't be rehashed plenty of times in past issues. Clearly a quick intro to people headed to the comic shop after seeing the movie, there's nothing wrong this is issue, but any regular comic reader doesn't need to spend any time on it.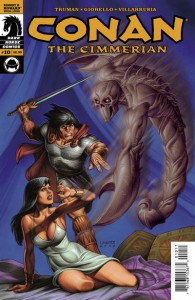 Conan The Cimmerian #10
Bar fights, bombastic dialogue, bare naked princesses and approaching battle, this is Conan
at its best. A classic that doesn't mind sticking to its roots while delivering all new exciting tales.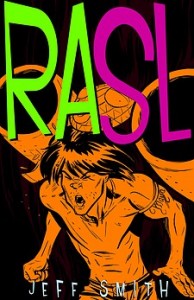 RASL #4
This is the first issue I've had a chance to check out, and I was completely enthralled with this book. Essentially a dimension-hopping sci-fi conspiracy tale involving the U.S. Navy and the Bermuda triangle, this book sucked me right into its undertow. Now the question is, in a head to head battle of sci-fi indie black and white comics, who wins: Terry Moore's Echo
or Jeff Smith
's RASL?! It's too close to call, too tough to tell.
If you missed the first part of this week's "Few Line Reviews," click here!
Similar Posts: