For whatever reason, my super short and super sweet comic book reviews went a little longer this week. So, instead of "two line reviews," they are now "few line reviews!" See how fun rhyming is?!
Here's round one for this week's books ("this week" being in reference to books that dropped on April 29, 2009), enjoy'em after the jump and then come back in a day or two for more!

And away we go!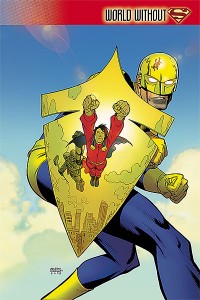 Superman #687
Not the strongest issue of Robinson's
run, but it definitely sets up a lot of stuff that I am interested to see play out. And, that followup hearkens back to some earlier things in the run like the trapped Legionnaire, running threads with Atlas, Steel and Jimmy Olsen's ongoing investigation. So, I like how dense and thought out things feel, not to mention the sense of completion I'm already expecting by the end of everything Robinson does. This run is the first time I have ever enjoyed reading Superman.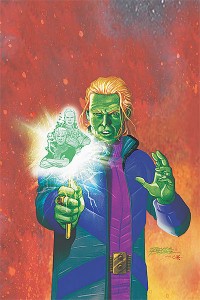 Final Crisis: Legion of 3 Worlds #4 (of 5)
I think I can only claim about 60 percent comprehension of everything that is going on here, but I like it. There is so much going on that this begs to be read in trade once it's all out there and in context with everything else that's been going on in the DCU. But man, when is that gonna happen? Two months? Three?! Six?!
I won't hold my breath, but that's not to say I won't eagerly be anticipating the conclusion.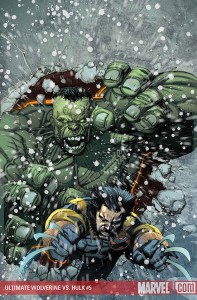 Ultimate Wolverine vs. Hulk # 5
Over the top in the best of ways, this issue sees Lindelof
shine as he writes tons more dialogue that is so cliche it's brilliant. I mean, it's ridiculous—Hulk and Betty Ross She-Hulk causing earthquakes and avalanches while sexing each other up, Wolverine fighting his spirit panda, being decapitated by S.H.I.E.L.D. and then questioned as a head on a table, plus Wolvie eats DHARMA
pretzel sticks so they can illustrate him looking like he's got a stogie—but man, it is so much fun!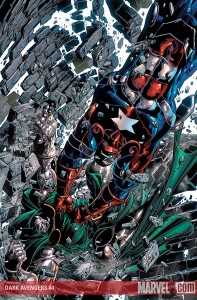 Dark Avengers #4
Much like Bendis' Mighty Avengers
, I just can't get into this book. I like most of the baddie Avengers' characterizations and some of the little moments—like Noh-Varr ogling Moonstone's booty—and the end reveal that Norman Osborn's terrified of what he might have unleashed with the Sentry was interesting, but something in this comic just isn't clicking for me.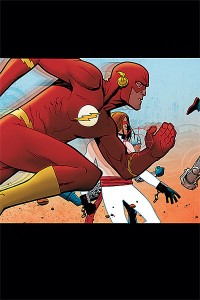 Teen Titans #70
I'm trying so hard to like this book and the big "Deathtrap
" crossover, but I just can't. The dialogue is all flat, the scenes—big action or quiet character—aren't hitting and the stakes are so low I can't even get invested on a larger DCU angle. Usually anything with Blue Beetle gets my immediate seal of approval, but I can't recommend this at all.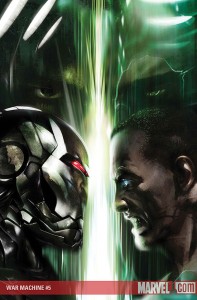 War Machine #5
This book is just straight up great! I love the juxtaposition of real world issues with the odd buddy-comedy dynamic of Ares—the mutha luvin' god of war—and his "champion" War Machine
. Add in-your-face, visceral action sequences and a book with tons more potential even after proving itself with this first arc and I just couldn't be more excited to keep reading this comic.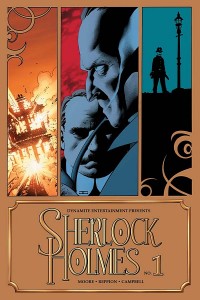 Sherlock Holmes #1
I had high hopes for this one due to the involvement of Alan Moore
's daughter (she co-writes) and it being a comic about one of my favorite fictional characters, and it's off to a pretty decent start. I 'm not sure I quite go for the characterization of Holmes in the issue, but the rest of it plays much like a an Arthur Conan Doyle
story with the twist that Holmes is the killer as a very compelling cliffhanger. Not too shabby, I'll be back next ish.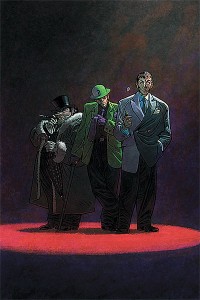 The Underground
"Battle for the Cowl
" has been pretty hit or miss (mostly miss), but this issue was a nice light in the darkness. I enjoyed following the noir Riddler (making him a P.I. instead of a goofy villain was a great move) through this greatest hits collection of Bat baddies. One of the most competently written tie-ins, this Chris Yost tale has some rad Pablo Raimondi art, too—I'd definitely like to keep seeing his dark art bringing life to the streets of Gotham.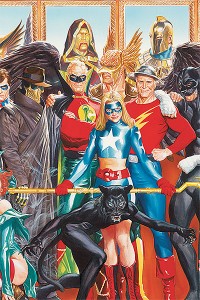 Justice Society of America #26
The last two arcs of JSA have had me pretty down on this book, but a whole goofy issue surrounding Stargirl's birthday and the coinciding surprise party had plenty of little moments in its clip show format to remind me of the good times in Johns' JSA. A nice little issue to make way for new writers Matthew Sturges and Bill Willingham
.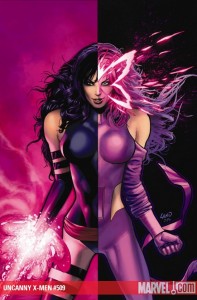 Uncanny X-Men #509
Well, I've gone from malaise to amusement to enjoyment to downright loving Matt Fraction
's Uncanny X-Men. Fraction juggles a bajillion characters here and manages to work in the little moments that make this team, book and universe fun—His series of shots of the X-men just hanging out all over San Fran was very much in line with the enjoyment I got out of an old Uncanny ish I blogged about earlier this week, and I particularly loved Colossus and Rockslide amongst the rabid Raider fans. That garnered an actual LOL—while still weaving tons of different plot threads that keep things interesting. Plus, the one thing I wasn't vibing on—Fraction's crazy science team—won me over in this ish. Now, if only they'd put Rafa Sandoval
on this book and boot Greg Land…
Plus, there's hints at bringing back Jean Grey this ish…awesome!
AND, things start really getting crazy with a the big, bad Sisterhood of Evil Mutants stuff…so, more awesome!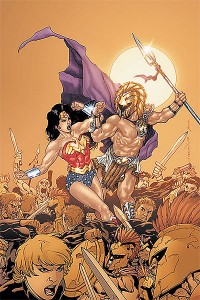 Wonder Woman #31
As good as this issue was, and as good as Gail Simone
is on this book, I think a lack of personal history with the character of Wonder Woman is keeping me from really going gaga over this title. Also, I didn't think Aaron Lopresti could be topped here, but Bernard Chang looks great on this issue. And, I know there was something up with those tissues Professor Morrow handed Diana! I know a clue when I see one!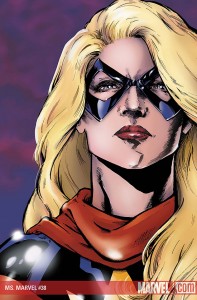 Ms. Marvel #38
With Carol Danvers dead
, new Ms. Marvel Karla Sofen (aka the Thunderbolts' Moonstone) takes over this book for "Dark Reign," and I didn't hate it as much as I thought I would. In fact, this was kind of an interesting and dark insight into the psyche of Ms. Marvel 2.0. It wasn't so great I'm super psyched for next ish, but I'll definitely check it out.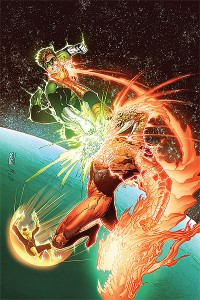 Green Lantern #40
The epitome of comics melodrama, Green Lantern is just too damn serious for me to really get behind. I'm keeping up with it for the information I need in it to understand a book I really enjoy, Green Lantern Corps
—all the same epic stories and nine times more fun!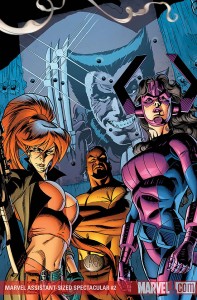 Marvel Assistant-Sized Spectacular #2 (#2)
It's Marvel editorial "What ifs?" where the they'd-almost-be-harebrained-if-they-weren't-so-much-fun stories of Marvel's assistant editors see print. This ish was good fun just like the last one, and I hope Marvel makes a habit out of this—methinks once every two years or so would suffice. Now, the real question is whether I vote for Jason Aaron's rad American Eagle story or the Chris Yost's action-packed Elsa Bloodstone
tale…still, I can't help wanting to see more of the crazy but surprisingly entertaining daughter of Galactus story. Drat, tough choice!
Similar Posts: